When you need an official photo for a passport renewal or visa in the Philippines, it's important that your photo meets government specifications. Check out the tips below and allow iVisa Photos to process your image to the high standard that is required. iVisa Photos has produced thousands of passport photos, and our team is confident about having the knowledge we need to get your photos right, every time.
If you're planning a trip abroad from the Philippines, make sure you've checked the iVisa.com website and used the Visa Checker tool to confirm the travel documentation you will need. iVisa.com can process most electronic visas online quickly, saving our customers both energy and money.
What are the Philippines Passport / Visa Photo Requirements and Size?
The specifications for a Philippines passport/visa photo are as follows:
Size: 2" x 2"
Color: Only color photos will be accepted.
Head size and position: Look directly into the camera at a straight angle, with your face in the centre of the image.
Background: White
Smile: Neutral, mouth closed.
Eyes: Visible and open
Glasses: You can wear prescription reading glasses but not tinted lenses.
Headgear: No, except religious headgear
Quantity needed: One (1)
Philippines Passport Photo Size Requirements Guide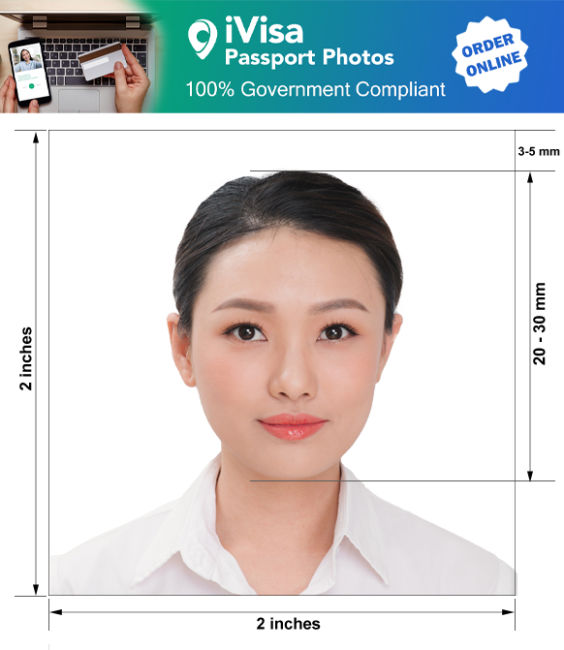 Philippines Passport / Visa Photo Requirements and Size specifications
The photograph must have a white background
Size specifications: 2" x 2"
The photo must have been taken in the past 6 months
Hats must not be worn, however headgear for religious purposes is acceptable.
You have to submit one (1) photograph together with the application
Philippines Passport / Visa Photo Requirements and Size for baby, infant and newborn photos
The rules for the official photographs of adults and infants are identical, regardless of the applicant's age. We know it can be hard to get young children to pose so check out our trips below to get the best shots of your baby.
The baby's eyes must be open. We suggest parents take the photo after the baby has woken up from a nap.
If you don't have a white wall in your house, use a white bedsheet to create a neutral background.
Use toys to entertain the baby and get their attention during the photo session.
Philippines Passport / Visa Photo Requirements and Size: Price and Cost
iVisa Photos has competitive prices for readers in the Philippines, charging only $5.95 USD for a digital photo that has been approved by an expert for passport or visa applications. All you have to do is print it out on photo paper at home and then attach it to your passport form. If you're applying for your Philippines passport or visa in the US, take advantage of our delivery service. We will print out your photo and deliver it to any US address. The price? Only $9.45 USD for 2 copies. Unbeatable!
How to get the Philippine passport or visa photos online
iVisa Photos is the perfect professional photo service for travelers in a hurry. Don't waste time on rejected photographs. Our service will provide you with a photo that is 100% compliant with Philippine government regulations. Don't fret about exposure to COVID-19 in a public photo booth. Thanks to iVisa Photos, you can process your image from the comfort of your home.
The app is available for iOS and Android.
Learn more tips to take the perfect photo
Use a white background like a wall, door or even a white fridge.
Your head must be centered and you should face the camera directly
No smiling or frowning, your face should have a neutral expression
Use a room with lots of windows or light to prevent shadows on the image.
Do not wear sunglasses, wide-rimmed or tinted glasses or a hat.
How to get started
It will take less than 5 minutes to complete your order on the app once you've taken the right photo.
Enter the Philippines on your photo application to ensure your image meets the correct guidelines. Different governments have varying photo specs, but our experts know exactly what will be required.
Take the photo with a high quality smartphone or tablet camera or a normal digital camera.
iVisa Photos' expert team of photo specialists will review your image to ensure that it's 100% compliant.
Remember that iVisa.com can manage your eVisa application, while the Photos team processes your visa and passport photos.
The steps to get your passport photo are simple. Just select the type of photo you need and follow the instructions to upload your image and pay for the service.
Contact us anytime if you need help. We offer an affordable and convenient service that gives peace of mind when it comes to the bureaucracy of applying for a visa. Get the photo for your new Philippines passport today.
References