Do you need to renew your passport for Poland or obtain a visa? Are you unsure of what the current requirements for photos for Poland are? Check out the Quick Facts and let iVisa Photos make sure that your Poland Passport/ Visa Photo is satisfactory. iVisa Photos has processed thousands of photos and is very familiar with the various requirements.
Visit our page to check on whether you need a visa for your intended travel. Most visa applications can be processed quickly and efficiently online with this professional service.
Photo Specs
Size: 3.5cm by 4.5cm.
Color: Color only. No black and white.
Head size and position: Centered with photo. Head should be 30-36mm in length.
Recency: No older than six months.
Background: Light colored. No designs.
Smile: Neutral expression only. Mouth closed.
Eyes: Open and clearly visible.
Glasses: Prescription glasses are permitted so long as eyes can be seen.
Headgear: Religious purposes or medical with a doctor's note.
Dimensions and size (pixels): None specified.
Attire, clothing, dress code: Avoid military uniforms or tops which match background color.
Beard: Only if worn on a regular basis.
Quantity needed in application: 3.
Poland Passport Photo Size Requirements Guide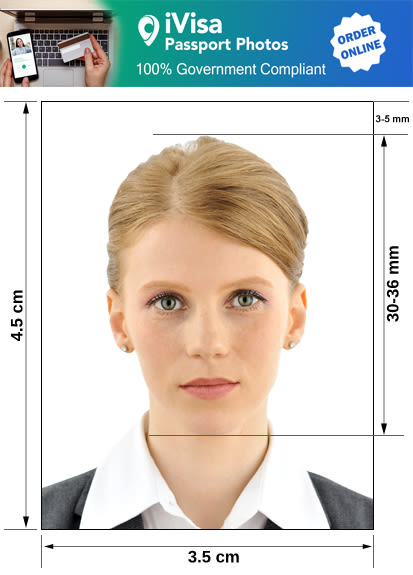 Poland Passport Photo and Visa Photo Requirements, Rules, Guidelines, and specifications
As you can see, there are quite a few details which apply to a passport or visa photo. Wish it were simpler but the government wants uniformity for better identification. The above facts are an overview of what to expect. There are still quite a few bits to process and understand before taking any pictures:
If you are not good with math, remember 3.5cm is 35mm. Don't let them confuse you.
From the bottom of your head to the top of your forehead should measure between 30mm and 36mm. This is about 70-80% of the overall image.
Avoid looking away, tilting your head or taking a picture portrait style. Your face should be squared with the camera and eyes looking directly at the lens.
Eyes need to be completely visible. Eyeglasses are allowed only if the lenses are not tinted or glared, rims are thin and it doesn't cast a shadow on the face. Most of the time, it's better to simply not wear glasses.
Unlike other countries, Poland requires 3 photos for their passport application.
Hats and other headwear are not permitted unless for religious or medical purposes. Even so, the face still needs to be fully visible.
Uniforms are usually not permitted unless the clothing is for religious reasons and worn daily.
Lighting. It gets everyone. The light must be even across the face, reflect a true likeness of skin tone and not be too dark or bright. These small mistakes often lead to rejection of application and more wait time.
Photos must be printed on high quality glossy paper.
Rules and requirements for babies, infants, and newborns Passport and Visa photos
If taking the entire family with you on vacation is the plan, each person must have their own passport or visa which include individualized photos. Submitting a family portrait is unacceptable. Children are to be photographed separately and following the same guidelines as above. There are a few tips and specifications to capturing infants which can assist in a better image:
Be sure there are no other people in the picture with the infant. This includes parents and their hands (if holding the baby).
Toys, blankets, bonnets or other objects are not permitted in the photo.
It's preferred to take the picture with the baby laying down. Place a light colored sheet or cloth behind the baby to give the ideal background color and hide any patterns. This can also be used when placing the child in a car seat.
Be aware, the photo must show the child's eyes open, mouth closed and facing the camera. It may take a few shots before the one desired is taken.
Price and Cost
Now you have as much information on passport and visa photos you will ever need to know. What's missing? Cost of course. Nothing in this world is free, we all know this. But some things cost more than others depending on where you go looking. Traditionally speaking, having photos done for a passport or visa was completed at a post office or local drug store. At a point during your busy day, you made time to drive around town, wait in line and have it done. During today's hectic lifestyles and constantly busy days, there is less time to allocate for driving around town. After all, time is money. Plus, these methods cost around 57 PLN for a set of two. Instead, at iVisa Photos, you can get your passport photo done from home or office and it'll cost 24.29 PLN. If taking the family is part of the plan, multiply those numbers and think of how much more you can take with you on travel.
How to get Poland Passport Photos or Poland Visa Photos Online
Convenience is the currency these days. At iVisa Photos we are committed to you and your passport or visa photos. With our 100% government compliance guarantee, you can rest assured your photos will pass the application process. Our simple and easy to use site allows users an uncomplicated experience and friendly representatives available should you have questions. Use your smartphone or tablet to take your photo and if you are not fully satisfied, get unlimited retakes at no extra charge. We take the work off your shoulders so you can get back to business. You'll have the option to pick up the prints at a store or immediately download and print at home. Give us a try and soon you'll be traveling the world and making memories.
Click here to obtain your Poland passport / Visa photo.