Each country has its individualized set of requirements for passport and visa photos. Visit iVisa Photos and allow them to ensure that you have the correct photo for your Portugal passport or visa. Just review and follow the Quick Facts below and iVisa Photos will do the rest.
Also, visit our website to confirm whether or not you need a visa. They can process most visa applications online reasonably quickly and affordably.
Photo Specs
Size of visa photo: 35x45mm
Color: Color
Head size and position: Full face, looking straight into the camera - centrally aligned
Background: White
Smile: Neutral
Eyes: Must be open, visible
Glasses: Only daily wearing glasses, no sunglasses.
Headgear: None, except for religion
Quantity needed: Two (2)
Portugal Passport Photo Size Requirements Guide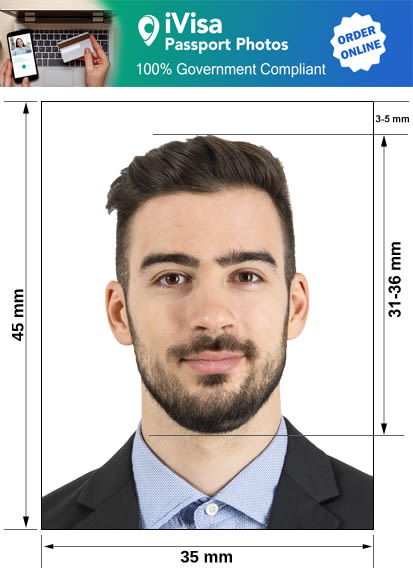 The Portugal Passport Photo and Visa Photo Requirements, Rules, Guidelines, and specifications
See notes regarding your Portuguese Schengen Visa photo:
The photo requires a plain and white background
You must look straight into the camera making your sure your face is not tilted
Size specifications: 35mm x 45 mm
The photo must not be older than 6 months old
If you use daily wearing glasses then take care to avoid a flash glare
You need two (2) photos
Rules and requirements for babies, infants, and newborns Passport and Visa photos
See here a few tips for taking a photo of your baby: One, baby's eyes should remain open. Two, have a white background ready. 
Three, if the baby is very small then you can take photos when the baby sits in its car seat. Finally, take a lot of photos.
Price and Cost
iVisa Photos offers different delivery options, one is to have it delivered to your house, and two is where you select in store pickup at a local CVS, Walgreens or a Walmart.
How to get your Portuguese Visa Photographs Online with iVisa Photos?
Use the iVisa Photos app by downloading it: iOS here and Android here.
More tips on taking a photo:
Stand with your back against a wall or other surface to avoid all shadows
Your face should have a neutral expression
If you standin front of a window then you will ensure ample exposure of light on your face
What you need to know before getting started:
Select Portugal at the start of the app
At iVisa Photos you can 1, download your photograph,2 choose home delivery, 3 select a Wal-Mart, CVS or Walgreens for delivery if you live within the borders of the United States.
f your visa or passport photo is denied at the Portuguese Embassy, then we will retake the image for no extra charge.
Simply select passport under "Photo Type" if you want to take a passport photo with our app. Planning a trip to Portugal is fun, so take your photo with us and eliminate all the stresses associated with visas.
References