Getting your travel documents in order is an important step when you plan your trip to a foreign country. Traveling outside of Russia most likely involves a passport application process if you do not already have one. What iVisa Photos can help you with is the photos you will have to submit at the issuing authority together with all the other required documents. Take your picture at home, and iVisa Photos will process it so that it is 100% government compliant.
International travel, more often than not, involves a visa as well. You can take a look at our website, and they may be able to help with that. Depending on where you want to go, you may qualify for an electronic visa, in which case iVisa.com can facilitate the online application process.
Photo specs
The following photo requirements apply to a Russian passport:
Required photo size: 45 mm in height and 35 mm in width
Colored pictures are necessary. Not black and white.
Head position: your head straight must be straight
Must not be older than 6 months
Background: white
Smile: no
Eyes: clearly visible
Blurry photos are rejected
Glasses: acceptable under certain conditions
Headwear: not allowed. Exceptions are made for religious purposes
Resolution (pixels): at least 600 dpi
Dress code: clothes must be in contrast with the background. Do not wear white tops
Beard: allowed if it represents your everyday likeness
Number of photos necessary: 2
Russia Passport Photo Size Requirements Guide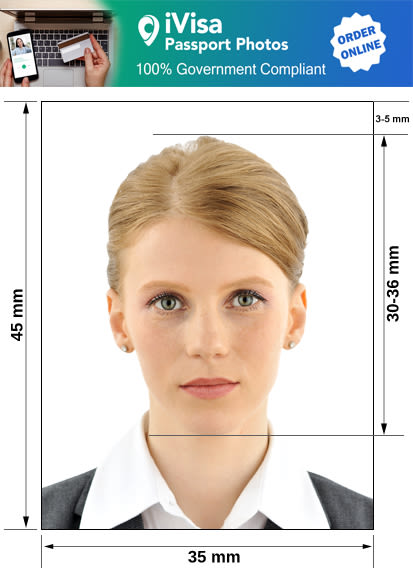 Russia Passport Photos and Visa Photo Requirements – Rules, Guidelines, and Specifications
The list of Russia passport photo requirements above is not enough for you to take a proper picture. There are rules in place that you have to follow when you decide to take your own passport photo or visa photo. Bear in mind that if you fail to comply, your passport application will be rejected.
The background of your passport photo or visa photo should be white. When you get ready to take your picture, stand against a white wall. A white sheet can be used in case you do not have a white wall anywhere near. As long as there are no colors, patterns, and shadows in the shot, you are good to go.
Make sure that the light in the setting in which you take your picture is not too bright or too dark. Also, you cannot appear in your photo with shadows on your face. Use a frontal light source to avoid that.
Your head must be straight in the photo. You cannot tilt or rotate it. If you submit a portrait-style picture, it will be rejected.
You should not smile in your passport photo or visa photo. You cannot adopt any facial expressions other than neutral.
Make sure that your eyes are not obstructed by anything when you take your picture. Move your hair away from your face and remove your glasses if the frames are not clear. If they are, you can keep them on, but only if there is no flash reflection in the picture. Needless to say, sunglasses and eyeglasses that have tinted lenses are not permitted in a passport photo or visa photo.
Headwear is acceptable only if you are bound by your religion to cover your head at all times. This is the only concession. But even then, you have to make sure that your face can be seen from the bottom of your chin to the top of your forehead. Also, your headwear should not create shadows on your face.
You do not have to shave your beard before taking your passport photo or visa photo if that is how you usually look.
Rules and Requirements for Babies, Infants, and Newborn Passport and Visa Photos
Do you want to travel with your children? Then you have to get passports for them too. With iVisa Photos, you can get pictures for your kids as well. The tips below should be of assistance.
Since your children's eyes must be visible as well, you must take the photos when they are awake.
Placing your child in a car seat for the photo session may be a little bit more comfortable. If you want to proceed as such, remember to cover the backrest of the chair with a white sheet. The background is required to be white.
When you put your infant on his/her back to take the picture from above, it is necessary to place a white layer underneath.
You have to remove your child's headwear, pacifier, toys, etc., from the shot
Only the baby can appear in the passport photo or visa photo.
Please note that there is no significant difference between a child's passport photo and an adult's passport photo. Other than the fact that a child's head can occupy less space in the shot, they are pretty much the same.
Price and Cost
We are pleased to inform you that iVisa Photos practices some of the lowest fees when it comes to passport photos online. For a Russian passport, you will have to submit 2 pictures. We can give them to you for only $5.99. That is approximately 447 RUB.
How to get Russia Passport Photos or Russia Visa Photos Online?
Do you believe you are ready to use iVisa Photos' services and get your photos online? Then we are going to tell you how things work.
Using a decent camera from a smartphone or tablet, take your picture following all the guidelines we mentioned above. As soon as you have a photo that you like, you have to submit it for processing. You can do that via e-mail or directly on iVisa Photos website. Once we receive your request, we will turn your image into a government-compliant passport photo. You will then get two options:
1.Download the image to print your passport photos at home, in which case you must have photo-quality paper at hand.
2.Give us your address, and iVisa Photos will send you the pictures.
For more information, do not hesitate to contact our customer support service.
References