To renew your South African passport or apply for a visa, you first need to produce photos consistent with the specific requirements. iVisa Photos is very familiar with the requirements for each type of passport or visa document and will get your photos right the first time. Simply review the Quick Facts below and let iVisa Photos do the rest.
If you are planning on traveling abroad, make sure you visit iVisa.com, so you know whether you need a visa. Rather than wasting a lot of time and money, iVisa.com can process most applications online quickly and affordably.
What are the passport photo dimensions and requirements for South Africa?
Photo Specs
Size of visa photo: 45mm x 35mm
Photo Color: Must be in color
Head size and position: Entire face, centered
Background: White Background
Smile: Neutral
Eyes: Open
Glasses: You can use your daily reading glasses, no sunglasses
Headgear: No
Quantity needed: Two (2) photographs
South Africa Passport Photo Size Requirements Guide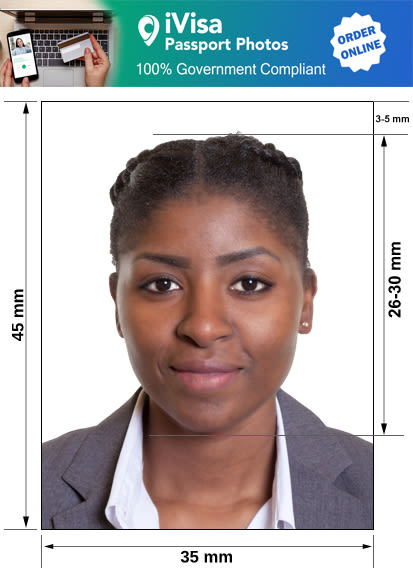 The South African Passport Photo and Visa Photo Requirements, Rules, Guidelines, and specifications
The iVisa Photos app ensures that your photo is compliant with the South African Government´s rules and regulations. Make sure you meet all these guidelines when taking a photo.
You photo, in order to be accepted need to have a white background
Your should look straight into the camera
Size specs: 35mm x 45mm
Must be a photo that was taken in no longer than 6 months ago
Do not wear anything that will cover your face
If you use reading glasses then you should take extra care to avoid lense glares o
Submit two (2) pics
Rules and requirements for babies, infants, and newborns Passport and Visa photos
The South African Tourist Visa application is the same all who apply, no matter their age. If you need to take a photo of your baby then you can simply follow these easy tips to ensure you take the highest quality photo possible.
The baby's eyes have to be open. Moms that have used the app recommend you to take photos only after your baby had a rest so that they will be happier and more awake.
The background has to be white so use a white bed sheet or white sheets of paper. 3, if your baby is very young then you can take the baby and lay him/her in their car seat and take the passport photo there.
Always try to take as many photos as possible so that you will have a lot to choose from.
Price and Cost
iVisa Photos offers prices that start as low as $3.99. In addition to low fees, we offer various delivery options for example home delivery and in-store pickups at CVS, Walgreens or Walmart stores in the United States of America.
How to get your South Africa Visa Photographs Online with iVisa Photos?
The MPP app can be used with a smartphone, tablet and is available for both iOS and Android.
Tips on how to take a photo with the app:
Use a white door or a white wall as a background
Face the camera in a straight manner to avoid shadows and keep your face centered
Maintain a neutral facial expression
Don't wear sunglasses or other headgear that may cover parts of your face
What you need to know before getting started:
Using the app will allow you to take a photo in less than 6 mins
Select South Africa in the country section. Use your smartphone, tablet with app
iVisa Photos has an editing service available to review your photo before printing. * We suggest you use it. You can download your photo, select home delivery or delivery at a Wal-Mart, CVS or Walgreens for next day pickup.
Guarantee to you: If the photo is not being accepted by the embassy, then we will retake your photo.
You can also take passport photos with the app, you only need to select passport under "Photo Type". Apply for your visa and plan that safari that you have been putting off to the African country, South Africa.
References