You are in the process of renewing your Spain passport, and you don't understand the specific requirements related to the photos. iVisa Photos has tremendous experience preparing thousands of compliant passport photos and will get it right every time. Simply follow the Quick Facts below and let iVisa Photos handle your photo nightmare for you.
To further avoid travel hassles, make sure you visit our website to determine whether you need to obtain a visa for your travel abroad. Most visa applications can be processed much faster and cheaper online than traditional processing.
What is the Spanish passport photo size requirements?
The Spanish Passport size must be 30mm x 40mm. The face must be full frontal and hair can not cover the eyes.
More Photo Specs
Size: 40mm x 30mm (Passport Size)
Color: Must be color
Head size and position: Aligned in the middle, entire face should show
Background: White
Smile: Neutral
Eyes: Open
Glasses: No sunglasses, daily wearing glasses yes
Headgear: No
Quantity: Two (2) photographs
Spain Passport Photo Size Requirements Guide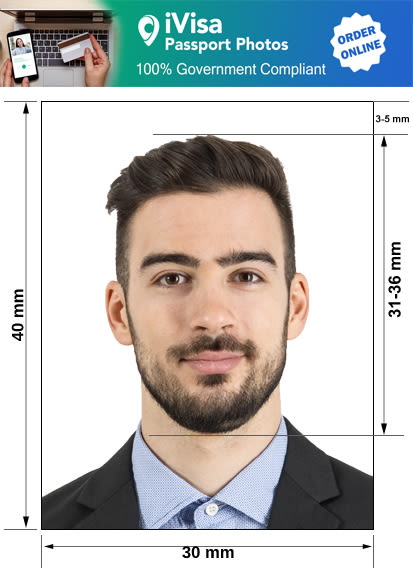 Spain Passport Photo and Visa Photo Requirements, Rules, Guidelines, and specifications
iVisa Photos app´s algorithms ensure that your photo is 100% compliant for the Spanish.The Visa photo has a lot of rules, not meeting it could result in a denied visa application or delays.
Notes regarding your photo:
It must have a white background
Your face should be centered in the middle
Size specifications: 30x40mm
Must be a recent photo
No hat or scarf or other headgear
Avoid glares from the flash on your lenses
You need two (2) pics
Rules and requirements for babies, infants, and newborns Passport and Visa photos
The Spanish Schengen visa has exactly the same rules for those who applies. Since a visa photo is necessary for all, adults and babies, we recommend that you follow these tips if you are also applying for a baby.
One, your baby must be wide awake to ensure its eyes stay open
Two, the background of the photo has to be white
Three, if you baby is say less than 6 months old, then you can take tthe photo when the baby sits in its carseat
Price and Cost
The iVisa Photos service is competitively priced from as little as $3.99. We offer customers 1- home delivery, downloading the photo or in store pickup. Living in the USA will allow you to receive your images through mail, or at a CVS, Walgreens or a Walmart as an added convenience.
How to get your Spain Visa Photographs Online with iVisa Photos?
The app is available for iOS here and Android here.
Tips:
Use a white background like a white fridge or wall or even a door
Avoid shadows behind you
Do not smile too much, have a neutral facial expression
Stand in front of a window and ask someone else to take your photo, eliminating all shadows or glares.
Do not wear sunglasses.
What you need to know before getting started:
The entire process will take you only a few mins with the iVisa Photos app. You need to select Spain, this is important as each country has different rules. In this case, select Spain.
Use your smartphone or tablet . With iVisa Photos you have the option to use their "photo editor" to review your image before printing to make sure that its 100% compliant meeting the Spanish Government's specs
You can download the image after you took it, select home delivery , or choose next day in store pickup
Just select passport under "Photo Type" if you need a photo for a passport. Spain is a fun country to visit, make sure you plan ahead and get the visa.
References