The country of Suriname is located between Guyana and French Guiana on the northeastern coast of South America. Though the country of Suriname is often left off travel itineraries to South America, this country has a lot going for it. It is filled with culturally diverse communities, a dense jungle that you can only get to by river, and an intriguing food and arts scene that blends cultures from the Caribbean, Indonesia, India, and China. The food is delicious!
Meanwhile, the country's jungle (the locals refer to it as the interior) is home to a variety of traditional indigenous villages.
If you have the chance to visit Suriname, get excited about exploring the country. While Suriname is a friendly country, it's not an effortless place to travel; the roads are challenging, healthcare options are limited and the political situation is deafening. So, whether you're there for the food and culture, the wildlife, or the interior, you won't make it there without a passport. Please continue reading to learn about the Suriname Passport/Visa Photo Requirements and Size so that you can begin your travels with iVisa.com!
Frequently Asked Questions
How much will it cost me to get the passport/ visa photos through iVisa.com?
You'll be happy to see that iVisa.com makes sure to provide the best travel services at prices that will please. You can obtain printed copies sized at 4.5 x 3.5 centimeters, including USPS Delivery which is 2-4 days. The cost for this service is $9.45. This includes two copies and free shipping. That's the Suriname Passport/Visa Photo Requirements and Size!
If you have the ability to print yourself, you should invest in getting digital copies sized at 4.5 x 3.5 centimeters costing $5.95. This not only includes two copies and free shipping but expert reviews as well.
How do I complete the process of attaining a good passport/visa photo through iVisa.com?
The process is easy. You will enjoy the simplicity of the forms and their directness, making completion quick!
1.Select the preferred option.
If the printed option is selected there will be an additional selection of expert review at the additional price of $4.95. Great for your Suriname Passport/Visa Photo Requirements and Size.
2.The next step will request your:
Email address
Phone number
First and last name
Please note that if you select the printed option the form will also require you to enter your physical address information. If you are in the US there are also options for store pick up. Simply select the Store Pickup Option and enter your zip code to discover local pick up locations. If you select store pickup, a fee of approximately USD 0.50/photo will be charged at pickup.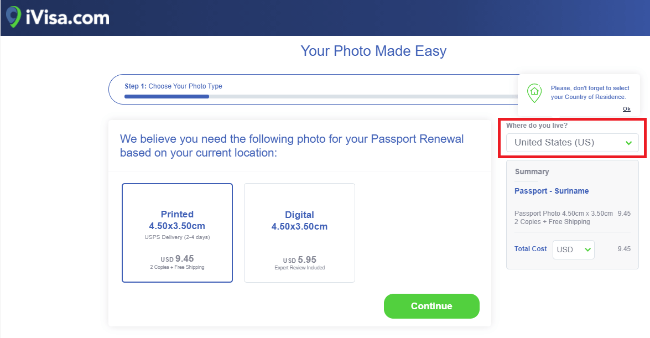 3.As you continue you will be requested to;
upload the photos that you have taken and need to be reviewed for, or to meet, the Suriname passport/visa photo requirements and size.
4.Review the information that you have entered being sure to check for spelling errors and confirm that you have selected the appropriate iVisa.com services and uploaded the correct picture before entering payment information.
We accept all major credit/debit cards such as VSA, MasterCard, Discover, and American Express. There is also an option to log in and utilize your PayPal account for payment.
5.Press submit.
How long will it take for me to receive my visa/passport photos?
If you select the digital copies at the listed price of $5.95 you can anticipate your final product to arrive via the email you provided in close to twenty-four hours.
The shipping on the printed option has an estimate of 2-4 days for arrival.
Am I only able to receive two pictures?
You will be required to submit two pictures as part of the Suriname Passport/Visa Photo Requirements and Size requirements however we understand that our customers have many reasons for needing these photos so you may purchase copies as follows:
1 printed copy + free shipping for USD 7.45
2 printed copies + free shipping for USD 9.45
4 printed copies + free shipping for USD 12.95 As well as;
12 printed copies + free shipping for USD 16.45
Suriname Passport Photo Size Requirements Guide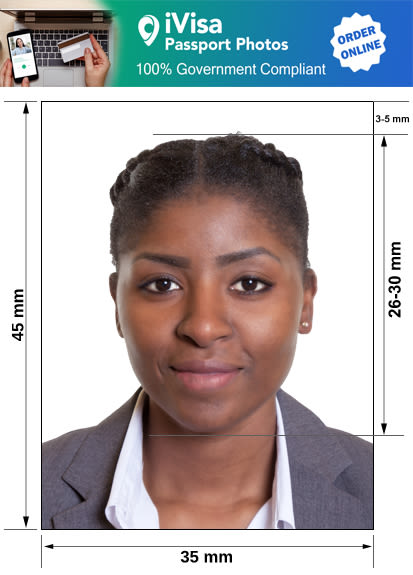 Is it Safe To Use iVisa.com?
Absolutely. You can rest assured that iVisa.com uses a secure platform to process your requests. We at iVisa.com are our own customers as well so we are personally invested in your security as well as ours. You can read through our customer reviews for confirmation of this security through real people.
If I need more information can I contact you?
Please contact us! We are available 24/7 via email. Our customer service agents are happy to assist you with any questions, concerns, or comments about the Suriname Passport/Visa Photo Requirements and Size all throughout the day.
Start snapping and let iVisa.com handle the rest!