When renewing your Switzerland passport or applying for a visa, you need to meet the very specific requirements for the photos. iVisa Photos is very experienced with those requirements and will ensure that your application is not subject to undue delay and added expense from improper photos. Review the Quick Facts below to get started.
You should also visit iVisa.com before traveling abroad to determine whether you will need a visa. Most applications for a visa can be processed online by iVisa.com quickly and affordably.
Photo Specs
Size: 45mm x 35mm
Color: Must be on color.
Head size and position: Head should measure 29mm to 34mm and centered.
Recency: Taken within in the last 6 months.
Background: Solid white or off white. No patterns.
Smile: None. Neutral expression only. Mouth closed.
Eyes: Fully visible, open and facing camera.
Glasses: Only if eyes are visible.
Headgear: Religious or medical reasons only.
Dimensions and size (pixels): None specified.
Attire, clothing, dress code: No uniforms or white colored clothing.
Beard: Optional.
Quantity needed in application: 2.
Switzerland Passport Photo Size Requirements Guide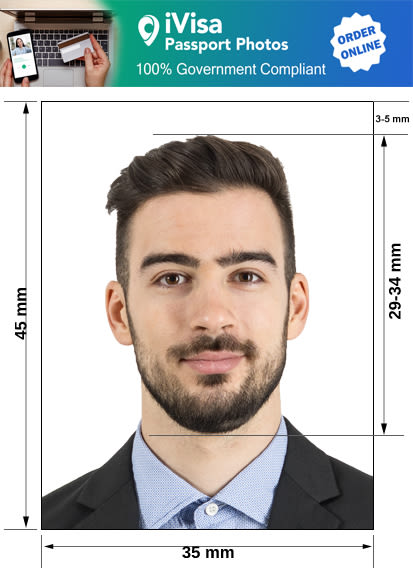 Switzerland Passport Photo and Visa Photo Requirements, Rules, Guidelines, and specifications
Quick Facts serve to give a general overview on the required details needed when taking a passport or visa photo. As you can see, this is no selfie or picture you'd share with your photos on Twitter. Instead, strict guidelines are put forth to assure the Swiss and other governments can properly identify you. On top of those facts already stated, here are a few more vibrantly outlined specifications to adhere:
No photos done in black and white or showing any type of filter will be accepted. The color must represent your true, natural skin tone.
Avoid uneven lighting. This is the most common detail leading to rejection of any photo. If the photo is too dark or too light, casts shadows on your face or shows a reflection from a flash on the background, it won't be accepted.
Each photo submitted must be an identical copy and not photocopied, printed on glossy, high quality paper.
Background color is important. It can't be any color other than white and have no pattern or image.
Sizing is critical. 35mm by 45mm means those exact measurements only. No smaller. No bigger.
Eyes must be open and clearly visible in the photo. Avoid red eye by not aiming flash directly into the eyeball. If this occurs, retake the picture as ANY digital alterations are prohibited.
Glasses can be worn only if they do not block the eyes. Tinted lenses, glare or sunglasses are not allowed.
Nothing should be worn on the head or in your hair unless it's for religious or medical reasons only. Even so, your full face has to be visible.
Keep clothing darker in color so you are contrasted with the background.
Rules and requirements for babies, infants, and newborns Passport and Visa photos
Planning to take the entire family with you? Each child and infant will require their own personal passport or visa regardless of age. The above regulations are still applicable to kids and infants, especially the technical ones. We understand taking photos of your kids in a certain position may require multiple shots to get it right but have no fear, it can be done. Here are a few guidelines and tips to assure proper images:
If you hold your child, make sure your hands or arms are not in the picture.
You can choose to either lay a child down or sit them in a car seat. Use a plain white sheet for the background no matter which you choose.
Toys or other foreign objects cannot be photographed.
A child under the age of 11 requires a head measurement of 23mm to 34mm.
Eyes must be open, mouth closed and head centered in photo. This could take quite a few tries to get right but keep trying.
Double check lighting and make sure the child's face is fully visible with even lighting.
Price and Cost
Determining where to go for these passport or visa photos should be easy, considering so much is not available online. Course, it does depends heavily on preference. But who doesn't like convenience and saving money? At iVisa Photos, you not only get to take pictures from home or office, the cost of getting them back is extremely cheaper than, say, a post office. For a set of photos on glossy paper, you are looking at 6 CHF. Plus the price gets even better if you need more photos! Now if you do decide to venture into town and have no problem waiting in lines, you're looking at 14 CHF for a pair of pictures. Doesn't seem like that big of a deal but we think you should have more money for vacation and not have to waste it on an expensive photo.
How to get Switzerland Passport Photos or Switzerland Visa Photos Online?
Our easy to use website is one which allows users the freedom to complete an order without troubles. iVisa Photos offers the passport photo booth, which gives you the at home or work experience of taking your own picture. Our staff will then scan it and guarantee 100% government compliance before submitting. Should you not like the image you have taken, feel free to retake at no extra cost. If you have questions or concerns, our friendly representatives are standing by to answer anything you have. Make the switch and trust us to get the job done correctly the first time. We give you our word and are looking forward to getting you on vacation as soon as possible.