If you need to renew your Thailand passport or to apply for a visa, you need first to have a photo that complies with their specifications in all respects. You should rely upon iVisa Photos to expertly prepare passport photos that will meet these requirements the first time, every time. Just review and follow the Quick Facts below and let iVisa Photos do all the work and prevent your passport or visa application form being delayed due to a non-compliant photo.
You should also visit our website before traveling abroad to make sure that you don't need a visa for your upcoming trip. They can process most visa applications online, saving you a great deal of time, trouble, and money.
Photo Specs
Size: 2 inches x 2 inches for passport. 60mm by 40mm for visa.
Color: In color. No black and white accepted.
Head size and position: Head should take up 70-80% of photo. Centered and looking forward.
Recency: Taken within the last six months.
Background: Solid white only. No patterns or prints.
Smile: None. Must keep neutral expression with no teeth showing.
Eyes: Open and directed into the camera.
Glasses: Only if not blocking visual of eyes.
Headgear: Acceptable for religious or medical purposes.
Dimensions and size (pixels): 1200 dpi minimum.
Attire, clothing, dress code: No light colored clothing.
Beard: Not specified.
Quantity needed in application: 2.
Thailand Passport Photo Size Requirements Guide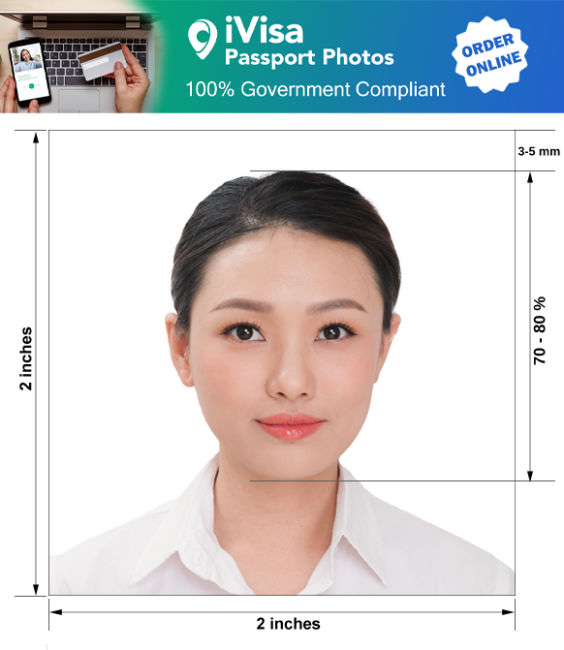 Thailand Passport Photo and Visa Photo Requirements, Rules, Guidelines, and specifications
We hope the Quick Facts gave you enough to get started. Keep in mind, there are a lot more specifications to consider when taking a photo either professionally or by yourself. To eliminate the guesswork and expedite these passport and visa photos, here is a list of more detailed guidelines you should make yourself aware of:
When considering the sizing issue, it must be precise. Depending on which document you need, the exact measurements are non-negotiable.
The most common detail causing rejections of photos by the government is lighting. A picture overexposed or underexposed is never acceptable. Shadows cannot be formed on the face or background. Keep lighting even.
Smiling is not permitted when taking a picture for your passport or visa. Maintain a neutral expression and mouth closed.
Glasses are acceptable so long as the frames are not thick, lenses have no glare and there is no tint to the glass.
Eyes should be facing directly toward the camera and wide open. Be aware of red eye. If this occurs, a new photo has to be taken as any digital alterations is never permitted.
Hats or other headwear are not allowed. The only exception is headpieces for medical or religious reasons. Either way, your face and ears must be completely visible.
Avoid wearing uniforms and anything clothing of light colors.
Beards are never specified but a rule of thumb is if you wear one on a regular basis, it's acceptable.
Your head position needs to be squared off with the camera and the tops of the shoulders in view.
Avoid glare on the background caused from a flash.
Rules and requirements for babies, infants, and newborns Passport and Visa photos
Children who are leaving Thailand with their parents or friends need to have their own passport or visa. It doesn't matter the age either. Infants are not exempt from these rules. Every child or infant will also need to have an individualized photo taken of them within the past 6 months. We understand it can be a challenge getting a correct photo of small kids but it's necessary. Along with the above regulations, there are a few other details requiring your attention:
Toys, bottles and pacifiers cannot be photographed with your child.
Parents, you are not permitted to be in the photo with your infant. Should you decide to hold the baby, hands and arms cannot be seen.
You can place the infant on the floor or sit them in a car seat. Whichever method you choose, place a white cloth behind the baby to assure the background is in compliance.
Regardless of how many pictures you take, the final photo must show the infants' eyes open, mouth closed and facing the camera. His or her head should take up 70-80% of the picture, same as an adult.
Price and Cost
We all want to save money these days as the cost of everything goes up and our pay seems to stay stagnant. Traveling the world doesn't have to break the bank and neither should getting the correct documents. Passport and visa photos can cost more if you decide to get them the old way, such as drug store or post office. On average you are looking at spending about 524 THB for a set of 2 pictures. Plus, through in congested traffic and long lines. There is no reason you should spend time away from home or office and practically through your hard earned money in the air. At iVisa Photos, you can enjoy the leisure of staying put and spending less. A pair of photos is 220 THB. Doesn't that sound better?
How to get Thailand Passport Photos or Thailand Visa Photos Online?
There's nowhere else to look if you want an excellent passport or visa photo experience. iVisa Photos offers an easy to use website, allowing you complete control of your photos. All you need is a smartphone or tablet to complete the process using our passport photo booth. No need to worry about specifics as our knowledgeable staff will take care of the rest. We guarantee 100% government compliance on all images. If you are not completely satisfied with your photo, feel free to retake until you're happy at no extra charge. Have questions or concerns? No worries. Our staff is ready to take your call 24/7. Give us a chance to make your vacation experience worthwhile and take the stress out of planning. You won't be disappointed.
References