When you decide to apply for a passport, your most make sure that you meet all the requirements. That implies some documentation, as well as 2 passport photos. While iVisa Photos cannot facilitate the Tonga passport application process, we can help you get the pictures you need without having to leave your house. You can take your own picture at home, and iVisa Photos will turn it into a government-compliant passport photo.
While we are on the subject of international travel, you may also want to check out our website. With iVisa's help, you can learn whether or not you qualify for an electronic visa. If you find out that you are, indeed, eligible, iVisa facilitates the online application process for you.
Photo specs
Required photo size: 4.5 cm in height and 3.5 cm in width
The submitted photos must be in color
Head position: straight
Recency: taken no more than 6 months ago
Background: white
Smile: no
Eyes: must be clearly visible
Blurred pictures will be rejected
Glasses: acceptable only if they do not obscure the eyes and there is no glare in the photo
Headwear: not allowed. Exceptions are made for religious/cultural purposes
Resolution (pixels): at least 600 dpi
Dress code: the colors of your clothes must be in contrast with the background. Do not wear white tops
Beard: permitted if it represents your everyday appearance
Number of photos necessary: 2
Tonga Passport Photo Size Requirements Guide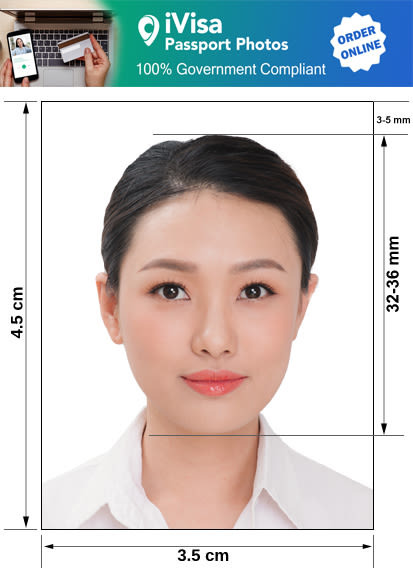 Please remember to write your name in the back of your picture.
Tonga Passport Photos and Visa Photo Requirements – Rules, Guidelines, and Specifications
Knowing the Tonga passport photo requirements above is not enough. You must also know the guidelines you have to follow in order to take your picture the right way. Below, you will find the rules that you must be aware of.
When you take your passport photo or visa photo, you have to position yourself in front of a white background. It can be a white wall or a white sheet. As long as there are no colors, patterns, and shadows on the background, you are good to go. Also worth mentioning is that if you use a sheet, it cannot be see-through.
The lighting is also very important. Make sure that the source is in front of you when you take the picture. That eliminates the possibility of having shadows on your face. Moreover, make sure that the light is not too bright or too dim.
Keep your head straight and your face forward when you take your passport photo or visa photo. You cannot submit a portrait-style photo because both sides of your face must be seen equally. So do not rotate your head in any direction.
In your passport photo or visa photo, you cannot appear displaying any other facial expression other than neutral. Therefore, you are not allowed to smile.
Your eyes have to be perfectly visible. Make sure that your glasses or hair do not cover them. Put your hair back. Glasses with clear frames are somewhat acceptable, but only if the picture does not contain any glare. Sunglasses and tinted lenses, on the other hand, are prohibited.
Headwear is usually not permitted when you take your passport photo or visa photo. Nevertheless, if you cover your head for religious purposes, you can keep your headwear on. But please make sure that your face is visible from top to bottom, and that your ears are visible. Also, the headwear should not cast any shadows on your face.
If you usually have a beard, you are not obligated to shave it before taking your passport photo or visa photo. The point is for the picture to depict your regular appearance.
Rules and Requirements for Babies, Infants, and Newborn Passport and Visa Photos
Children need to hold their own travel documents, so you have to take their pictures too. There is no significant difference between an adult's passport photo and a child's passport photo other than the fact that a child's head is smaller. Thus, it can take less space in the shot. Here are some tips to help you when you photograph your children:
You should not take your child's passport photo or visa photo when they are asleep. The eyes must be seeable.
When placing your child in a car seat for the shot, please do not forget to put a white sheet on the chair's backrest. After all, the background has to be white.
If you prefer to lay your baby down and take the picture from above, put a white layer underneath the child so that the background is white.
You cannot appear at all in your child's passport photo or visa photo. Not even your hands can be visible.
The baby must appear without headwear, pacifier, or any other object in the shot.
Price and Cost
The amount you spend on your passport photos or visa photos is not high when you decide to use the services provided by iVisa Photos. For a Tonga passport, you are required to procure 2 pictures. With iVisa Photos, you will only pay $5.99 for them. That is roughly 14 TOP, depending on the exchange rate on the day you make the order.
How to get Tonga Passport Photos or Tonga Visa Photos Online?
Are you ready to take your picture and get your passport photos with iVisa Photos? Below, you are going to find out how to proceed. But first, make sure that you have a decent camera. The one from your phone or tablet should be good enough.
After you find the right setting, take your picture. Do not forget to consider all the rules we laid out of your above. After you manage to take a picture and you like it, submit it to iVisa Photos so that we can process and turn it into a 100% government-compliant passport photo. Once we do that, we will provide you with two options:
1.You can download the processed picture so that you can print it yourself at home.
2.You can give us your address, and we will make sure that the photos reach you as soon as possible.
Do you have any questions or concerns about iVisa Photos and the online process of getting your passport photos or visa photos? Do not hesitate to reach us. Our customer support is at your disposal for any questions you may have.
References