Portuguese immigration authorities implemented COVID-related entry restrictions during the pandemic, as did most countries in the world. The travel restrictions were standard precautions during the health crises and helped the Portuguese government to control COVID-19 cases and keep the territory safe for locals and tourists.
But in 2022, countries are leaving the COVID-19 restrictions. For example, since May 3, 2022, the Portugal Passenger Locator Card is no longer necessary to visit the country. Still, travelers wonder: What is still required to enter Portugal?
Do Portuguese Health Authorities request negative test results on arrival? Is it necessary to present proof of vaccination?
This article will provide further information about the current requirements for local authorities related to COVID-19 and what documents you need to get to travel to Portugal.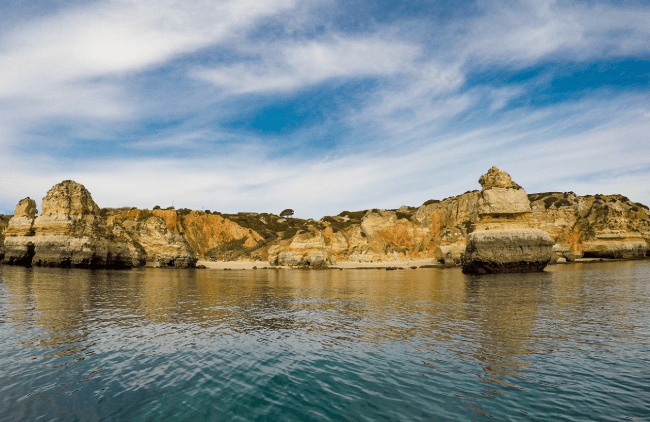 Frequently Asked Questions
PORTUGAL COVID ENTRY REQUIREMENTS: WHAT ARE THE ENTRY REQUIREMENTS FOR PORTUGAL DURING COVID?
During the COVID-19 pandemic, Portuguese law included some requirements for visitors. On arrival, it was necessary to submit a Portugal Passenger Locator Card online, presenting a negative COVID-19 PCR, or proof of vaccination and antigen test. But the Portuguese authorities no longer have COVID-19 restrictions.
DO I NEED A COVID-19 VACCINE OR VACCINATION CERTIFICATE TO ENTER PORTUGAL?
No, you don't. Today, COVID-19 vaccine certificates are not mandatory to enter Portugal. You don't need to present proof of vaccination or present a valid recovery certificate.
But, if you are fully vaccinated as an EU Digital COVID Certificate holder, it's a good idea to carry it on a Eurotrip. Other European countries may still ask for a vaccination certificate.
DO I NEED TO PRESENT A NEGATIVE PCR TEST RESULT BEFORE TRAVELING TO PORTUGAL?
No, you don't. COVID-19 testing is no longer included in the national measures. When entering Portugal, you have to present neither PCR nor antigen test since there are no longer testing requirements.
However, for foreign visitors who want to take the Covid-19 test, it is possible to do so at any time in mainland Portugal or Madeira:
DO I HAVE TO QUARANTINE ONCE I ARRIVE IN PORTUGAL?
No, you don't. There are no quarantine requirements in the islands or mainland Portugal. Wearing face masks and presenting test results are no longer required.
TRAVEL DOCUMENTS: DO I NEED A PORTUGAL PASSENGER LOCATOR FORM?
The European Union countries developed a series of documents to track travelers during the COVID-19 pandemic. Similarly, the Portugal Passenger Form was a mandatory document to enter the islands or mainland Portugal during the health crisis. But since the country left the COVID-19 restrictions, the form is no longer necessary. According to the current local laws, the ETIAS is the only document you need to worry about to enjoy Portugal's tourist attractions.
DO I NEED A VISA TO TRAVEL TO PORTUGAL?
Most countries were exempt from visa requirements to travel to this EU country. However, the ETIAS Visa Waiver will go into effect by the end of 2022 and will be a mandatory document to visit Portugal, as in other Schengen countries.
The ETIAS visa waiver for Portugal is expected to work similarly to the ESTA system currently in place for the United States. The document will allow eligible passport holders to visit Portugal and the European Union without getting a visa from the nearest Portuguese embassy.
The entire process will be online, so you can count on iVisa services for a simple and quick application.
WHAT ARE THE DOCUMENTS REQUIRED FOR THE ETIAS PORTUGAL?
Before packing your personal belongings, you must apply for the ETIAS Portugal from November 2022 onwards. But it's easy to obtain this new travel document. All you need to provide is the following:
A passport from an authorized-issuing country with passport validity of at least three months from the date of arrival in Portugal.
Payment method (credit or debit) to pay the ETIAS fee.
A current email address to receive the approved ETIAS to enter Portugal.
WHAT IS THE INFORMATION REQUESTED DURING THE ETIAS APPLICATION?
The Schengen member countries developed this document thinking about border security. So you have to provide some personal information while filling out the ETIAS online form. You will be asked to complete different sections depending on the country of citizenship you have chosen.
As a result, you may be asked to provide the following:
Biometric or passport details such as your first and last name
First European Union country you wish to visit
Education and work experience
Eligibility and background information, such as medical insurance, travel to countries at war, countries from which you have been deported or denied entry, and criminal record.
WHAT IS THE PORTUGAL GOLDEN VISA PROGRAM?
The Government of Portugal created the Portugal Golden Visa for non-EU nationals who make significant investments in the Portuguese economy, such as purchasing real estate, making capital investments, or creating jobs. This visa is valid for six years, so you can become eligible for Portuguese citizenship via the visa program. The document can be extended from the parent or legal guardian to the children and other family members under family reunification.
The Golden Visa intends to attract investors from around the world and boost the country's economy by making a positive economic impact on the country. More than 10,000 Golden Visas have been issued since the program began in October 2012, making the initiative one of the world's most popular investment-based residency visa programs.
IS IVISA A RELIABLE PLATFORM FOR GETTING MY TRAVEL DOCUMENTS?
Yes, it is! We have a high-security platform that will protect your data from third parties because we understand your concern about your information and take that seriously. In addition, you will have the chance to get your visa for Portugal effortlessly, making your trip even better. Don't worry about tedious paperwork; let us help you achieve your dream of visiting Portugal.
WHERE CAN I FIND MORE INFORMATION ABOUT IT?
Do you still have questions? You can contact our customer service agents to find out more about the Entry Requirement for Portugal. They will be ready to assist you whenever you need them, 24/7. You can also email us at [email protected] if you prefer.
iVisa Recommends
Portugal is one of the most beautiful countries in Europe. The country was considered for the 5th time in the last six years "Best Tourism Destination in Europe" in the World Travel Awards 2022. iVisa recommends a few places you should consider during your trip to this gorgeous country you will adore.
Lisbon, the capital of Portugal, is the city of the seven hills, or the delicious Bélem cakes. It is a must-see place, and we're sure you will not want to leave it. It should not be a surprise that it is considered one of the most beautiful in Europe because you will have the opportunity to enjoy a classical city in the modern world.
If you prefer going to the beach and a jaw-dropping place, you should visit Algarve. Its spectacular coves in a privileged point in the south of Portugal make it an ideal place to spend a few days of vacation in style. It has one of the most extensive beaches you can imagine, and the view you will have will be unique.
Porto, Sintra, Coimbra, Obidos, the list is endless. Go there and explore; it's definitely worth visiting!