Are you considering moving to Portugal? Portugal offers a few ways to get a residence visa or Portuguese citizenship, including the Portuguese Golden Visa program. Here's everything you need to know about the Portugal Golden Visa, from how to apply for one to what the exact investment requirements are.
In recent years, the European Golden Visa programs have gained a lot in popularity. As the world becomes more globalized, moving overseas is becoming easier, even though certain requirements must be met. We've put together a guide that outlines how to go about the Golden Visa application process for Portugal, which can be done by investing in real estate, business, or art, for example.
Consult the convenient iVisa visa checker if you need another type of visa for Portugal, such as a Schengen visa.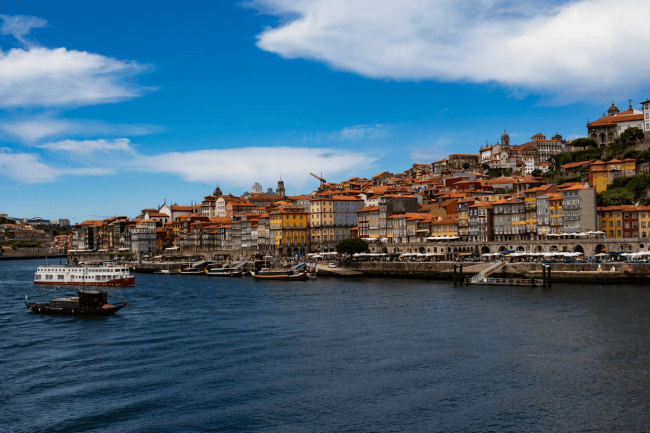 What is the Portugal Golden Visa program?
Non-EU nationals who make a significant investment in the Portuguese economy, such as purchasing real estate, making capital investments, or creating jobs, are eligible for the Portugal Golden Visa. In as little as six years, you can become eligible for Portuguese citizenship via the Golden Visa program.
Portugal's Golden Visa scheme is designed to attract investors from around the world and boost the country's economy by making a positive economic impact. In Europe and worldwide, The Golden Visa in Portugal is one of the most popular residency by investment programs. More than 10,000 Golden Visas have been issued since the program began in October 2012.
Benefits of getting the Portuguese Golden Visa
Portugal is one of the most popular Golden Visa programs, offering great benefits over other countries. When making a significant capital transfer to the country, by making a real estate investment, for example, you can expect some advantages in return. Advantages include:
Visa-free access to travel to, live, and work in any EU Country

Access to Portuguese education and healthcare systems

Opportunity to get a Portuguese passport in 5 years

Your direct family members are also eligible

Favorable Portuguese tax incentives

No need to live in Portugal full-time
Portugal tax incentives for foreign investors
Golden Visa applicants don't pay income tax in the country unless they move to Portugal and register the country as their primary residence. A person who does become a tax resident in Portugal can apply for the Non-Habitual Residents (NHR) regime, which offers several exemptions from income tax and other tax benefits.
Who is eligible for Portugal's Golden Visa program?
Portuguese Golden Visas are available to any non-EU/EEA/Swiss national. The minimum age for applying is 18 years old, and you must have a clean criminal record both in your home country and in Portugal. Investing funds should originate outside of Portugal.
Golden Visas can be extended to family members under family reunification. The following family members can join you:
Your partner or spouse.

Children under the age of 18 or financially dependent children over the age of 18. In order to qualify as dependents, adult children must be enrolled in full-time education and be unmarried.

You or your spouse/partner's siblings under the age of 18. Legal custody of siblings is required in order for them to qualify as dependents.

Parents over 55 of either you or your spouse/partner. Documents proving their dependency are required unless they are older than 65.
A Portuguese residence permit card will be issued to every family member included in your application.
Portugal Golden Visa requirements: Investment options
There are quite a few possibilities for Golden Visa investments for Portugal, including:
Make real estate investments of at least EUR 500,000. Purchasing in a low-density area will require an investment of only EUR 400,000.

You can also purchase property in an urban regeneration area in Portugal for a minimum of EUR 350,000. Purchasing in a low-density area, the investment amount is EUR 280,000. The project should qualify for investment by the Portuguese Immigration and Borders Service – SEF.

Invest at least EUR 350,000 in qualifying investment funds. This is usually done through a venture capital fund in real estate or tech start-up businesses.

Invest at least EUR 350,000 into science or technology research through public or private institutions.

Make a capital transfer of at least EUR 250,000 to support the arts or national heritage.

Transfer at least EUR 1 million to a Portuguese bank account.

Buy company shares of at least EUR 1 million or invest EUR 1 million in a company.

Create jobs for at least ten Portuguese citizens or invest a minimum of EUR 350,000 to create or support the creation of a commercial company through which you create at least 5 jobs.
The wide range of options available make Portugal a popular choice for a Golden Visa investment.
How to apply for the Golden Visa in Portugal
An application for a Portuguese Golden Visa involves the following steps:
Choose your investment from the above options.

Open a Portuguese bank account and tax number.

Go through the Portugal Golden Visa application process.

Receive your residence permit.

Eventually, you can apply for Portuguese citizenship or permanent residence.
Documents needed for the Portuguese Golden Visa program
To apply, you must submit the following documents:
Portugal Visa Application form.

Valid passport.

Two passport-size pictures, which are in line with Portugal visa photo requirements. If you don't have one, check out the iVisa digital photo service.

Document stating that you and your family members have health insurance that is valid in Portugal.

Certificate or police clearance proving that you have no criminal records, from any country you have lived in for more than one year. It must be issued in the last three months.

Statement that you will maintain your investment for a minimum period of five years.

Payment receipt for the visa fee.

Any documents proving investment, such as the acquisition deed of the property you purchased, certificate from a financial institution, land register certificate, employments contracts, etc.
You must provide translations in either English or Portuguese by a certified translator. Legal documents must also have an apostille stamp.
Portuguese Golden Visa cost
Aside from making a Portugal Golden Visa investment through real estate or another option, you will have to pay the visa fees for all Golden Visa applicants, including family members. Portuguese Golden Visa applications can cost between EUR 5,000 – EUR 6,000 for each person, including processing fees. The renewal costs are between EUR 2,000 – EUR 3,000 per person.
Also keep in mind that you will have to pay for the translations, lawyers, consultants, and legalization and issuance of documents along the way.
Obtain Portuguese citizenship through the Golden Visa program
After investing in Portugal, you can apply for permanent residency after 5 years, and obtain a Portuguese passport after only six years. Considering the lenient residency requirements, this is actually a relatively short time to obtain EU citizenship, compared to other Golden Visa programs. In comparison, the Spain Golden Visa takes 10 years before you can get citizenship.
Another advantage for many foreign investors is that you do not need to live in Portugal full-time. The first year you only need to be in the country for 7 days, and the next two years for only 14 days.
How to renew a Portuguese Golden Visa
There is a one-year validity period for the Portugal Golden Visa. Providing that your investment remains intact, you can renew it for two years each time. Permanent residency or citizenship becomes available after five years.
Renewal is fairly straightforward, but you will have to pay the renewal fees and prove that you still have the investment of the same or more value.
Visit Portugal to apply for the Golden Visa program
It can be a big decision to make a large investment to apply for a Portuguese Golden Visa. Why not take a trip to some of your top choices in Europe and see which is the best fit for you? If you need a visa, check out our Schengen Visa guide and ETIAS visa waiver guide to help you plan your trip.