Portugal is a popular destination to enjoy its colorful cities, its beautiful beaches, and its historical landmarks. In this country, you can visit the capital city, Lisbon, and also the popular city of Algarve on the south coast. Portugal is also popular amongst tourists outside the EU because it has a visa-free policy that allows them to stay in this nation for 90 days. However, this will have a small change in 2022, when the Portugal ETIAS is launched.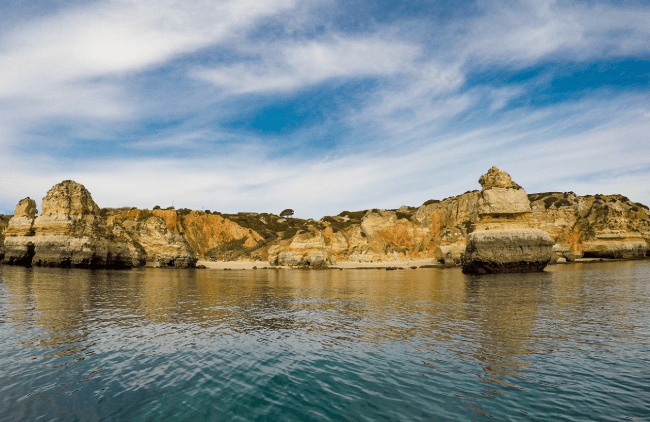 Applying for the ETIAS document won't be difficult because the process is totally electronic. In other words, you can obtain it with an application form and not by going to the local embassy to obtain it. To apply for this document, all you have to do is to use a professional service like the one iVisa.com has. In iVisa.com, we can guarantee a safe and reliable process because we've been delivering travel documents and eVisas since 2013.
However, we know that the cost is probably the most important topic when you're planning a journey to Europe. Therefore, we've prepared this article for you with all you need to know about the Portugal ETIAS cost.
Keep reading the FAQs below to learn more about the price of the ETIAS.
Frequently Asked Questions (FAQs)
What is the Portugal ETIAS and why is it so important?
ETIAS is the short word used for European Travel Information and Authorization System. This visa waiver program was created by the European Union to strengthen border protection in the Schengen Zone, especially with its visa-free policy that allows the free entry of 60 countries by now.
With the ETIAS, the immigration officers will be able to verify if there's any danger or threat in the Schengen member states. Keep in mind that the ETIAS will be obligatory by late 2022 in case you want to visit any country that belongs to t. Therefore, you'll have to apply for the Portugal ETIAS to visit Portugal.
However, as we mentioned previously, the ETIAS will be useful not only in Portugal but in the entire Schengen Area, so you can use it to nearby nations like Spain or even France.
Most of the non-EU citizens that can apply for the ETIAS don't have to get a Paper visa to visit the Schengen Area. The ETIAS works as a valid travel authorization to visit all of the ETIAS countries.
How can I know if I'm eligible for the Portugal ETIAS?
You can easily check if you're eligible for the ETIAS by using iVisa.com's website. iVisa.com has incorporated a Visa Checker Tool on the homepage that allows you to verify if you need an ETIAS, an eVisa, or a Paper Visa to visit any country.
To use it, choose your country of origin and 'Portugal' as the destination. This way, after a few seconds, you'll see if you can apply for the Portugal ETIAS or not.
How long is the Portugal ETIAS valid for?
After you receive the ETIAS via email inbox, you can use it to transit freely in the Schengen Area for up to 90 days.
The Portugal ETIAS also has validity if 3 years or as soon as your passport expires. Keep in mind that if your passport expires before the due date of your ETIAS, then you'll have to apply for a Portugal ETIAS again after you renew your passport.
What are the requirements to apply?
You can apply for the Portugal ETIAS by using the official website, or you can save more time on your trip with iVisa.com thanks to its fast-and-safe service. Keep in mind that the official methods can be tricky and time-consuming, contrary to what you can enjoy with iVisa.com's service.
The best part of it is that you can get your document by simply providing these requirements:
A passport with a validity of 3 months.
An email Address to obtain the ETIAS the best way possible.
Valid means of payment, which can be a debit/credit card or a Paypal to pay for the ETIAS fees.
How much does the Portugal ETIAS cost?
If you're reading this article, you probably want to know the exact Portugal ETIAS cost. Keep in mind that it doesn't have an official price yet because it was recently announced, but we can offer you the average that's been discussed and also important details about our processing times. With iVisa.com, you can choose one of the following processing times according to how soon you want your Portugal ETIAS:
Standard Processing Alternative – This option is the least expensive and it allows you to get your document in a decent amount of time.
Rush Processing Alternative – This processing option is faster and also more expensive.
Super Rush Processing Alternative – With this processing time you get your document asap but the price is the most expensive.
Note that the Portugal ETIAS costs will be around €7, but that doesn't include iVisa.com's fee. However, iVisa.com's fees aren't expensive either, so you can be relieved about that.
Also, keep in mind that we don't charge anything unless you give us the valid permission.
How can I apply with iVisa.com?
You don't need much effort or time to complete iVisa.com's application form because it only has 3 steps, which are:
First, fill in the application form with your personal details and select the processing time you prefer.
Second review all the information you offered in step one and verify the spelling before continuing with the payment.
Third, upload the requirements after you complete the payment and click on 'submit' to finish the process.
That's all you have to worry about on your side because the rest is ours! After that, you'll just have to wait for your Portugal ETIAS via email inbox depending on the processing time you select.
How many times can I enter the Schengen Zone or Portugal with an ETIAS?
One great benefit of the ETIAS is that it offers you Multiple Entry as long as you don't exceed the 90 days. Another great advantage is that the Portufal ETIAS is valid for 3 years or until your passport expires, whichever comes first.
Is there any other condition I should take into account before applying?
The most important thing you must consider before applying is your passport's validity. Remember that it must have a 3-month validity before applying.
Is it safe to use iVisa.com's service?
Yes, of course! iVisa.com's application form is an excellent choice if you want to avoid having your personal details in danger. We have a strong and reliable system that won't leak any information from you. You can read our reviews if you have doubts about it.
Where can I find more information?
The Portugal ETIAS is necessary not only to visit Portugal but to visit other countries in the Schengen Area. Therefore, you shouldn't overlook its importance. If you still have doubts about it, feel free to reach out to iVisa.com's customer service agents or read our blog for more upcoming details.