Are you planning a trip to Russia? Have you already considered what places you will visit? Russia is a huge country, and that's why it's so difficult to know it completely in a few days. For this reason, if you have a Maltese passport, it may be convenient to visit certain regions, such as the Far East Region. To visit the Far East Region in Russia you would only need to apply for Russia Vladivostok eVisa for the citizens of Malta.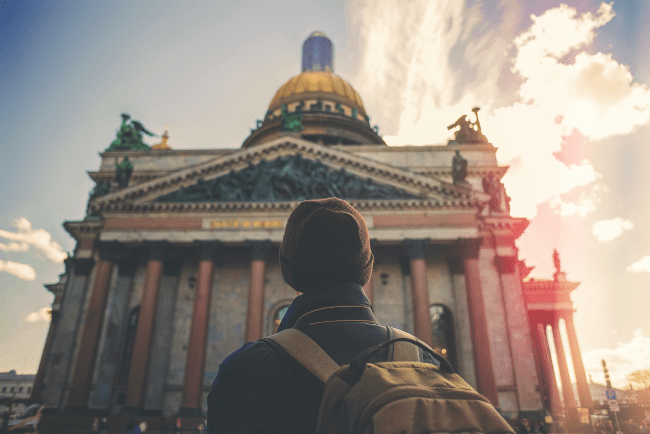 To obtain this document you don't have to take a long trip to the nearest Russian embassy, ​​nor do you have to wait for the government page to load correctly to be able to apply quickly. You can avoid all this if you use iVisa.com's online form.
It's quite easy to take advantage of iVisa.com's service for this procedure, and it'll only take you a maximum of 20 minutes to complete it. To do this, you just have to read the FAQs below, because this way, you'll find everything you need to apply successfully.
Frequently Asked Questions - FAQs
Do I need a visa to visit Russia if I'm a citizen of Malta?
Many nations need a visa to enter Russia, and Malta is one of them. The good thing is that you can avoid this tedious process if you just want to visit certain places, which are also very popular in Russia, such as Kaliningrad, Saint Petersburg, or Vladivostok. These regions don't ask you to apply for a paper visa, they only ask you to have an online visa and nothing more. If you want to enter Vladivostok, you'll just need to apply for the Vladivostok eVisa.
What you shouldn't forget is to always check what documents you need when traveling to this country, because it's the most important thing to check before planning the rest of your trip. You can use our visa checker to verify this first step on your Russian journey. This tool is available on iVisa.com's homepage, in the drop-down menu. In that part, you'll just have to select "Malta" as your nationality and "Russia" as the destination country and wait for just a second to read what documents you'll need according to the region you want to visit in Russia.
What is a Far East Region or Vladivostok eVisa?
As the name implies, this eVisa gives you access to the Vladivostok Region or the Russian Far East Area. But, take into account that this document isn't valid in other places in Russia like Kaliningrad or Moscow.
This type of document is special and different from other visas because you can get it online and not by going to the embassy. In the case of the Russian Paper Visa, you have to obtain it through a face-to-face process at the embassy.
How long is the Vladivostok eVisa valid for?
The Vladivostok eVisa is valid for 30 days after issued as soon as you receive it via email, but once you arrive in the country, it's valid only for 8 days Per Entry.
What requirements should I get to apply?
Since iVisa.com's process is quite easy to complete, then you won't need to collect multiple requirements to apply successfully. By providing the following documents, you'll be ready to start the online process:
A valid passport since this is the essential document to enter any foreign country. You should also scan its information page.
A professional ID picture, which can be something tiresome, so that's why we recommend you use iVisa.com Photos to get it ready in a few minutes.
An Email Address where you'll be able to get the document.
A valid payment alternative, which can be your debit/credit card or your Paypal to pay for the fees.
What is the price for this document?
The first thing you should keep in mind when applying for any travel document is that their prices can vary according to the processing time, the applicant's nationality, and also the region to visit. If you have a Maltese passport and yo want to visit Far East Russia, then these are your options:
Standard Processing Time – You'll wait

9 days

and pay

USD 40.99

.
Rush Processing Time – This time, the price will be

USD 67.99

for

7 days

waiting.
Super Rush Processing Time – By paying

USD 173.99

, you'll have your eVisa ready in only

5 days

.
How can I apply with iVisa.com's service?
With iVisa.com's effortless platform you'll be able to complete the online form in only 20 minutes, if not less. However, if you find any obstacle while completing it, then feel free to contact iVisa.com's customer assistance.
In the first step of the process, you'll just need to read the questionnaire and complete it with your basic details like name, passport id, etc. After that, select your processing time.
In the second step of iVisa.com's process, you'll be able to check the information you gave before, so do it carefully to be sure that there are no mistakes. After that, you can continue with the payment.
In the third step, you'll be ready to upload the documents required and send your application form.
That's all you have to do because the rest is iVisa.com's work, so you can wait for your document peacefully.
Is there any special condition to apply for this document?
The only thing you should remember is that your passport must be valid for at least 6 months from the application date. If your passport validity is less than that, then you'll have to renew your passport before applying for the Vladivostok eVisa.
Is it safe to use iVisa.com?
With iVisa.com's service you don't need to worry about your personal information because this company counts with a professional work team and a modern security system that won't put your information in danger. Read these reviews if you're still unsure about it.
Where can I read or find more information?
First, you can contact iVisa.com's customer service center if you need help or you want to receive personal attention. Second, you can check iVisa.com's blog to read more travel tips.