Mecca is the holiest city in Islam where the pilgrimage or Hajj to Mecca is celebrated. This destination is only for Muslim tourists. At the entrance, there are several checkpoints where they will check that the visitor is a Muslim, and non-Muslims will be redirected to a highway that surrounds the city. Pilgrims must prove they are Muslim and women must be accompanied by a Mahram, also known as a male guardian. The Saudi government issues special visas for the Hajj or Umrah to simplify the process.
Due to the current pandemic, you should prepare yourself before traveling. With iVisa.com, you will get the best information you need to travel to Saudi Arabia. We also offer travel documents, including the Saudi Arabia Arrival Registration and the eMed self-testing COVID-19 kit, available only for US citizens.
Can I visit Mecca as a tourist? - Learn more about Mecca in our blog.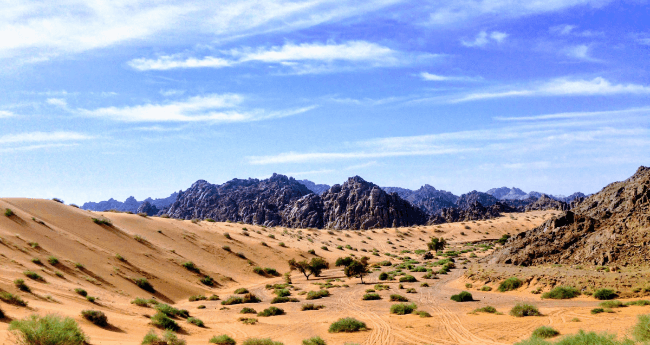 What you need to know about the Mecca
What is the Mecca?
For approximately one billion Muslims around the world, Mecca is the holiest place on the planet, as the birthplace of the prophet Muhammad. Because of its importance, millions of pilgrims flock to this destination year after year from all corners of the globe, making it the most culturally diverse city in the Muslim world.
Mecca's main attractions, apart from the pilgrimage, include sites such as the Kaaba, which contains the Black Stone, and the Cave of Hira, where the prophet Muhammad received his first revelation. These revered sites have been added more recently, such as the massive Abraj Al-Bait complex with the towering Royal Clock Tower of Mecca.
Can I visit Mecca as a tourist? - Only Muslims can enter this place due to religious beliefs.
When can I go to Mecca?
The pilgrimage or Hajj to Mecca is one of the pillars of Islam. This is a tradition. All believers should make a pilgrimage to Mecca, at least once in their lifetime. This precept is stated in the Koran, which specifies when the pilgrimage must be performed according to the Muslim calendar.
One can visit Mecca from Sunday to Thursday, but most stores and businesses are also open on Saturday. However, on Friday they do not open until the end of the afternoon prayer, which is around 4:00 pm.
Can I visit Mecca as a tourist? - Plan your trip to Mecca and visit Saudi Arabia.
Traveling to Mecca
Due to the current pandemic, most visitors need to submit the Saudi Arabia Arrival Registration at the immigration borders to enter the country. However, with iVisa.com, you can obtain this document online only by following a few user-friendly steps.
Some visitors might need a Saudi Arabia eVisa to enter the country. You can read all about it on our webpage
In addition, US citizens can apply for the eMed self-testing COVID-19 kit online before traveling to Saudi Arabia. This package will allow you to self-test within the 24hour period before your flight back to the US and save you time and money on looking for a place to have a test done.
Can I visit Mecca as a tourist? - Travel safely with iVisa.com.
Frequently Asked Questions
What is the Saudi Arabia Arrival Registration?
The Saudi Arabia Arrival Registration is a mandatory travel process designed by health authorities to collect information from international passengers and limit the spread of COVID-19 in the country. Regardless of their nationality, all travelers must fill it out before departure to Saudi Arabia. This information will be verified when the boarding card is issued and at the border.
Can I visit Mecca as a tourist? - Apply for your Saudi Arabia Arrival Registration and travel now.
What are the current COVID restrictions for traveling to Saudi Arabia?
Saudi Arabia has been taking steps to restore travel within its borders. One of these is the mandatory display of a vaccination certificate. The accepted vaccines for Saudi Arabia are Pfizer, Moderna, AstraZeneca, and Janssen.
In addition, all travelers, except minors under 9, must present a negative PCR test result taken within 72 hours before departing from the point of origin. Can I visit Mecca as a tourist? - Due to the constant changes, it is best to visit our product page and keep updated.
What documents do I need to upload to apply for the Saudi Arabia Arrival Registration?
Passport page information with at least 6 months of validity.
Your email address.
Payment method can be a credit or debit card.
Can I visit Mecca as a tourist? - You should upload all these documents.
What is the cost and processing time of the Saudi Arabia Arrival Registration?
iVisa.com offers the following 3 options, depending on your travel budget:
Standard Processing -

24 hours

-

USD $32.49

Rush Processing -

8 hours

-

USD $55.99

Super Rush Processing -

4 hours

-

USD $92.99
Can I visit Mecca as a tourist? - Get your travel document and travel soon.
Can I trust iVisa.com?
Yes! iVisa.com has a high quality in all its processes. As soon as you start your application process, you will have an expert on hand to help you with whatever you need. Trust us and travel wherever you want.
Can I visit Mecca as a tourist? - You can enter our customer reviews section and read all our former customer feedback.
I have more questions, who can I talk to?
If you have any questions about our services or restrictions regarding Saudi Arabia, you can connect with our customer support agents. They are available 24/7 to solve your concerns.
iVisa.com Recommends
If you are already visiting Mecca and have a few days free to visit the country, we recommend visiting Jeddah. This commercial port on the Red Sea was the country's capital until 1982, when it moved to Riyadh. Jeddah today is a fascinating and culturally rich place.
You will be able to enjoy the breezes of the Red Sea in Jeddah's open port and also have a great time in this UNESCO-designated historic center. The rest of Jeddah is thoroughly modern, energized by a global mix of pilgrims passing through on their way to nearby Mecca.
Jeddah is a normally warm, open-air city, where citizens sit at cafe tables, smoking water pipes and playing backgammon under street lights. These activities are part of the tradition of the locals. If you are lucky, you will enjoy these activities with the locals.
Jeddah can be considered a starting point for traveling within the country, or it can be the endpoint of your journey, as this city is the gateway to Mecca and Medina for the more than two million Muslims who make the Hajj pilgrimage each year.