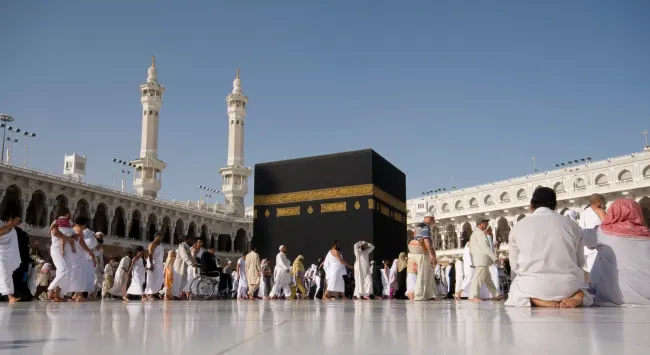 The Umrah pilgrimage is a significant act of worship in the Islamic faith that involves visiting the holy city of Mecca in Saudi Arabia. Unlike the Hajj pilgrimage, which is compulsory for all non-disabled Muslims, Umrah is a voluntary act of devotion that can be performed at any time of the year.
Foreign pilgrims must obtain an electronic Umrah Visa or Tourist Visa to enter Saudi Arabia to perform Umrah. In a few steps, Muslims can apply online for a Visa and receive it by email. Check below the Umrah visa requirements, visa fees, and how to apply for this visa to visit the Kingdom of Saudi Arabia.
Umrah and its significance in Islam?
Umrah holds excellent spiritual value for Muslims, who believe it brings numerous benefits to those performing it. The pilgrimage allows Muslims to purify their soul, seek forgiveness for their sins, and strengthen their relationship with Allah. Muslims can travel to Mecca for this religious journey anytime.
The Umrah is also known as the lesser or minor pilgrimage compared to the Hajj, the major pilgrimage. The journey has many religious rituals, including wearing white clothes, circling the Kaaba, and walking between the hills of Safa and Marwah seven times while reciting supplications.
The Saudi government has introduced some security measures for religious tourism. For example, before the trip, Muslims must now register on the Nusuk or Tawakkalna apps.
Types of visas available for Umrah pilgrims traveling to Saudi Arabia
Saudi Arabia Umrah Visa
Saudi authorities developed the Umrah e-Visa specific for Muslims traveling to perform Umrah. Many travel agencies offer special Umrah packages, including the Umrah Visa application. Visa holders can use these Umrah Visas to perform Umrah any time of the year, excluding Hajj season.
Paper visa for Umrah
Some nationals aren't eligible for Saudi Arabia e-Visas. You can contact an approved travel agency for Muslim trips so that the licensed travel agent can arrange a separate Umrah visa for you. This is sometimes also referred to as the Umrah visa via package. You can also obtain an Umrah visa application form at the nearest Saudi Consulate.
Saudi Arabia Tourist Visa
The Saudi ministry also allows you to visit Saudi Arabia to perform Umrah with a Saudi tourist visa. Muslims can use tourist visas to visit holy sites and for the Umrah pilgrimage without problems since out of the Hajj season. You can easily apply online for the Saudi Arabia Tourist eVisa and receive the document via email. The tourist visa is also a multiple-entry visa, valid for a year.
Comparing Tourist Visa and Umrah Visa fee
Tourist Visa or Umrah Visa: Which one offers better cost-benefit Many factors have to be considered.
The Umrah visa fee costs between US$380 and US$490, according to the nationality. In addition, pilgrims must pay for the Umrah travel package, raising the overall cost to between US$1,500 and US$2,000.

The Tourist Visa fees differ according to the pilgrims' nationality. The prices also vary depending on the applicant's chosen processing time. Use the Visa Checker Tool to see if you are eligible for this visa and the exact visa fees for your home country.

The Umrah Visa is usually tied to travel agency services, making it more expensive during peak season. Otherwise, the Tourist Visa Fees don't change according to the period of the year.

The Umrah visa allows you a single entry and two-weeks-stay in Saudi Arabia, while you can enter the country multiple times and stay for up to 90 days per entry with the Tourist Visa.
For many pilgrims, applying for a Saudi Arabia Tourist eVisa online is the best choice.
Saudi Arabia Tourist Visa: How to obtain this travel document
Getting the Saudi Arabia Tourist Visa through iVisa is a straightforward process. Read below for further information about Umrah visa application costs, processing times, and requirements.
Requirements for Saudi Arabia Tourist Visa Applications
You need the following documents to meet the Saudi Arabia Tourist Visa requirements:
Valid passport: Valid for at least six months after arrival in the Kingdom of Saudi Arabia.

Recent color passport photo: Use the passport photo service if needed.

Medical insurance: It must cover the costs of COVID-19 treatment.

Email: To receive the Umrah Visa.

Payment method: Credit or debit card to pay the Umrah visa fees
Processing times for the Saudi Arabia Tourist Visa
iVisa offers the following Saudi Arabia Tourist Visa processing time options:
Standard Processing: 5 days

Rush Processing: 3 days

Super Rush Processing: 24 hours
How to apply for a Saudi Arabia Tourist Visa
Follow these three steps to obtain your Saudi Arabia visa:
First, fill out the Saudi Arabia Tourist Visa application form with personal and trip information. Please, verify all the information to avoid mistakes.

Second, choose the processing time that suits your needs and pay the fees using a credit or debit card.

Third, and finally, upload the required documents and click "Submit." Then, wait for the visa to arrive in your email.
Easy, right? We recommend printing your Tourist Visa to present to Saudi authorities upon arrival.
Benefits of applying for the Saudi Arabia Tourist Visa with iVisa
100% government-compliant: iVisa experts will carefully review all the information to ensure full compliance with government regulations.

Simplified form: Visa applications can be complicated and time-consuming. That's why at iVisa, we strive to simplify the process by only including critical questions, making the Saudi Arabia Visa application up to 50% shorter than the embassy application forms.

Fill out at your own pace: Fill out your visa application at your own pace, saving your progress, making changes, and returning to it later as needed.

iVisa values your safety: At iVisa, we prioritize your safety by implementing a robust security system to safeguard your personal information. Visit our reviews section and read feedback from our customers.
Click here to apply for your Saudi Arabia Tourist Visa with a few clicks!
Additional costs to consider when planning your Umrah trip
In addition to Saudi Arabia Visas for your family, you must consider other travel costs. Check some expenses below you must include in your travel budget:
Health insurance: It is a crucial aspect of Umrah travel and is required to obtain a visa to enter Saudi Arabia. The cost varies depending on the coverage and the insurance provider. Choose a comprehensive health insurance plan that covers medical emergencies, hospitalization, and COVID-19 treatment to travel hassle-free.

Accommodation: The accommodation cost depends on the type of hotel and the location. Hotels in Mecca and Medina, the two holy cities, are typically more expensive than hotels in other parts of Saudi Arabia. It is essential to book accommodation in advance to get the best deals and avoid last-minute price hikes.

Transportation: Most Umrah pilgrims travel by air to Saudi Arabia, and the flight ticket prices vary depending on the season and the airline. It is advisable to book airfare in advance to get the best deals. Once in Saudi Arabia, you can use buses and taxis to get around the city.

Tourism-related activities: Many Umrah pilgrims also participate in tourism activities during their trip to Saudi Arabia. You can include visiting historical sites, shopping, and dining out on your trip budget. Check the Saudi Arabia Travel Guide to learn more about the country's attractions and daily costs.
There are many travel agencies specializing in Muslim trips. Most agencies offer an Umrah package, which can be more affordable than planning everything alone. Just ensure it is a reliable company.
Do you still have questions about the Umrah Visa?
Contact our customer support team if you have any questions about the Saudi Arabia Umrah eVisa, Tourist Visa, or any other travel document to visit Saudi Arabia. Our team is available 24/7 and will gladly help you! You can also email us at [email protected].