Disclaimer: iVisa does not currently offer the Singapore visa application form for Indian citizens online, regardless of their residence. However, we want you to have as much information for when we activate this service, so we have created the following article for your knowledge. We will update this page once we can offer it again.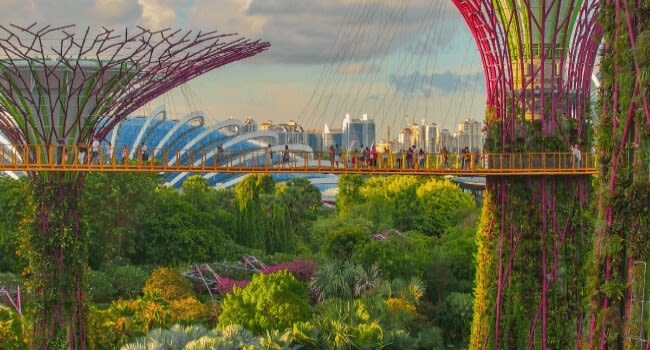 Are you an Indian citizen searching for a new Singapore visa in Malaysia? You may need to apply for the Singapore Tourist Visa to enter. But that is not the only document you require to enter the country. You will also have to apply for the Singapore Arrival Card.
This document allows you to enter the country safely, and at iVisa, we offer this service for you. Continue reading below to learn more about this travel document.
Get your travel documents with iVisa
As mentioned above, apart from the visa that Indians need to travel to Singapore, you must apply for a Singapore Arrival Card, an electronic admission document, so that travelers entering for tourism can do so without difficulty.
Currently, we do not process visas by this means, but we process the Singapore Arrival Card. To learn more about it, continue reading the following information.
What is the SG Arrival Card, and how can I get it?
The Singapore Arrival Card is an electronic document that has replaced the traditional paper landing/embarkation card. This is a mandatory entry requirement for all domestic or international travelers arriving in the country.
This document also functions as a travel health certificate to track and stop the spread of COVID-19 in the country. The Singapore Ministry of Health can also use the document to trace travelers who need some form of care and treatment for COVID-19.
The process to obtain this document is extremely easy and accessible. But please note that the SG Arrival Card is neither an electronic tourist visa nor a valid business visa for Singapore and cannot be used as such. However, you can walk around the airport without a visa; this is the only visa free transit facility.
Indians carrying this travel document may enter the country for a maximum of 30 days Per Entry It is a Single Entry visa document and expires 30 days after issued or until passport expires**.
If you wish to obtain it, just follow these three simple steps for visa application:
First Step: Complete the iVisa questionnaire with your personal and travel details. After that, you can choose the type of processing.

Second Step: Make the payment for the transaction. But before that, ensure all the information entered is correct. If the personal data doesn't match, the process will be canceled.

Third Step: Finally, attach all the required documents and confirm.
Once the process is complete, you will receive a confirmation email. If you do not find it in your inbox, it may be in the SPAM folder.
Can I get any travel documents as an Indian citizen living in Malaysia?
As an Indian citizen, iVisa offers you to apply online for an SG Arrival Card even if you reside in Malaysia or are leaving from the Sabah Kuching International Airport. However, our services work worldwide so you can apply from anywhere.
The important thing is that you have the necessary documentation at hand. For example, you need an Indian visa, not a Malaysian visa or passport.
What are the documents required to apply for this travel document?
Before starting the application process, you must gather all the required documents. iVisa does not ask you for much, only these:
Passport - All Indian applicants must have a valid passport that doesn't expire for at least six months. It does not matter the residence, but the passport.

Digital photo - The photo must be taken within the last 3 months and meet all other guidelines for a passport photo. If you do not have a photo or do not know where to get it, iVisa offers an online photo-taking service.

Round trip airline ticket - You will also be asked to present your roundtrip ticket when you arrive in Singapore. Also, the authorised visa agent will check this information.

Valid email address - iVisa will email your visa in PDF format. Do not forget to print it before you leave.

Online payment method - Payment must be made during the application process, so you must have a credit/debit card.
What are the costs and processing times of this travel document?
There are three processing options, each with a different processing time and price depending on the travel needs. These are as follows:
Standard Processing Time: 24 hours - USD $46.99.

Rush Processing Time: 4 hours - USD $76.99.

Super Rush Processing Time: 30 minutes - USD $139.99.
This includes visa processing and government service fees. These visa fees are mandatory in this process.
When is the best time to visit Singapore?
The most effective way to make the destination experience memorable is to choose a reasonable date for your trip. Therefore, if you do not know the best date, we will give you some recommendations here.
The first thing to know is that there are no seasons in this country, only the monsoon that appears towards the end of the year. Otherwise, the temperature is usually warm all year round.
The first thing to know is that from November to January, the rains are torrential, and it is impossible to visit it. Another thing to keep in mind is that from the end of January to mid-February, prices in Singapore rise considerably.
As for temperatures, Singapore has an average annual temperature of 27ºC. That is to say, it is a warm country all year round. May is the warmest month, making it the perfect time to visit.
COVID-19 travel restrictions in the country
All travelers, regardless of nationality, must enter Singapore in compliance with specific rules specified by the government. However, this information may change, so we recommend reading the latest updates before traveling.
Regarding COVID-19 testing, all visitors 13 years of age or older who are fully vaccinated are exempt from having a negative PCR or antigen test result. However, unvaccinated or partially vaccinated visitors must show a negative PCR test result within 48 hours before departure.
The vaccination certificate is not mandatory to enter the country. Still, it is recommended because it exempts you from the COVID-19 test.
Finally, no citizen must undergo quarantine when entering the country.
Where can I get more information about the Singapore Arrival Card?
If you have questions about your trip to Singapore, please contact our customer service team at any time or email us at [email protected]. We are here to help you.