If you are planning a holiday to Sri Lanka, you most likely need to apply for a Tourist ETA. This Electronic Travel Authorization allows you to submit your information online without visiting an embassy or consulate. Continue reading for more info.
Before you apply, you might be wondering about the Sri Lanka tourist visa application fee. The fees to apply for the Sri Lanka e-Visa/ETA through iVisa, depend on how soon you want your Sri Lanka ETA to be processed.
iVisa is here to help you through the ETA application process and make travel easier for you. Read everything about the visa application fees, how to fill out the tourist ETA application, and the requirements in this article.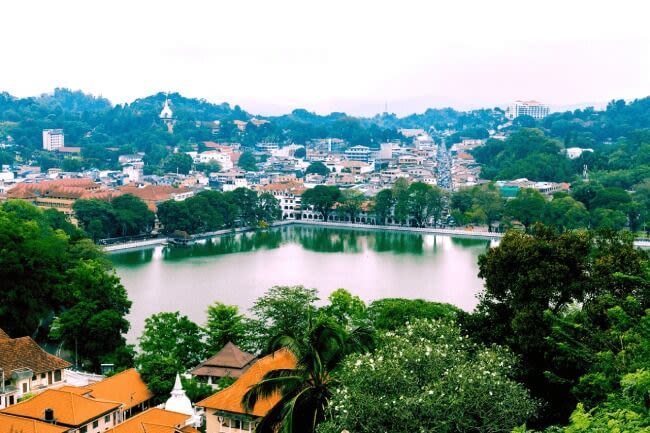 Who is eligible for the Sri Lanka Tourist e-Visa/ETA?
There are three countries that do not require visas to visit Sri Lanka: The Seychelles, the Maldives, and Singapore. A valid passport is all that is needed for citizens of these countries to enter Sri Lanka.
Passport holders from 21 countries cannot apply online for the tourist ETA, and should get a visa from a Sri Lankan embassy or consulate before traveling.
To check if that is the case for you, we recommend using our convenient Visa Checker. Simply fill out your nationality to find out if the ETA is available to you.
Regarding the other nationalities, most applicants are eligible to get an ETA to visit Sri Lanka online. The application process can be done through iVisa and the traveler doesn't need an embassy appointment to obtain the visa.
Sri Lanka Visa application fees and processing times
iVisa offers three alternatives for the processing time and costs:
Standard processing time – The most affordable option. Get your Sri Lanka ETA in just

5 days

for a fee of

USD $77.58

.
Rush processing time – Your Sri Lanka Tourist ETA is ready within just

3 days

for a fee of

USD $97.08

.
Super Rush processing time – Our fastest option takes only

24 hours

for

USD $118.08

.
More about the Sri Lanka Tourist ETA
The Sri Lankan authorities developed the Sri Lanka ETA (Electronic Travel Authorization) so travelers can apply online for a visa through a web-based system. An ETA is issued only for short visits for tourism, business, and transit purposes. Through iVisa you can apply for the:
The Transit ETA is currently not available through iVisa.
The citizen fills in the visa application form and gets the visa on arrival. It allows Double Entry into the country.
Validity of the Tourist ETA to visit Sri Lanka
Applicants with a Sri Lanka Tourist visa have a maximum stay of 30 days in Total. Remember that you can only do tourism activities with this visa. It must be used within 180 days after issued and is a Double Entry document.
There are separate Sri Lanka ETAs available for business and transit purposes.
Sri Lanka Tourist ETA requirements
The application process for the Sri Lanka ETA requires you to provide certain documents, but nothing complicated. Applicants need to provide the following requirements:
Proof of accommodation (if applicable) – Unvaccinated travelers must book accommodation before applying for the ETA. In your visa application, you must include the hotel's reference number.
Valid passport – All applicants must provide their passport details, valid for at least six months from the date of arrival in Sri Lanka.
Digital photo – A recent photo of yourself following all the guidelines. Or simply use the iVisa Digital Photo Service.
Valid email address – iVisa will send the confirmation of the ETA via email in PDF format. Remember to print a copy of your ETA confirmation to show to immigration officers on arrival.
Means of payment – iVisa accepts credit or debit cards to pay for the visa fee.
Proof of sufficient funds – You must prove you have enough funds to cover the duration of your stay.
A confirmed return or onward ticket.
The Sri Lanka ETA online application process
It's pretty quick to complete the visa application. The applicant can fill in the information in 10 minutes or less through iVisa. The process is entirely online, and you can count on our expert team support.
The visa application for a Sri Lanka Tourist visa is straightforward and consists of three simple steps:
First, we will ask you to fill in your general information on the iVisa application page, like your passport number and flight details. You also need to choose the processing time and visa fee.
Second, we will ask you to double-check your info and to pay the visa fees. You can use a credit or debit card.
Third, and last step, upload the required documents.
After you finish, you submit your form and wait for your ETA to arrive in your email inbox. If you need assistance filling in your application, iVisa has a fantastic [support service] that you can contact 24/7.
We can not modify any details on the eVisa once it's issued. If you do, however, realize you made a mistake before your visa is issued, then please contact us ASAP via online chat or by sending an email to [email protected].
View a sample of the Sri Lanka Tourist ETA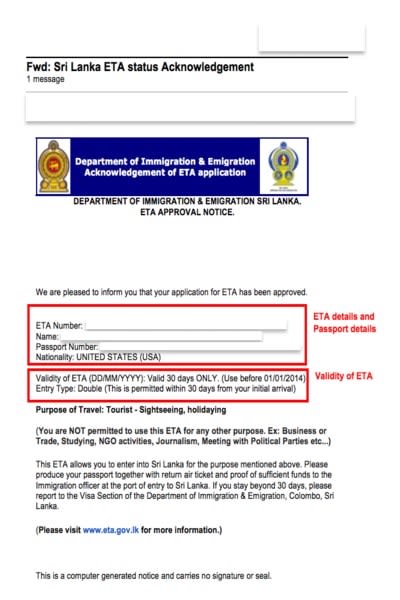 COVID-19 restrictions in Sri Lanka
Sri Lanka's COVID-19 entry regulations may change at short notice, so be sure to check the Sri Lanka Tourism website - Hello Again - before departing.
Proof of vaccination and testing requirements
Fully vaccinated travelers must present proof of vaccination on arrival in Sri Lanka and are exempt for testing requirements.
Unvaccinated travelers who have not been vaccinated must provide a negative COVID-19 PCR test result taken within 72 hours or a negative antigen test taken within 48 hours before departure. Children under the age of 12 are exempt.
Where can I obtain more information about Sri Lanka visas?
If you need more information about the Sri Lanka Tourist ETA/e-Visa or have other concerns and questions, you can always reach out to our customer service team. They are available 24/7 via online chat or email at [email protected].