If you are planning a trip to Sri Lanka, you most likely need to obtain a visa. Fortunately, the Sri Lankan government allows almost all nationalities to travel to their country on a visa on arrival. The only exception applies to the citizens of 21 countries who must visit first visit their local diplomatic mission and submit their visa application there.

Frequently Asked Questions (FAQs)
Do I need a visa to enter Sri Lanka?
It will depend on your nationality. Many citizens will need to apply for an ETA to enter Sri Lanka and iVisa can help you with that. You can check requirements here.
What is an ETA?
The Sri Lanka ETA visa is an Electronic Travel Authorization granted online through the web-based visa system. An ETA is issued only for Short Visits to Sri Lanka for business, tourism and transit purposes.
What is the maximum stay for foreign citizens with an ETA in Sri Lanka?
30 days in Total. Only tourism and business visits are allowed. The ETA is valid for 180 days after issued from the date of application and permits you Double Entry into the country.
What are the costs and processing times to apply for a Sri Lanka visa?
For the processing time of your Sri Lanka ETA, we propose three alternatives for the processing time and price:
Standard processing time – the cheapest option you have is also the slowest. Even so, that does not mean you have to wait weeks for your travel document. In fact, you need to wait just 5 days because that is how long it takes for your application to be processed. As far as the fee is concerned, if you choose this option, you have to pay only USD $67.99.

Rush processing time – we also provide an option in which your Sri Lanka Tourist ETA is ready within just a few hours. 3 days, to be more precise. This time, you are going to spend USD $117.99 on your document.

Super Rush processing time – our fastest option is the most expensive as well. However, there are cases in which this processing time is necessary. It takes only 24 hours for your application to be processed, so you can apply for your Sri Lanka Tourist ETA while you wait for your flight. Of course, the cost is a bit higher than the previous options. You will be charged USD $149.99.
Click here to start your application.
What are the requirements for a Sri Lanka visa?
You will need:
A passport scan – we only need the information page of your passport. Make it is valid for at least 6 months beyond your initial date of entry.
E-mail address – when applying with iVisa, your visa will be sent to you via e-mail, so make sure that you introduce a valid e-mail address you have access to.
Means of payment – iVisa accepts multiple methods of payment such as credit and debit cards or Paypal. Do not forget to double-check the spelling before submitting your application.
How long does it take to apply for a Sri Lanka ETA?
10 MINUTES or less by filling out this application: Sri Lanka ETA visa. The process is completely online.
How can I apply for an ETA?
The application form is really easy and consists of three simple steps:
The first step will ask you to fill in your general information. You also need to choose the processing time from the options mentioned above.

The second step will ask you to revise step one and make the payment. You can use a credit/debit card or a Paypal account for the payment.

The last step consists of a questionnaire. Other documents may be required as well, but it depends on individual circumstances.
Click here to start. After you are done, you submit your form and wait for your ETA to arrive. In case you need assistance to fill your application, iVisa has a fantastic support service that you can call 24/7.
What does the Electronic Travel Authority look like?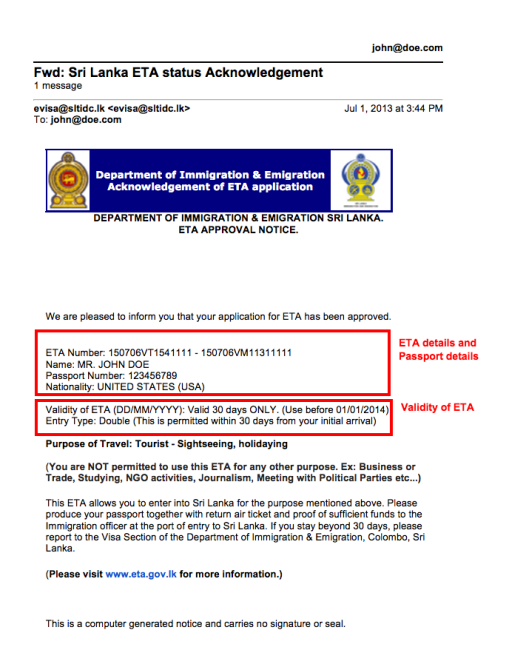 I made a mistake on my application. Can I modify the eVisa after it's issued?
No, we can not change or modify any details on the eVisa once it's issued. If you do, however, realize you made a mistake before your visa has been issued, then please contact us ASAP via online chat or by sending an email to [email protected]
Is iVisa secure to apply for the Sri Lanka ETA online?
Yes. We have been helping thousands of travelers since 2002 and the Government of Sri Lanka fully accepts applications processed by specialized third parties like us for getting Sri Lanka visa online.
Only the data required to process your application will be collected and it will be used only for this purpose, we do not share any of your data with third parties. Our payment gateway has also been designed in accordance with international standards.
See here what our customers say about our service.
I have more unresolved questions, where can I find more info?
For a faster resolution click here and start chatting with one of our customer service representatives. Alternatively, you can find more info and FAQs here.