Traveling to Sri Lanka is a great experience for any foreigner, especially tourists from different cultures like Americans. For that reason, this destination shouldn't be ignored, especially when you have the option to easily apply for a Sri Lanka Visa for U.S. citizens.

One of the biggest advantages of this country is that to enter it you only need a Sri Lanka ETA, at least if you have a U.S. passport.
You don't need to go to the embassy or visit complicated web pages to process this document. In fact, you can apply for it through the service offered by iVisa.com.
You deserve a secure method that doesn't force you to waste time in vain, so we recommend using iVisa.com to apply for your ETA. You can learn more about this online application by reading the following information.
Frequently Asked Questions
Do you need a visa for Sri Lanka?
Yes, most countries will need a visa on arrival with ETA (Electronic Travel Authorization) before processing through Sri Lanka Immigration. You can get your Sri Lanka ETA online now.
Do U.S. passport holders need a visa to enter Sri Lanka?
If you have a U.S. passport, then you need a visa to enter Sri Lanka, but this is not a Paper Visa. Better yet, it's just an online visa that you can get within a few minutes.
What is the Sri Lanka tourist ETA?
The Electronic Travel Authorization (ETA) is the name of the official document that permits you to visit Sri Lanka as long as your trip is for tourism purposes. But, at iVisa.com, we also created an online form to apply for a Business ETA.
How long is my Sri Lanka tourist ETA valid for?
If you apply for the Tourist ETA, you'll be able to stay in this country for 30 days in Total. The amount of days is valid for each entry, and the ETA is a Double Entry visa, so you can have a total of 60 days at most when entering Sri Lanka. This must be used within a 90-day time frame.
Can I extend my stay beyond the 30-day limit?
Yes, you can apply for an extension at the Sri Lanka Department of Immigration & Emigration, but only if you agree to pay an additional fee. This eVisa also allows for Double Entry and it's valid for 180 days after issued.
What do I need to apply for a Sri Lanka ETA?
Both in a Tourist and Business ETA, the requirements remain the same, so you'll only need these:
Your passport with a validity of at least 6 months.
A digital passport photo.
Credit/debit card for the payment.
Remember to double-check your application form before submitting it.
What are U.S. citizens' requirements to visit Sri Lanka?
If you're a U.S. citizen, you need proof of sufficient funds for your stay in the country. Another thing you need is a valid proof of having been vaccinated for Yellow Fever.
Any foreign currency over $15,000 must be declared at the point of entry. If you arrive there with a tourist eVisa, then you must do only tourism, which includes sightseeing, medical tourism, enrolling in sporting activities, and cultural activities.
We recommend you stay alert to this information because travelers who are uncertain of the activities under the regulations of a tourist visa could be facing a risk of deportation if they participate in an activity that isn't covered.
What are the costs and the processing times?
At iVisa.com we have three available options to process the ETA. You can choose the one that fits your needs, and remember that according to the price, you'll get your ETA faster. Here are the options:
Standard processing: this processing time lasts

5 days

if you pay

USD $77.58

.
Rush processing: by choosing this option, your visa application is ready in

3 days

and it costs you

USD $97.08

(service fee included).
Super Rush processing: this option costs

USD $118.08

with a service fee included, and you'll have the application ready in only

24 hours

.
You can click here to start.
How can I apply on iVisa.com?
The online application form you have to complete on our website is divided into three easy steps:
The first one will ask you to fill in your general information like name, address, passport info, e-mail, etc. Also, you must choose the type of ETA you need and the processing time.
The second step is to review the information so you can pay for this service with a credit/debit card. Make sure that all the information you provide is 100% correct. Mistakes can occur during the application process, which is why you should double-check everything.
The third and last step is to attach the documents if necessary and send the online form.
What happens after I finish the online form?
As soon as you complete the form, you get the e-Visa via email inbox, so you don't have to visit the embassy.
Do I need to book a flight before applying for the tourist ETA?
No, you can easily apply for the Sri Lanka Visa for U.S. citizens at any time from the comfort of your own home.
Do I need to get a separate tourist ETAfor my children?
The answer depends on your children's age. Take into account that children under 12 years old are exempt from paying for the Sri Lanka Visa for U.S. citizens.
How do I know if my Sri Lanka ETA is approved?
You'll always receive all the information related to this process via email. We'll also let you know once the Sri Lanka Visa for U.S. citizens is ready as soon as the Sri Lanka Government approves it.
What can I do if I make a mistake in my application?
If you made a mistake while applying for the Sri Lanka Visa for U.S. citizens, please contact our customer service whenever possible so you can get faster assistance.
How does the Sri Lanka ETA look like?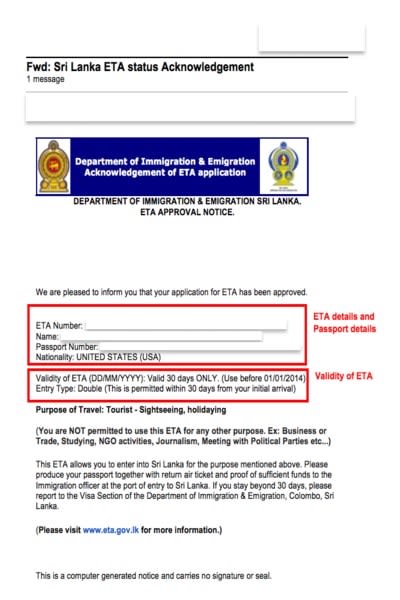 Is it safe to use iVisa.com to get my Sri Lanka ETA?
Yes, you can feel safe while using our website because we are a certified provider delivering official e-Visas since 2013. With a 9.5 "Excellent" rating on TrustPilot and thousands of positive reviews, it is easy to see why so many travelers choose iVisa.com as their go-to resource for an efficient and fast visa process.
I have more unresolved questions, where can I find more info?
Feel free to click here to start chatting with our customer service. However, if you'd prefer to soak up more reading material, you can find more info and FAQs here.
You can also click on this link to apply for your Sri Lanka ETA through iVisa.com. Remember that it's not impossible to visit this exotic destination, and it'll take you less than 10 minutes to complete the documentation required.