According to the last COVID-19 Thailand travel updates, there is an automatic visa extension for foreigners that have a visa-on-arrival or those under a visa waiver program. This is to help reduce long lines at the immigration facilities all over the country in order to keep limiting the spread of coronavirus within the Thailand community.
The automatic visa extension will temporarily apply until July 31, 2020. This means that there will be no need to complete the 90-day reporting, pay fees, or submitting any documents for you to extend your visa.
You will, however, be required to showcase your valid Thailand eVisa On Arrival along with a Thailand Health Declaration T.8 Form in order for you to be allowed entry to this country. Unless you're from a Visa-exempt country, you will need a visa to access Thailand. A Thailand eVisa is a pre-arrival registration so you can get your visa on arrival (VOA). By processing this document online before your trip, not only do you avoid wasting a long time at the airport, you also continue to prevent the spread of COVID-19 among Thailand residents and non-residents.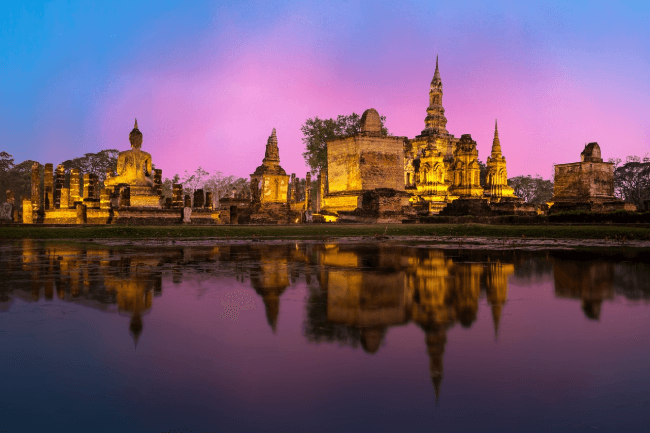 On the other hand, a Thailand Health Declaration is a document in which you declare your medical condition truthfully along with your travel history, more specifically, your travel records of the last 14 days prior to your trip. You can get this document directly from an app created by the Thailand Government and follow all the steps involved with its application and registration system.
Luckily, iVisa.com can also help you process both your Thailand eVisa on arrival and Health Declaration easily and quickly from the comfort of your own place before you have to travel.
Please continue reading to get all the information you need to safely request these documents and avoid any sort of inconveniences when you arrive at Thailand's airport or during your overall stay in the country.
Frequently Asked Questions
WHY DO I NEED AN EVISA ON ARRIVAL AND A HEALTH DECLARATION TO ENTER THAILAND?
You will need an eVisa On Arrival if you're not from one of the 64 visa-exempt countries. At the moment, only 21 nationalities are eligible for a visa on arrival and if you are among them, you will be able to process yours online.
You also need to present a Thailand Health Declaration at the moment of your arrival to continue narrowing the spectrum of coronavirus within the Thai community. Please be warned that without one, you will be denied to enter this country. You can request your digital Health Declaration before you travel with the help of iVisa.com.
WHICH ARE THE 21 COUNTRIES ELIGIBLE FOR THE THAILAND VOA PRE-REGISTRATION SERVICE?
The countries that are eligible for the VOA pre-registration service are Australia, Bhutan, Bulgaria, China, Cyprus, Czech Republic, Estonia, Ethiopia, Fiji, Georgia, Hungary, India, Kazakhstan Liechtenstein, Malta, Mexico, Nauru, Oman, Papua New Guinea, Poland, Romania, Russia, Saudi Arabia, Slovakia, Slovenia, Taiwan, Uzbekistan, and Vanuatu.
DO I HAVE TO PROCESS BOTH DOCUMENTS AT ONCE?
At this moment, the Thailand eVisa On Arrival must be shown to the Immigration Authorities along with the Health Declaration (T.8 Form) for you to be allowed to enter Thailand. Fortuitously, iVisa.com can assist you in processing both documents without you having to concoct them directly at Thailand's airport. Rest assured we will take care of the whole process through our highly intuitive platform and expert review team.
Process the Thailand eVisa On Arrival and the Health Declaration now in iVisa.com´s website.
WHAT DOCUMENTS DO I NEED TO GIVE YOU WHEN REQUESTING MY VOA AND HEALTH DECLARATION?
In order for us to process your Thailand eVisa On Arrival along with your Health Declaration, you will only need to provide the following documents:
Your Passport Details Scan: you'll be kindly requested to submit a scan of your passport so we can have all your contact details and information.
Your Return Flight Ticket: the Thailand visa on arrival is valid for

90 days after arrival

. This means you can stay in this country for

60 days Per Entry

. For this reason, the immigration deputy will ask you to show a valid return ticket within that same period of time.
Your Accommodation Proof: it can be your hotel reservation or a letter from your Thai host verifying the place where you will stay.
Your Valid Email Address: once you apply through iVisa.com, you will be sent an application form that you need to fill out before getting to Thailand. This document will be sent to your email, which is why you must provide a valid email address.
Your Method of Payment: once you're done filling out the application form, you will have to choose your payment method. We'll give you two options, Paypal or any credit or debit card.
WHAT ARE YOUR STANDARD PROCESSING TIMES AND FEES?
iVisa.com fully understands that as a tourist, times and fees are some of your top concerns. That's why we've designed a fast and reliable process within our incredibly intuitive platform so our team of experts can process your request in the time you may require. Here are the three options for you to choose the fittest one for your travel needs:
Thailand eVisa On Arrival:
Standard Processing Time: Your application will be processed in

6 days

, and the price will be

USD $99.99

.
Rush Processing Time: You will get your eVisa in

4 days

, and the full price is

USD $162.99

.
Super Rush Processing Time: This is our quickest option. You will get your documents in just

2 days

, by paying

USD $201.99

.
Thailand Health Declaration (T8 Form):
Standard Processing Time: Your application will be processed in

7 days

, and the price will be

USD $28.49

.
Rush Processing Time: You will get your Health Declaration in

5 days

, and the full price is

USD $51.99

.
Super Rush Processing Time: This is our quickest option. You will get your documents in just

3 days

, by paying

USD $86.99

.
All service fees are included. In case you have any queries, you can contact our customer service team 24/7.
HOW EXACTLY DO I PROCESS MY THAILAND VOA AND HEALTH DECLARATION?
Requesting your Thailand Visa On Arrival and Health Declaration with iVisa.com is the easiest, most reliable way to get these documents from the comfort of your own home before your trip. Plus, our platform is quite solid. It will not take you more than a couple of minutes to complete it by simply following these steps:
First fill out the application form by just answering a short set of questions associated with your trip. Later, you can select the processing time that is most helpful for you.

Then please double-check all the information you have provided in order to continue with your payment through Paypal or with your valid credit or debit card.

To wrap up just upload your passport scan and any other document that may be required. Now, our tireless team of iVisa.com experts will review your application forms to send the VOA document along with your Health Declaration to your email. This last one will be sent as a QR code so you only have to show it to the immigration officers at the airport once you arrive. This way, all your personal details will pop up in their system.
HOW SAFE IS IVISA.com TO PROCESS MY THAILAND eVISA ON ARRIVAL AND HEALTH DECLARATION?
Our platform is extremely safe and very reliable! Although we are not affiliated with the Thai government in any way, we are an experienced and commissioned travel agency with an expert review team that will thoroughly take care of your application in the best possible way. You may read what our customers have to say about us here.
WHERE CAN I FIND FURTHER INFORMATION TO SOLVE ANY OTHER DOUBTS?
Please feel free to reach out to our super agents at any time! They are available for you 24/7. Besides, you can also get in touch with them via phone or by writing an email to [email protected]