Thailand authorities have established a mandatory document for all incoming visitors, the Thailand Pass. If you have heard about Coe, you may think you need both documents. However, since November 2021, the Coe has been replaced by the Thailand Pass. Therefore, you only need this health declaration for your trip to Thailand.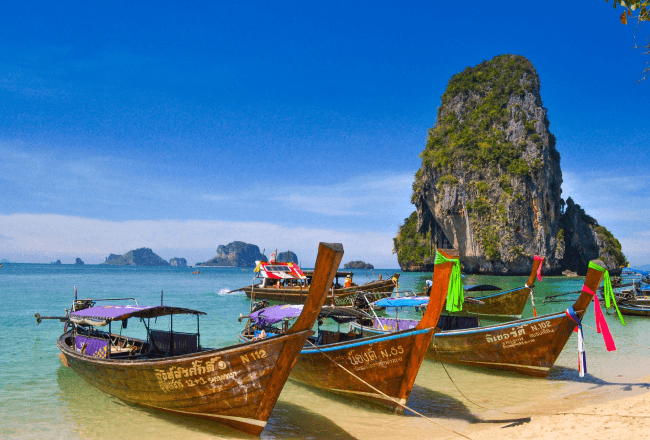 iVisa.com provides the solution for this requirement, a fast-forward service. Connect to our platform and trust the experts. It will only take you a few minutes to complete an online form. Also, we know all about the Coe vs. Thailand Pass.
Our team can answer all your questions at any time of the day or night!
Frequently Asked Questions
What are the COVID-19 protocols in Thailand?
Health authorities in Thailand don't request a COVID-19 vaccine to enter the country. Still, it can have some benefits with other requirements.
Upon arrival, all passengers will go through a PCR test. There is no need to take a test before the trip. Depending on your vaccination status and the test results, you may fall under one of the quarantine schemes. Check the FAQ section for the latest details about these protocols.
Let us help you with the Coe vs. Thailand Pass.
How can I apply for the Thailand Pass?
The process is simple, and you only need to follow these three steps:
First: Answer the questions in the application form.
Second: Re-examine your application and confirm the application is accurate. Choose a processing speed according to your needs.
Third: Pay with a credit or debit card and submit your application.
Our team will send the Thailand Pass to your email inbox as a QR code. Make sure to have it on your electronic device or printed. The travel document is valid for up to 14 days and allows a single entry. You must apply at least 7 business days before your trip.
Check more about the Coe vs. Thailand Pass with our team.
What are the processing times and costs?
iVisa.com offers these alternatives:
Standard Processing Time:

7 days

-

USD 26.00

.
Rush Processing Time:

5 days

-

USD 45.50

.
Super Rush Processing Time:

3 days

-

USD 78.00

.
Explore more about the Coe vs. Thailand Pass with our experts.
What are the requirements?
Gather these items:
Valid passport: Send a scan of the details page.
Travel medical insurance.
COVID-19 vaccination certificate (if applicable).
Accommodation confirmation.
Receipt of two pre-paid PCR tests.
Email address: Receive the document electronically.
Payment method: Pay with a credit or debit card.
Our experts can explain the details about Coe vs. Thailand Pass.
Can I rely on iVisa.com?
Of course! We have helped numerous travelers with all types of travel procedures. We know how to manage the Coe vs. Thailand Pass. Explore our customer reviews page and confirm our successful results.
Where can I find more details?
Connect with our customer support team, available all day long. We can solve your doubts about the Coe vs. Thailand Pass. Travel to Thailand now!
iVisa.com Recommends
We recommend checking the mountains in northern Thailand, near the Burmese border, where you will find the beautiful Pai. It's the starting point to explore the natural beauty of Thailand. This town is known for being home to hippies and backpackers. Also, you will easily see families traveling around. Have fun at night in the small walking street market or explore the Buddhist temples, waterfalls, and Pai canyon. The town center is filled with people every day with a lively atmosphere.
For the ultimate experience with elephants, a revered animal in Thailand, head to Khao Yai National Park. It's easy to spot elephants drinking water from the rivers, exotic birds, monkeys, and other fascinating creatures. Also, check the gorgeous waterfalls and don't miss the Haew Narok dropping at 150 meters. We recommend camping near the park and waking up early to see the sunset.
Head to Sukhothai, an ancient city and one of the most significant historical places in Thailand. Check Wat Mahathat, the most impressive building, built in the 13th century. The site protects Buddha relics and stands with massive Buddha images, such as sculptures and stupas.
Explore all these sites in Thailand and enjoy this incredible country. Asia has so much to offer you!