Thailand is a popular destination for Korean citizens since it is one of the easiest countries to access and the most accommodating, compared to other countries nearby. As a matter of fact, Bangkok, the capital of Thailand, has a Koreatown in the Sukhumvit Plaza area near Sukhumvit Soi 12, where Koreans can find numerous Korean restaurants and attractions. In this uncanny context, where everything seems to be uncertain, it is difficult to think that tourism is a main concern for governments around the world. Nothing more further from reality! The Thai government, as a measure to impulse tourism and decrease the spread of the COVID-19, has released the Thailand Health Certificate (T.8. Form), an official document that you can obtain by applying here.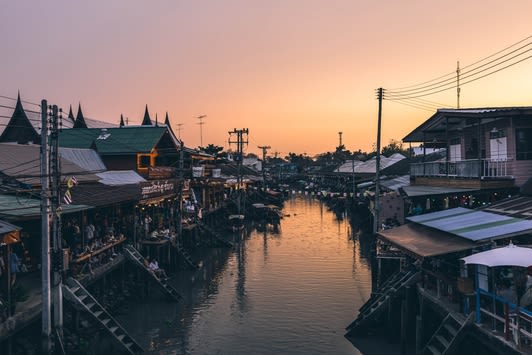 Frequently Asked Questions (FAQs)
If I hold a Korean passport, will I need a Visa to travel to Thailand?
Yes, nationals of both North and South Korea need a Visa to enter this country. You can get further information by contacting the nearest embassy to you.
Will I pay something to get this Thailand Health Certificate (T.8. Form)?
You will have to pay our service fee since the T.8. Form doesn't have a cost.
Can I have more information about the Thailand Health Certificate (T.8. Form)?
Of course you can! The Thailand Health Certificate (T.8. Form) is an official document issued by the Thai government as a measure to decrease the spread of COVID-19. It shows travelers' health condition which the Immigration Officers can use to decide if you are fit to enter Thailand. This certificate is in a QR Code that you'll receive from us, which makes the verification easier since you'll only have to show your phone.
How many days this T.8. Form allows me to stay in Thailand?
Your stay will depend on your Visa. We invite you to check here the contact information of the embassy in your country where you will be able to find more information regarding this.
Do you need me to send any document to process my application?
Rest assured since that's not necessary. Nonetheless, you need to have this valid to submit your application:
Passport Personal Details Scan
How long is the Thailand Health Certificate (T.8. Form) valid for?
The Thai government has not confirmed any validity period officially, but it's safe to assume the T.8. Form is only valid for 72 hours after date of issuance, due to the fact that it is the earliest a traveler is allowed to apply.
How long does it take to process the T.8. Form and how much it will cost?
Both will depend on the processing speed you choose at our website. We offer three different types of processing speed:
Standard Processing: As its name states, this is our regular speed. On this level, it will take 3 Business Days to process your T.8. Form. Also, the service fee will cost USD 20.00.

Rush Processing: Our next level, here you will receive your T.8. Form in 2 Business Days. The fee increases to USD 30.00.

Super Rush Processing: If you are in a hurry, this is the one you need. It only takes 1 Business Day to process. It costs a little bit more, USD 55.00, but it worth it.
How does this T.8. Form work?
The Thailand Health Certificate (T.8. Form) serves as a health declaration that you will need to show upon your arrival in Thailand. It must be downloaded by scanning the QR Code you will receive once your application has been approved.
How long does it take to apply for the T.8. Form?
It's really fast actually. You can start here while you put your food at the microwave.
I've decided I want to apply for this document, how do I start?
Great choice! Just click here to start filling your application in two easy steps:
First, please fill the form with your basic information and then choose the processing speed of your preference.
Finally, review your application to check everything is correct before making the payment.
I've submitted my application, what do I need to do next?
After that, just make sure you have everything for your trip to Thailand. We'll take care of your T.8. Form for you.
How many times can I use this document?
You can only use your Thailand Health Certificate (T.8. Form) once. If you plan to come back to Thailand, you will need to apply for it again.
Do my kids need this document as well if they are traveling with me?
Yes. Every person, including minors, must apply for the Thailand Health Certificate (T.8. Form) as long as they hold an ordinary passport.
I have family and friends who want to apply, can I do it for them?
If they are travelling with you, there's an option to add new applicants in your application form. If you are the one who is going to fill the form for them, just introduce their information here. Please, make sure they have the required documents to apply.
I hold a Korean passport, do I need a Visa if I'm only transiting through Thailand?
No. Remember that neither North nor South Korean passport holders need a Visa to visit Thailand.
Will you let me know once my application is approved?
Sure we will! During the entire process and once we have received the approval, we will let you know by e-mail.
I have made a mistake in my application, how can I fix it?
Rest assured and just contact us through our chat. Our Customer Services Agents will help you with your issue.
Why should I choose you to obtain my Thailand Health Certificate (T.8. Form)?
Well, our vast experience in processing different travel documents speaks for us. Furthermore, our forms are simple to fill so you will not have any problem in submitting your application. Although the final decision depends on the Thai government, we make sure to send your application according to its regulations to increase the approval rate.
Can I contact you if I have more questions?
Please do! You can contact us on our live chat or through our e-mail help@ivisa.com. If you prefer to talk with an agent, just call to this number +1 (786) 460-2707 (8am-8pm EST).