Thailand is a popular destination for Korean citizens since it is one of the easiest countries to access and the most accommodating, compared to other countries nearby. Due to Pandemic COVID -19 tourism in Bangkok, Thailand's capital has decreased dramatically.
In this uncanny context, where everything seems to be uncertain, it is difficult to think that tourism is the main concern for governments around the world. Nothing more further from reality! The Thai government, as a measure to impulse tourism and decrease the spread of the COVID-19, has released the Thailand Health Declaration (T.8 Form), an official document that you can obtain by applying here.
Note: Since July 1st, 2022, the Thailand Pass is no longer necessary to enter the country.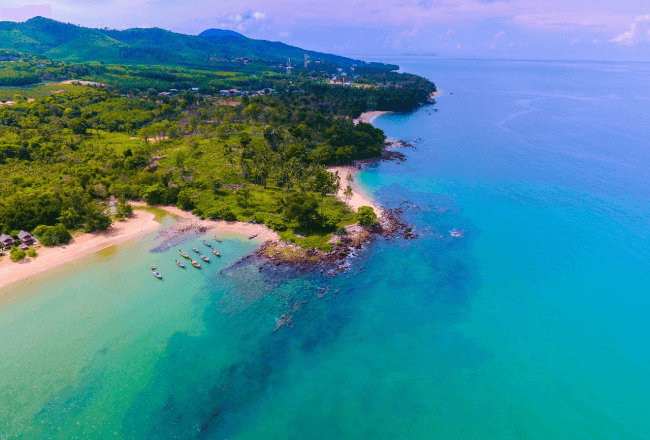 Frequently Asked Questions (FAQs)
If I hold a Korean passport, will I need a visa to travel to Thailand?
Yes, nationals of both North and South Korea need a Visa to enter this country. You can get further information by contacting the nearest embassy to you.
It is also important to mention that from now on all travelers must also obtain a new document that the Government of Thailand is requesting: The Health Declaration (T.8 Form).
Why do I have to obtain a Health Declaration (T.8 Form)?
This is an official document issued by the Thai government as a measure to decrease the spread of COVID-19. You must obtain the Thailand Health Declaration because this document will show in which health conditions you are so the Immigration Officers can decide if you are fit to enter Thailand or not.
Will I pay something to get this Thailand Health Declaration?
You will have to pay just a small amount of money for the service we will give you since the T.8 Form doesn't have a cost.
How many days can I stay in Thailand with the Health Declaration?
In the case of Koreans, all will depend on how many days your visa will allow you to stay in Thailand. Remember the length of days won't depend on the Health Declaration as this is only a document that you can use for enter to the country and verify if you are in good health conditions.
The Thailand Health Declaration can be used once, which mean that is only valid for a Single Entry. Also, it is important to mention that it expires in 14 days after arrival or until passport expires. This doesn't mean that after the 14 days you have to leave this country, on the contrary, the days of stay will be ruled by how many days your visa allows you to stay in Thailand.
Do I need to show a COVID vaccination certificate to enter Thailand?
No. COVID vaccines or vaccination certificates are not required to enter the country.
Do I need a negative COVID-19 test result to enter Thailand?
There are no testing requirements.
Is quarantine obligatory when I arrive in Thailand?
COVID quarantine requirements: There are no quarantine requirements.
Do I need to send any document to process my Health Declaration online?
In order to submit your online application form, you only need to supply the following documents:
A 6-month valid passport scan: just the page where your personal information and photo appears.
A method of online payment: credit/debit cards and Paypal are accepted in iVisa.com's website.
How long does it take to process the T.8 Form and how much does it cost?
The length of time to process your application will depend on the processing speed you will choose. These are the available options that iVisa.com has for you:
Standard Processing: as its name states, this is our regular speed. It will take 7 days to process your Health Declaration (T.8 Form). Also, the service fee will cost USD $33.49.

Rush Processing: here you will receive your QR Code of your Health Declaration (T.8 Form) in 5 days, and the fee increases to USD $58.99.

Super Rush Processing: if you are in a hurry, this is the one is what you need. It only takes 3 days to process. It costs a little bit more, USD $97.99, but it is totally worth it.
If I've decided to apply online for this document, how should I submit my form?
You just need to submit an easy-to-fill online application form. In order to do each part of the form correctly, we have divided the online application into three steps:
Fill in the form with your basic information and then choose the processing time of your preference.

Revise all the details you provided in the first part and then proceed with the payment.

Finally, upload your passport scan and submit your application.
That's it! After that, you only need to wait for our message, that we will send you by email, confirming that we receive your application. If you need extra assistance, you can contact one of our customer service representatives at any hour and day. We will be more than pleased to help you in any step.
How does the Health Declaration (T.8 Form) process work?
As we already explain before this document serves as proof that you are in good health conditions to enter Thailand. The processing for obtaining the Health Declaration is very easy to explain: after submitting your online application with us, we will work on your application with the Government. Then, we will receive the confirmation from the Government that your Health Declaration is done and as a result, they will provide us a QR Code.
You have to show this code, that we will send it to you by an email message, to one of the Thailand immigration officials upon arrival in this country. So, they will scan it in their system and your Health Declaration will appear automatically. You will receive your T.8 Form there so you can be able to enter the country.
Do my kids need this document as well if they are traveling with me?
Yes. Every person, including minors, must apply for the Thailand Health Declaration as long as they hold an ordinary passport. Otherwise, they won't be able to enter Thailand.
I have family and friends who want to apply, can I do it for them?
If they are traveling with you, there's an option to add new applicants in your application form.
If you are the one who is going to fill the form for them, just introduce their information in the online application form and upload their passports scan.
Why should I choose iVisa.com to obtain my T.8 Form?
Our vast experience in processing different travel documents speaks for us. Furthermore, our forms are simple to fill so you will not have any problem submitting your application. Although the final decision depends on the Thai government, we make sure to send your application according to its regulations to increase the approval rate.
I have more questions, how can I contact you?
You can contact us on our live chat or by sending us a message to this email address [email protected]. Moreover, we invite you to check our FAQs.