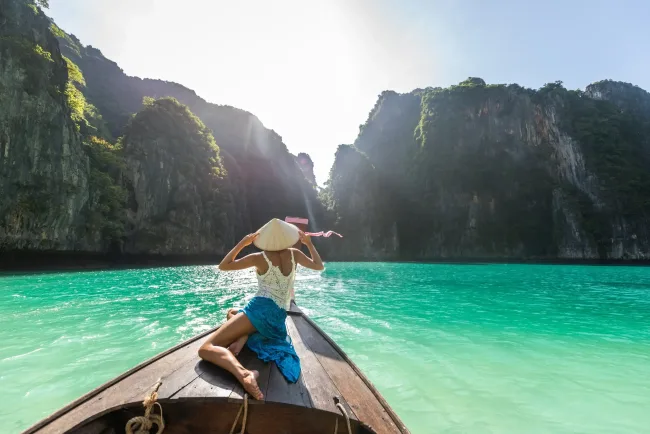 Thailand is a breathtaking destination! The country wins over tourists with its stunning beaches, lush green landscapes, and beautiful, unique temples. When planning a trip to Thailand, one of the first questions you must ask yourself is if you need a visa. Most tourists do need a visa to travel to Thailand, unless they are from a visa-exempt country.
The best thing is that you can apply online for a Thailand Tourist Visa, which is easier than going to the nearest Thai embassy. With us, you can take advantage of this online process and submit your visa application in just a few clicks. Learn more about the visa requirements and how to obtain a Thailand visa below.
Why is Thailand one of the most visited destinations?
Thailand is an Asiatic treasure. You wont fall short on reasons to include this destination in your bucket list; here are some of them:
Beautiful Beaches: Thailand is known for its paradise beaches, such as Phuket, Krabi, Koh Samui, and Pattaya. The crystal-clear water, white sandy beaches, and lush greenery are a treat to the eyes.

Delicious Food: Thai cuisine is famous worldwide, with a unique blend of sweet, salty, sour, and spicy flavors that will tantalize your taste buds. Try typical dishes, like Pad Thai, Tom Yum Soup, and Green Curry.

Culture and History: The country has a rich cultural heritage, with numerous historical sites, temples, and monuments. The Grand Palace in Bangkok, the ancient city of Ayutthaya, and the Sukhothai Historical Park are just a few attractions to include in your itinerary.

Adventure: Thailand offers many adventure activities, a true paradise for outdoors lovers. Enjoy hiking, rock climbing, and snorkeling in the beautiful natural landscapes. You can also try unique experiences like elephant riding and zip-lining through the jungle.
Learn more about attractions, Thai food, weather, and transportation in our complete Thailand Travel Guide.
Do I need a visa to enter Thailand?
Before packing for this awesome trip, the first question is always: Do I need a visa to travel to Thailand? The best way to find out is by using our Visa Checker Tool. Select your home country and set Thailand as the destination. The tool will indicate if you have a visa exemption or must present a Thailand visa to Thai immigration officials on arrival.
Many nationals are eligible for a Thailand eVisa, which means they can apply online for a Thailand Tourist Visa. It's a straightforward and digital process, so don't worry about visiting the nearest Thai embassy and all the bureaucracy of paper visas. Some nationals also have the Visa on Arrival option.
Tips to enter Thailand without a visa
Would you like to travel to Thailand without a visa? Then, you must keep these tips in mind:
Check your eligibility: Thailand offers visa-free entry to many countries for a limited period. Check whether your country is on the list and the length of stay allowed.

Ensure passport validity: Your passport should be valid for at least six months after arrival.

Prepare necessary documents: You must present a return or onward ticket, proof of accommodation, and sufficient funds for your stay.
If you are not visa-exempt, no worries. It's pretty easy to obtain a visa to travel to Thailand with our expert iVisa services!
Thailand Visa types
There are various Thai visas you can apply for it. The eligibility also depends on your nationality, so the process may be easier or more complicated, according to your home country. Check the options below.
Thailand Tourist Visa
This is an electronic visa that allows foreign nationals of certain countries to enter Thailand. Thai authorities developed this online system to facilitate the flow of tourists in the country. The best part is that you don't have to visit the Royal Thai embassy or consulate; the application process is 100% online.
It covers multiple trip purposes. The Thailand Tourist Visa allows tourism activities, visiting relatives and friends, seeking medical treatment at a registered hospital, and some business activities supported by TCEB.
Use our Visa Checker Tool to see if you can apply for this visa with us!
Thailand VOA (Visa on Arrival).
Visa on Arrival (VOA) is an arrival program where eligible citizens can obtain their Thai visas at the Immigration Checkpoint once they enter Thailand. The immigration officer will decide the duration of your stay, usually between 15 and 30 days.
You don't have to fill out an application form in advance. However, when entering Thailand, you'll probably face long lines at the airport to obtain this visa.
Click here to check the list of Immigration Checkpoints where you can obtain the visa on arrival.
Eligible countries for the Thailand VOA
| Andorra | India | Papua New Guinea |
| --- | --- | --- |
| Bulgaria | Kazakhstan | Romania |
| Bhutan | Latvia | San Marino |
| China | Lithuania | Saudi Arabia |
| Cyprus | Maldives | Taiwan |
| Ethiopia | Malta | Ukraine |
| Fiji | Mauritius, | Uzbekistan |
Paper visa to visit Thailand
Foreigners who aren't eligible for the previous tourist visa types can apply for a visa for Thailand at their nearest Thai embassy or consulate. In this case, they'll get a visa stamped in your passport before the trip, but face a time-consuming application process.
It's also the standard application process to obtain long-term visas, such as work and study visas.
The best choice: Thailand Tourist eVisa
Applying for the Thailand Tourist eVisa is the best option for hassle-free travel to Thailand. Complete the application form online in a few minutes, and don't worry about long lines on arrival to get a visa (VOA). Learn all about the visa requirements and everything you need to know about the Tourist eVisa here.
How long is the Thai visa valid?
The Thailand eVisa must be used within 90 days from the date of issue and is valid for 60 days Per Entry after arrival. Be aware it's a single-entry visa. If you leave Thailand, you need to apply for a new valid visa to re-enter the country.
How long can I stay in Thailand with this visa?
The Tourist Visa allows visitors to stay for up to60 days Per Entry in Thailand.
Can I extend my Thailand Tourist Visa?
Yes, you can apply for a visa extension to stay longer in the country at a local Immigration Office. A 60-day Tourist visa can be extended for another 30 days.
What happens if you overstay your Thai visa?
Overstaying your visa is illegal in Thailand. If you overstay, even for a short period, you have to pay a fine. Overstaying for more than 90 days, however, is a serious offense. In this case, Thai authorities may deport you and ban you from revisiting the country.
What are the required documents for a Thai Tourist Visa application?
You have to provide the following documents to obtain this Thailand eVisa:
Applicant's Photo - Use our Passport Photo Service if you need a more recent photo. Its a digital service so you'll have them in no time!

All Passport Pages Scan - The passport must remain valid for at least six months after arrival

Flight tickets

Proof of Accommodation

Bank Statement - The Ministry of Foreign Affairs requires travelers to provide proof of a minimum of 20,000 Baht or around $700 per person. When planning to travel with your family, you need a minimum of 40,000 Baht or $1,500.

Proof of Residence

Selfie holding the photo and information page of the passport

Employment Proof (if applicable)

Host's ID card, Work ID, or Residence permit of Shanghai, Anhui, Zhejiang, or Jiangsu (if applicable)

Email - To receive the Thailand eVisa

Payment method - Credit or debit card to pay the visa fees.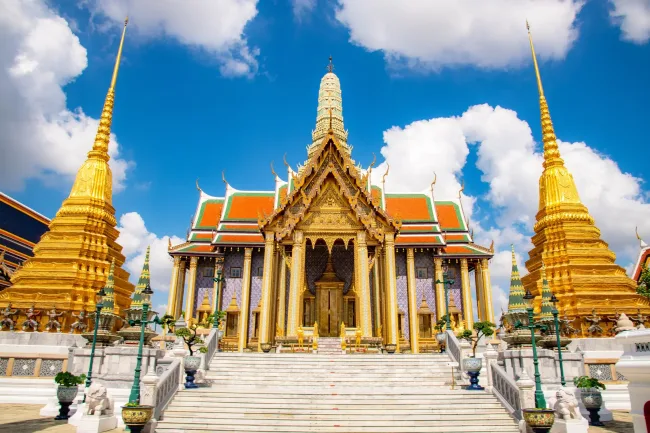 How do you apply for a Thai visa?
Completing the Thai visa application process with iVisa is very easy. You'll just need to follow these three steps:
Step one: Fill out the visa application form providing personal and travel information.

Step two: Double-check that all the information in the visa application form is correct to avoid any issues. Choose the processing option and proceed to pay the visa fee.

Step three: Upload all the supporting documents and submit your visa application form.
Once the Thai Immigration Bureau Office approves your visa, we will send it to your email. Keep it safe on your electronic device and print it out so you can easily show it on arrival in Thailand.
How long does it take to get a visa for Thailand?
The iVisa fee for processing your Thai Visa will depend on how fast you want to receive it. iVisa offers the following options:
Standard Processing time: 22 days

Rush Processing: 20 days

Super Rush Processing: 18 days
How much does a Thai visa cost?
The visa fees vary based on the traveler's nationality. Use the Visa Checker Tool to learn the exact prices for your nationality. The visa costs applying with iVisa include the government and service fees.
The government fee for the Thai eVisa is USD $40.
Benefits of applying for the Thailand Tourist Visa with iVisa
100% government compliance: We'll check all your answers for compatibility with Thailand government standards to avoid rejection.

Save time: Save your progress to complete the form at your own pace. Furthermore, you will not have to attend visa appointments; you can do the entire process online.

Simplified form: iVisa offers short and straightforward application forms you can complete in a few minutes.

24/7 support: Our customer service team is available 24/7 to help you with any questions.
Is it safe to use iVisa to get my Thailand visa?
Yes, it's safe. We are a professional team that has been providing travel documents since 2013. We work hard to offer an excellent visa service, keeping our customers' data safe. Check our review section for some travelers' testimonials about our trusted services.
Thailand travel tips
Visiting Thailand is a unique experience! We know you can't wait for this trip. Here are some tips to prepare for your vacation:
Apply for a Thai Tourist Visa pre-travel and don't worry about long and time-consuming lines at the airport. Remember that without a visa, you may be denied entry.

Purchase medical insurance. It is always better to be prepared for any emergency.

In general, Thailand is a safe country. However, exercise normal precautions. The Yala, Pattani, Narathiwat, and Songkhla Provinces have increased risk of violent crimes.

Yellow fever vaccination is not mandatory but is required for travelers from countries with a risk of yellow fever transmission. Learn more on the CDC website.
I still have questions. Who can I contact?
Our customer service team is available 24/7 to help you with questions about visas to visit Thailand or any other travel document. Don't hesitate to contact our visa experts! They'll be happy to assist you.