Are you planning a trip to Thailand? If that's your case, you should know that you most likely need to apply for a Thailand Pass. This document has a short release time, but it's already mandatory for any traveler, including Canadians. If you want to know How to enter Thailand during COVID-19 for Canadians, then we invite you to keep reading the information below.
The Government of Thailand has created multiple steps to avoid the spread of the COVID-19, which is why you'll need to apply for the Thailand Pass from now on if you're Canadian. This form is available through the government system, but the problem is that since many people have requested it, the system has been suffering some troubles and collapse. You can avoid this tedious situation by applying online with iVisa.com. In other words, iVisa.com can help you avoid the long lines at the airport and get your Thailand Pass quickly!
In the following FAQs, you'll learn more about it.
Note: Since July 1st, 2022, the Thailand Pass is no longer necessary to enter the country.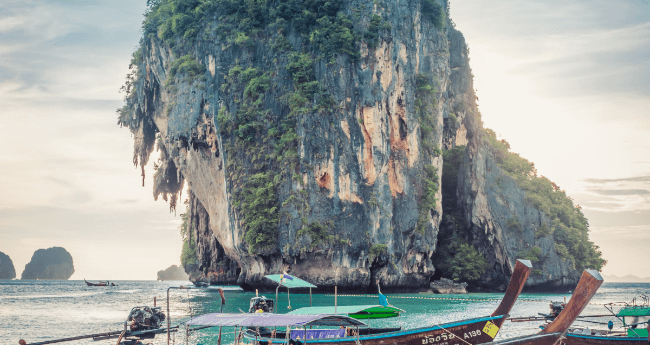 Frequently Asked Questions
What is a Thailand Pass?
The Thailand Pass is a travel authorization that works as an important requirement to contain the spread of the COVID-19 in the country. When you submit this form, the officials can verify if you can enter this country or not because it offers all the valid information about your health. If there's any traveler infected by COVID-19 or have symptoms, the information in the document will be registered and it'll enable important organizations to communicate with those affected to follow the proper protocols.
Keep in mind that this declaration IS NOT THE SAME AS A VISA. If you need a visa to travel to Thailand, then you'll need to apply for that document as well. You can check if it's possible to apply for an eVisa using iVisa.com's service, but in case you need a paper visa, you'll have to contact your nearest local embassy.
I'm from Canada, do I need a Thailand Pass to enter Thailand?
Yes, you need to apply for this document to enter this country because everyone must have it, including visa-exempt countries.
What documents do I need to apply?
One good thing about the application process with iVisa.com is that it doesn't require a large number of documents, only those necessary for the process to be successful. This means that in case you decide to apply with the official method at the airport, you'll have to investigate separately what documents they might ask for. You can have your peace of mind by knowing that with iVisa.com it'll be more than enough for you to offer the following:
Please don't forget that your passport must be valid for at least 6 months from the planned departure date and you should apply for your document at least 7 days in advance. However, we can provide you the document quite fast, but it's recommended to apply with enough anticipation.
Do I need to show a COVID vaccination certificate to enter Thailand?
No. COVID vaccines or vaccination certificates are not required to enter the country.
Do I need a negative COVID-19 test result to enter Thailand?
There are no testing requirements.
Is quarantine obligatory when I arrive in Thailand?
COVID quarantine requirements: There are no quarantine requirements.
What are the prices and processing times for this document with iVisa.com?
It's not difficult to apply with iVisa.com, but we know that the price is always the most important topic in your travel arrangement. That's why iVisa.com designed 3 processing alternatives for you to receive your document according to the urgency you have. These alternatives are:
Standard Procedure Time: this option has your document ready in

7 days

with a price of

USD $25.99

.
Rush Procedure Time: with this alternative you'll wait only

5 days

if you pay

USD $48.49

.
Super Rush Procedure Time: this is the most expensive price, with

USD $77.99

, but you'll be able to receive your form in

3 days

.
As we mentioned before, you can have your document ready in even 30 minutes, but we still recommend you to apply with enough anticipation to avoid any issues.
How can I apply with iVisa.com?
Something great about applying with iVisa.com's online form is that you just need to complete a straightforward system that was specially created to make everything easier for you:
Firstly, you just need to answer a few questions in the initial questionnaire and then proceed to choose the procedure time.
Secondly, you just need to check your information, especially the spelling, and continue with the payment.
Thirdly, and as a final step, you'll just need to upload the scanned copy of your passport and send your online form.
After you review the form and click the 'submit' button, you'll be ready to receive your Thailand Pass via email and get ready for your travel!
Of course, if you have issues while doing this process, you can always talk to iVisa.com's customer service center via chat.
How much time will I need to apply online?
This process is not difficult at all, so you could need only 20 minutes to finish it. Actually, you can be ready in fewer minutes depending on how comfortable you feel while doing the process. Don't forget that you can apply from any electronic device with a proper Internet connection.
How can I use this document?
It is quite easy to use. Remember that you'll obtain a PDF file with the Pass (Health Declaration) via email, so you can print it out if you prefer, but that's not extremely necessary. Once you get it, download it and take it with you when traveling. This form has a QR code that will be quickly verified through the Thai authorities' system. Once they check your information through the QR code, you'll be able to enter the country, as long as you don't have any symptom or any risk of spreading COVID-19.
Do children need a Thailand Pass too?
If you're planning a trip with your entire family, including children, then you should know that they also need to acquire this document, just like any adult. The Thailand Pass is a mandatory document for everyone.
Is it safe to use iVisa.com to apply for my Thailand Pass?
If there's something that iVisa.com can always guarantee, is its security system. This company has a modern security system that allows you to keep your information safe, so it won't be put in danger at any time. The information on iVisa.com's website can't be easily leaked.
You should also remember that it might be difficult to find other reliable alternatives to apply for this travel document, and you already know how tedious it is to apply by going to a Thailand Embassy or by going to the International Airport with your personal documents.
This is why iVisa.com decided to create an authorized process by the Thai government that won't make you spend too much time. If you have doubts about our service, you can always read our reviews on this page.
Where can I find more information about this important document?
It's ok if you still have questions related to this online process, which is why we invite you to contact iVisa.com's customer service center if you prefer to receive personal attention. You can also read iVisa.com's website to check other FAQs.
If you want to start your application then click here.