iVisa | Updated June, 2022 - The PCR test is no longer required by the government to enter Thailand but you will need to apply for the Thailand Pass (which is mandatory) here.
This was previously a mandatory initiative to help control the spread of COVID and most worldwide destinations requested PCR testing before arrival, however, this is no longer mandatory to enter Thailand. Only if you are unvaccinated will you need to test. It is necessary to acquire a Thailand Pass before the trip.
In case you're thinking about Bangkok as your next destination, you must check the entry requirements. You must apply for the Thailand Pass as the Thai government is requesting it for all incoming visitors.
Continue learning all about the Thailand Pass here
Note: Since July 1st, 2022, the Thailand Pass is no longer necessary to enter the country.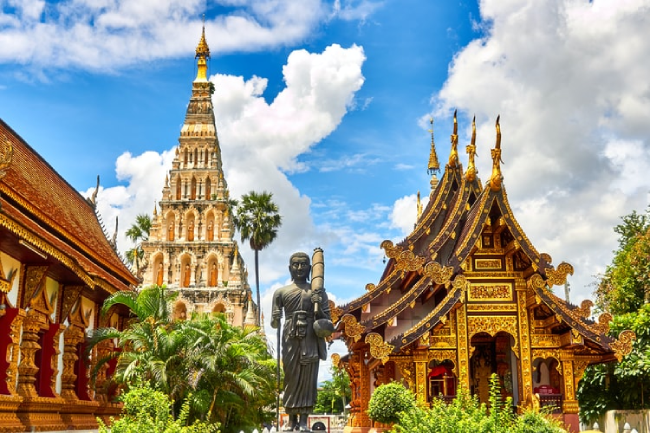 Do I need to show a COVID vaccination certificate to enter Thailand?
No. COVID vaccines or vaccination certificates are not required to enter the country.
Do I need a negative COVID-19 test result to enter Thailand?
There are no testing requirements.
Is quarantine obligatory when I arrive in Thailand?
COVID quarantine requirements: There are no quarantine requirements.
How can I get a PCR test in Bangkok, Thailand?
Make sure to check the Department of Disease Control of the Thai Government to check all the recommendations about PCR testing in Bangkok. You will likely find a location near you. Also, you have the alternative to go for private clinics that charge a fee for the PCR testing.
Always keep updated with the latest news about testing as some hospitals stopped providing them due to the rise of covid cases. In case you want a reliable source in English, we recommend checking the US embassy webpage for more details about testing in Bangkok. They have displayed a whole infographic with testing centers in Bangkok or the Central Region. Also, they indicate that foreign nationals will need to pay for the PCR testing, and the fee is usually higher in private clinics. The good news is that you can have the results 72 hours after taking the test.
Let us provide you with more details about PCR Testing in Bangkok, Thailand.
PCR testing for travelers from Thailand
If you want to travel abroad soon with your Thai passport, you can get PCR testing in most of the testing locations provided by the Thai government. Still, you may need to pay a fee for the procedure. Also, you can opt for private clinics for a higher price. Remember that most destinations request foreign travelers to have negative results from a covid test before the trip. This situation helps the national government know that you won't be contagious.
Also, you will need to get a health declaration before your arrival. This health document registers your current health state and trip details.
PCR Testing in Bangkok, Thailand, is possible for locals and foreigners.
PCR TESTING IN BANGKOK, THAILAND FOR FOREIGN VISITORS
If Thailand is your next destination, you will need to comply with certain health requirements. First, you need to take a PCR test 72 hours before departure. You need to bring and show the negative results upon arrival. You will need to have health insurance that covers covid in case you get infected during your trip.
Aside from your covid test, you will need to have the Health Declaration (T8 Form). This health document is available on the iVisa.com platform. The process is simple, and all you need is your passport to complete it. Besides, you have a full team ready to help you with any questions you could have along the way. We know we can support you with all the details about PCR Testing in Bangkok, Thailand.