Romania, along with the other 20 countries, is on the list of states whose citizens have access to a Thailand visa on arrival. As a result, if you are Romanian, you don't have to go to a Thai embassy to get your visa.
And better than that, you have two options. You either get your visa once you arrive at one of the 48 immigration checkpoints that release visas on arrival or, better yet you can apply online. The last option is more practical, and iVisa can help you with that.

Frequently Asked Questions
What is a Thai visa on arrival?
The Visa on Arrival or better known as VOA is a program that Thailand approved to authorize citizens from 28 countries to acquire a visa easily once they arrive in the country at any immigration checkpoint.
I'm Romanian, Do I need this VOA to enter Thailand?
Yes, you do. Otherwise, you won't be allowed to enter the country.
How long can Romanians stay in Thailand with this VOA?
All Romanian citizens can stay 60 days Per Entry once they arrive Thailand.
What do Romanians need to apply for this VOA?
iVisa handles all the bureaucratic aspects of your visa, but you need to provide some information so that they can expedite the process. The list does not contain anything out of the ordinary, and you probably already have everything required. Here's a list of what you need to have in hand:
Valid passport – getting a passport is easy for most people, and if you already own one, take a look at the expiry date. The passport needs to keep its status as valid for at least another 30 days from your date of arrival to Thailand.

Return flight ticket – the Thailand visa on arrival allows you to stay some days inside the country, so you need to submit a confirmed return flight ticket that proves your return.

Proof of accommodation – you need to have a hotel reservation or a signed letter from a host that states you have where to live during your trip to Thailand.

Valid e-mail address – once you apply on iVisa, they will send you an application form that you need to fill in before your trip. You will receive the document above via e-mail, which is why you need to make sure that the address you provide is valid. Check the spelling as well.

Means of payment – by applying online, you must pay iVisa for its services. You can make the payment using a credit or a debit card. If you have a Paypal account, you can use that as well.

Immigration card (arrival and departure).

Cash for visa stamping fee payments upon arrival (2,000 THB for each traveler).
When you arrive in Thailand, you will be asked about the purpose of your visit. Keep in mind that we're showing you all the requirements needed, not only for applying but also those that you'll have to show upon arrival.
What are the processing times and costs of this VOA for Romanians?
Before applying, you should know that iVisa has three options for you to choose how fast you want your VOA. And these are their differences:
Standard processing – travelers who apply online select this option most often because it is the least expensive. You will be charged USD $96.99 and your application takes 22 days to be processed.

Rush processing – this option shortens the waiting time to only 20 days. The cost, though, is a bit higher. This option costs USD $155.99.

Super Rush processing – this is the fastest option you can find. It costs USD $207.99, but your application is processed in as little as 18 days.
How long does it take to apply for a Thai VOA?
If you want to apply for a Thailand VOA, you should keep in mind that it wouldn't take you more than 10 minutes to complete the form. It's quite easy!
How can Romanians apply for a Thai VOA?
The application process provided by iVisa could not be simpler. There are two steps that you need to complete, and you can call iVisa's support service in case you need some help along the way.
The first phase asks you to fill in your personal information such as name, address, passport info, and more. You also have to choose the processing time.

The second step should take even less than the previous one. You will be required to make the payment and do a simple revision. Make sure that all the information you provide is 100 % accurate and the spelling is correct. Otherwise, you may need to go through the process again.
A Thailand visa for Romanians is easy to obtain, and the process could not be more straightforward. Just bear in mind that the payment for the visa itself must be made in Thailand. It costs 2000 THB, allows you a 15-day stay, and you have multiple entries.
Please note that we DO NOT issue the actual visas. It's a pre-registration service provided to certain nationalities.
How many times can I enter Thailand with a VOA for Romanians?
Your VOA has Single Entry if you're Romanian, so you can enter more than once.
Where are the Visa on Arrival counters at the Airport in Thailand?
You have to follow the signs leading to Immigration. On your way to Immigration officers, you'll see a sign with the "Visa on Arrival" text, and there's where you go and take your VOA.
Is this VOA available at any airport?
The Thailand Visa on Arrival is only available to travelers who go through the next following points of entry:
Suvarnabhumi Airport.

Don Mueang Airport.

Phuket Airport.

Chiang Mai Airport.

Chiangrai Airport.

Hua Hin Airport.

Samui International Airport.

Sukhothai Airport.

Surat Thani International Airport.

U-Tapao International Airport.
Do I get an actual visa with the VOA?
Our service does NOT provide an actual visa. We'll offer you a pre-registration document that you must present once you arrive in Thailand, and then you'll receive your actual visa.
Please also remember: you can apply online using iVisa only if you travel to Thailand by air and you land at any of the airports mentioned before.
How does the Thai VOA look like?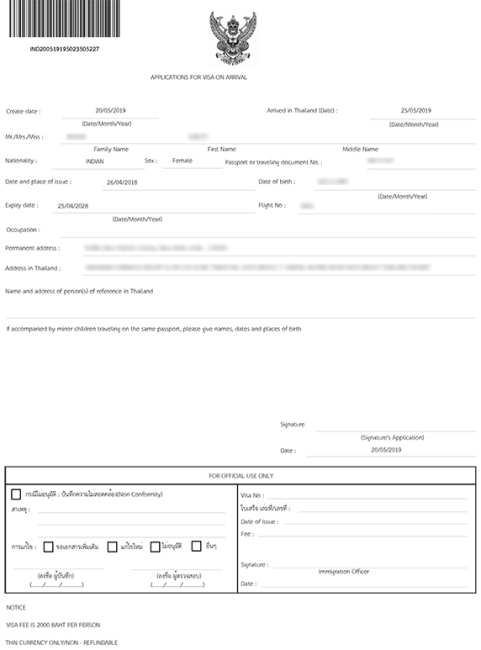 Is it safe to use iVisa to get my Thailand Visa?
We provide a professional service and we've been issuing official eVisas since 2013. You can feel safe with us since your online information is completely sheltered with our updated system. You can check what hundreds of happy customers say about us here.
Where can I find more info about the Thailand VOA?
Do you still have some doubts? Don't worry then, we can give you more help. You can talk to one of our customer service agents if you want personal and detailed attention. You can also check more FAQs in this link , where you can even find more information about Thailand turism.
Start planning your trip and avoid any unnecessary stress with us, you're just one step closer to know all the beauty that Thailand has.