Ukraine has a very lenient visa policy. A lot of countries around the globe are visa-exempt, which means that the citizens of those countries do not require a visa when they visit. Keep in mind that the list of nationalities that can enter Ukraine without a visa indefinitely is short, but the list of nationalities that can stay up to 90 days is relatively long. The remaining nationalities who want to go to Ukraine are required to apply for a visa.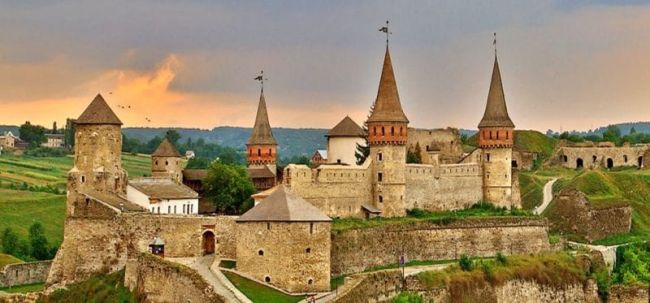 Frequently Asked Questions (FAQs)
Do I need a Visa to Ukraine?
You do not need a visa to Ukraine if your country is visa exempt by Ukraine. For countries that require a visa, Ukraine offers the Tourist eVisa to applicable nations. Be sure to check the Visa Checker tool to see if your country requires a visa.
Is there a Ukraine visa for US Citizens?
No, US citizens do not require a Ukraine visa for tourism as long as the stay is less than 90 days. US citizens that wish to stay in Ukraine for reasons other than tourism or longer than 90 days will need to apply for the appropriate visa type.
Which Countries do not need a visa for Ukraine?
The following countries do not need a visa for Ukraine: Albania, Andorra, Antigua and Barbuda, Argentina, Armenia, Australia, Azerbaijan, Bahrain, Bosnia and Herzegovina, Belarus, Brazil, Brunei, Canada, Chile, China, Colombia, Dominica, Ecuador, Georgia, Hong Kong, Iceland, Israel, Japan, Kazakhstan, Kuwait, Kyrgyzstan, Liechtenstein, Macau, Moldova, Monaco, Mongolia, Montenegro, New Zealand, North Macedonia, Norway, Oman, Panama, Paraguay, Qatar, Russia, Saint Kitts and Nevis, San Marino, Saudi Arabia, Serbia, South Korea, Switzerland, Taiwan, Tajikistan, Turkey, United Arab Emirates, United Kingdom, United States, Uruguay, Uzbekistan, and Vatican City.
For more up-to-date information be sure to check the Visa Checker tool. For the information and requirements to be displayed, you need to select your country of origin and Ukraine as your destination.
What is a Ukraine Tourist eVisa?
The Ukrainian Tourist eVisa is the official travel document needed by foreigners to visit Ukraine for tourism purposes.
How long can visitors stay in Ukraine with a Tourist eVisa?
Visitors with a Ukraine Tourist eVisa can enter the country for a maximum of 30 days Per Entry, they also have a Single Entry.
IMPORTANT TO REMEMBER: All visits are strictly limited to tourism, so you can NOT seek paid work or employment.
What are the documents required to apply?
To complete our online application, we will require the following documents and information:
Valid Passport.
Health insurance (up to 30,000 euro coverage).
Proof of sufficient funds to cover the costs of stay.
Return airline/transit ticket.
Accommodation Information (hotel booking).
Agreement for tourist services (voucher).
Itinerary.
For more information click here.
How long should my passport be valid for if I want to apply for a Ukraine Tourist eVisa?
Applicant's passports should have at least 6-months validity from the time you enter into Ukraine and at least one blank page.
How long is the Ukraine Tourist eVisa valid?
This type of visa is valid for 30 days after arrival.
What are the processing times and prices?
For the processing time of your Ukraine Tourist eVisa, we give you three options of processing time with different pricing:
Standard processing – your visa application is processed within

19 Business Days

, and the price is

USD $76.99

(service fees included).
Rush processing – you will receive your visa within

17 Business Days

, and the total price of it is

USD $136.99

(service fees included).
Super rush processing – this is the fastest option. You will get your Ukraine eVisa in only

15 Business Days

, and you will be charged

USD $211.99

(service fees included).
Click here to start your application.
How does the Ukraine Tourist eVisa work?
The Ministry of Foreign Affairs of the Ukraine Government issues electronically all Ukraine eVisas.
Travelers around the world can use the Ukraine Tourist eVisa system to process an eVisa. In iVisa.com, we use it too to process our applicant's visas. We enter the information provided into Ukraine's eVisa system and after they review it, we are notified of the outcome of the Ukraine eVisa application.
How long does it take to apply for a Ukraine Tourist eVisa?
Less than 10 minutes. That's all you will need to send your application for Ukraine with iVisa.com. We will take care of the rest and shortly after we will let you know the status of the application by email.
How can I apply for a Ukraine Tourist eVisa?
The application form is really easy and consists of three simple steps:
The first step will ask you to fill in your general information. You also need to choose the processing time from the options mentioned above.

The second step will ask you to revise step one and make the payment. You can use a credit/debit card or a Paypal account for the payment.

The last step consists of a questionnaire. Other documents may be required as well, but it depends on individual circumstances.
Click here to start. After you are done, you submit your form and wait for your visa to arrive. In case you need assistance to fill your application, iVisa.com has a fantastic support service that you can call 24/7.
What happens after I have applied?
Once you submit your application, you just need to wait for your visa to arrive by email in the timeframe you chose no need to deal with the embassy. We do it for you so you don't lose valuable time. Next, present a printed version of your Ukraine Tourist eVisa along with your passport once you enter Ukraine.
How do I know if my visa is approved?
We will notify you by email as soon as the Ukraine government approves your visa.
Does the eVisa guarantee me entry into Ukraine?
A visa (eVisa or otherwise) only grants you permission to travel to an entry point (airport). The final decision on granting entry will be at the discretion of the Immigration Officer at the point of entry.
I made a mistake on my application. Can I modify the eVisa after it's issued?
No, we can not change or modify any details on the e-Visa once it's issued. If you do, however, realize you made a mistake before your visa has been issued, please contact us ASAP via online chat or by sending an email to [email protected]
Is it safe to use iVisa.com to get my Ukraine Tourist eVisa?
Many people think that online information leaks and that their personal info is at risk of getting into the wrong hands. However, that is not the case with our services. We provide maximum safety for your personal data, confidentiality, and we invest a lot in the security of our database. Your personal information could not be safer. You can check what hundreds of happy customers say about us here.
I have more unresolved questions, where can I find more info?
For a faster resolution click here and start chatting with one of our customer service representatives. Alternatively, you can find more info and FAQs here.