Now that the coronavirus vaccine is being introduced in countries around the world, you may be wondering, 'Do I need a vaccine to travel to the United Arab Emirates?'. Planning a trip to the United Arab Emirates is easy, especially because at the moment it's not necessary to get a vaccine to travel there.
There are lots to do for all the family when you plan a trip to this vibrant destination. From camel-riding to sandboarding, you're sure to find something to entertain every member of the family.
If you're looking for the answer to the question 'Do I need a vaccine to travel to the United Arab Emirates?', then you'll be pleased to hear that you don't. However, you may need other travel documents, such as a visa or e-Visa, to visit the United Arab Emirates.
Find out more about required travel documents for the UAE.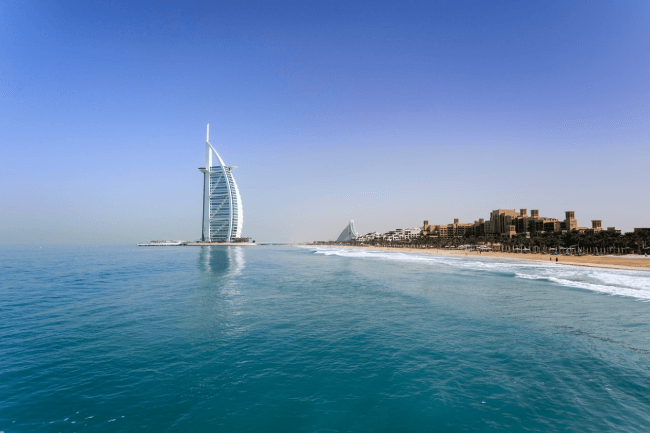 How do I get a visa with iVisa.com?
While no vaccine is necessary to enter the UAE, your nationality may need a visa. We can help you apply for an e-Visa in three easy steps:
Complete the online form with your personal information.
Check your answers to make sure they are all correct, then select your preferred processing time and pay the relevant fee.
Upload any essential document scans, then hit submit. The document will be sent to your inbox when it has been approved and processed. That's all! iVisa.com makes it simple for you.
Frequently Asked Questions
Do I need a COVID vaccine or vaccination certificate to enter the United Arab Emirates?
No, you don't. COVID vaccination certificates are not mandatory to enter the United Arab Emirates. However, travelers are required to present one of the following in order to enter this country:
Valid vaccination certificate with a QR code
Negative PCR test issued within 48 hours before departure with a QR code
Proof of recovery within 1 month from the date of recovery to the date of arrival with a QR code
Since information may change quickly, we advise you to follow up on the latest United Arab Emirates travel updates and/or contact your local embassy.
Do I need a negative COVID-19 test result to enter Dubai or Abu Dhabi?
All travelers arriving in Dubai or Abu Dhabi will need to get a PCR test within 48 hours of arriving in the country.
Children below 16 years old and fully vaccinated/recovered visitors are exempt from getting PCR tests before arrival if they enter Abu Dhabi or Dubai.
Is there a quarantine requirement in the United Arab Emirates?
Quarantine requirements: There are no quarantine requirements.
Can iVisa.com help me with the entry requirements for my United Arab Emirates trip?
To answer the question Do I need a vaccine to travel to the United Arab Emirates? quite simply—no, you don't. But that doesn't mean you can arrive with just a passport. We can help you obtain the right documents to travel to the UAE. For example, you may need a visa depending on your nationality.
I have a travel emergency! Can you speed up my application process?
Yes! iVisa.com created three different processing options to make sure that we can help United Arab Emirates travelers just like you with your documentation:
Standard processing: This option is best for people with a decent amount of time before their departure date.

USD $154.49

-

7 Business Days

.
Rush processing: Choose this processing speed when you can afford to pay more and get your document processed faster.

USD $185.99

-

5 Business Days

.
Super Rush processing: This is the best option when you're working under a tight deadline, or in an emergency. With Super Rush processing you'll get your document back in record time.

USD $222.99

-

3 Business Days

.
Will I need to fetch a lot of documentation for my iVisa.com application?
When you apply for an e-Visa with iVisa.com, you'll only need the following:
Passport, with a scan of the information page. That's the page with your picture on it.
A credit or debit card to pay the processing fee.
An email address to receive the eVisa.
What if I want to discuss my query further?
If the question 'Do I need a vaccine to travel to the United Arab Emirates?' is keeping you awake at night, then feel free to fire us an email for more details.
iVisa.com Recommends
You might not think of fun when you hear the word 'desert,' but let us assure you that the deserts along the coastline of the United Arab Emirates hold plenty of opportunities for the fun of all kinds. Whether you are an adrenaline junkie or a more laid-back vacationer, you will find entertainment in the mesmerizing red sands that stretch across parts of the UAE. Sandboarding and four-wheel-drive trips are available for the more adventurous and sporty type, while dune-buggy journeys and camel treks offer more relaxed options that are perfect for families with young children. If you are seeking a more romantic desert getaway, you can arrange for a Bedouin-style dinner or overnight trip. You'll get to have a delicious BBQ and take in the beautiful views, and if you stay overnight you can sleep in a Bedouin-style tent under the stars. Dubai, Abu Dhabi, and Fujairah all make great jumping-off points for a desert day trip or overnight stay. Take a break from the skyscrapers and museums and give yourself a chance to experience the natural beauty of the desert landscape.
Find out more about travel documents to the United Arab Emirates!