When thinking about saving money, tax deductions may be a suitable strategy for US citizens who frequently travel outside their country. In fact, are passport renewal fees tax-deductible? should be a common question for them. Unfortunately, passport renewals for leisure trips do not qualify for tax-deduction. For those US travelers interested in preserving some funds, iVisa.com has created a renewal passport online service. Its main goals are: to help you to save money, guide you through an error-free process, and leverage your time and energy,
Our passport renewal online service is available solely for US Citizens keeping a US Passport and residing in the US. It empowers you to finish the entire procedure from your place. It's the precise opportunity to avoid passport application rejection while not wasting time nor money, despite the answer is no for the Are passport renewal fees tax-deductible question.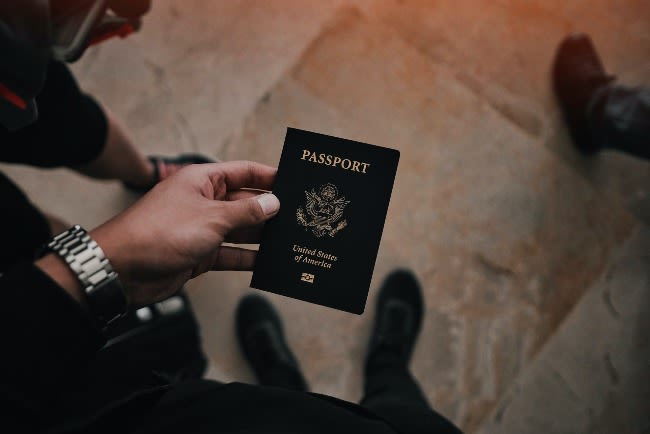 Get Started With Your Passport Renewal
How is iVisa.com's renewal process working?
Our three-step process does not require effort or time and even though the answer is negative for the question: Are passport renewal fees tax-deductible, you can still save money with us:
Step 1: Complete filling out our online form, upload your passport photo, and pay with one of our online methods. We have available: (Paypal, debit, or credit card).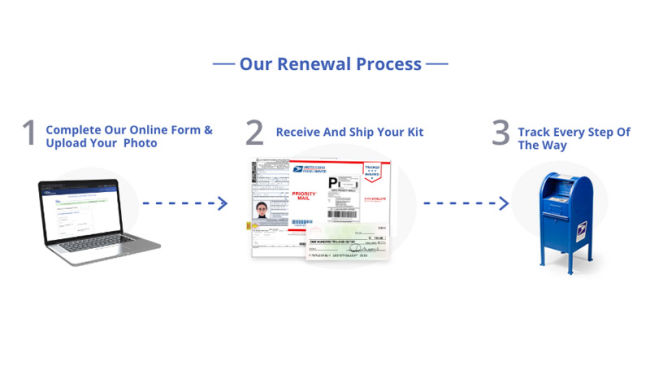 Step 2: Get your passport kit in the comfort of your home, sign the DS-82 form, pack all inside the envelope and carry it to the most nearby mailbox or post office.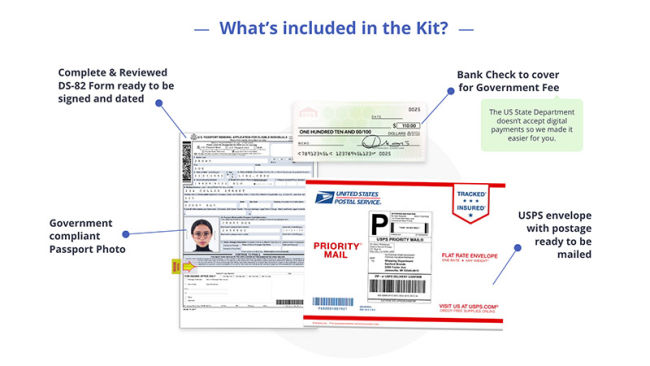 Step 3: Follow the track of your kit.

No necessary to provide us with your passport: We will deliver you a package kit, where you will pack it to the government passport authority.

Your process will align with government instructions iVisa.com's team of immigration experts will ensure your photo complies with the required standards.

You will get your new passport: We have available two delivery rates: government expedited service, from 4 to 6 weeks, or government standard service, from 10 to12 weeks.
Our online passport renewal service is only possible if your scheduled trip is not later than six weeks. If you have not planned a trip yet and you need your renewal, we are the best option in professionalism and money.
Get started with your passport renewal process
Frequently Asked Questions
For who is this service available?
This service is uniquely available for US citizens living within the US and already holding a US passport, who match ALL these conditions:
They keep their current passport in possession.
They maintain their present-day passport in good form.
They are older than 16 years old.
They have a present-day passport with a maximum of 15 years' issue date.
They hold the same name appearing in their current passport.
Should I deliver my Passport to iVisa.com?
No. You will obtain the following kit from iVisa.com:
A completed DS-82 form. Sign it, please.
A Printed and stapled Passport Photo.
A Bank Check to pay for the Government fee.
A USPS Envelope with Postage.
Sign the form, gather everything within the USPS Envelope, and ship it promptly. The most express you take over these actions, the sooner your renewal process will start. Do it now, Renew your passport.
See Are passport renewal fees tax deductible
Why should I trust iVisa.com with my SSN?
All of the information shared with us complies with the General Data Protection ("GDPR") and the California Consumer Privacy Act ("CCPA"). iVisa.com requires your SSN because your DS-82 Form demands this information. We consider data ownership as a key human right and the only owner of your details. We are not allowed or interested in selling your information to third parties for business profits.
Begin your passport process renewal.
How may I know when my passport is coming to me?
We count on a passionate team of customer agents, who will send you regular updates about your passport renewal process. These times may vary according to the two government speed service options: 8 to 10 weeks for the standard service and 4 to 6 weeks for the expedited service.
Apply for your passport renewal.
What if I get a rejection for my passport application?
If your application is rejected by the Government Authorities. We guarantee a 100% of our iVisa.com Fee refund.
What if I make a mistake during the process?
Our team of customer agents is reachable during the seven days of the week, no matter the time nor the time zone. They are eager to help you for fixing the error or, reviewing your application, or any other related concern. Do not wait more time.
How much time does it take until I can have my new passport in my hands?
This is subject to the speed government option you want to select: The regular passport renewal service takes from 8 to10 weeks and the Expedited Service takes less time with a USD 60 fee, from 4 to 6 weeks.
Can I access this online service if I have a trip in less than 6 weeks?
No, if you will be traveling less than 6 weeks from now, we can not support you. So, we kindly ask you to approach a licensed government agency, and please reconsider coming back to us if your trip is rescheduled.
What if I am not eligible for renewing my passport online?
Sadly, If you are not eligible for this process, we are unable to assist you. We advise you to inform yourself about how to proceed on the US government website.
Where can I learn more about my query 'Are passport renewal fees tax-deductible?'
Learn more about your discussion point 'Are passport renewal fees tax-deductible?' by visiting the iVisa.com website.
iVisa.com Recommends
If traveling to Mexico, go to Tijuana. This city has a "questionable reputation" for being once one of the most dangerous border crossings in the world. Nonetheless, it has turned things in its favor: in the last years, thanks to government investment and a local city movement, it has seen a rapid-growing culinary and urban art scene reflected in modern restaurants, galleries, and artistic cafés. The most avid proof of that is the Avenida Revolucion, locally known as "La Revu," it is an alive rainbow where you can find cozy coffee shops, restaurants, hotels, sparkling street murals, designer galleries while watching local artists' outdoor performances. The cultural offer does not end here, there is still the Tijuana Cultural Center, El Trompo, and the house of culture, sites that will show anyone that Tijuana is one of Mexico's cultural hubs. Do not skip eating a Caesar Salad there, since locals claim their hometown is its actual birthplace.