If you want to ask: Can I renew my child US passport online? We can confirm this situation isn't possible. The US Government requests parents and guardians to accompany their child to renew their passport. Don't worry! Because iVisa.com is working on facilitating this service. Still, you can count on our passport renewal service for adults. Our error-free procedure is all you need to have your new passport without any rush.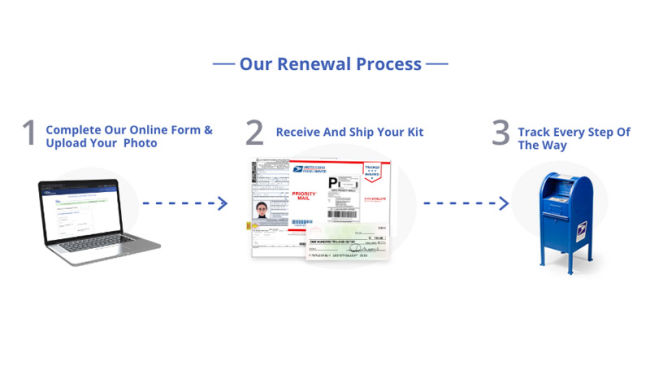 US citizens with US passports and currently residing in the United States are eligible for our service. We can help you with your question: Can I renew my child US passport online?
How does the process work?
It's simple to obtain your child passport as long as you follow these three steps:
Complete Form-DS 11 with the minor's details. Bring US citizenship evidence, parental relationship documents, ID, and a photo. Gather the original and a copy of the documents.
Review the fee you will need to pay and have a bank check with the amount.
Find a passport facility and go with your child and the required documentation. This step must be in-person, which means you don't have the option to do it online.
If you want to renew your passport, we have great news! You can do most of the process online with iVisa.com. Head to our platform and fill out the application form. Don't forget to attach your photo. Continue by paying for our service and the US Government fee. Our team will send you a kit with all the documents you need to sign and ship. We will help you track the status of your application. Let us support you with the question: Can I renew my child US passport online?
The standard process takes 10 weeks. If your trip begins before that period, we won't be able to help you. You can pay an extra USD 60 fee to get your passport in 4 to 6 weeks.
Keep checking the answer to your question: Can I renew my child US passport online?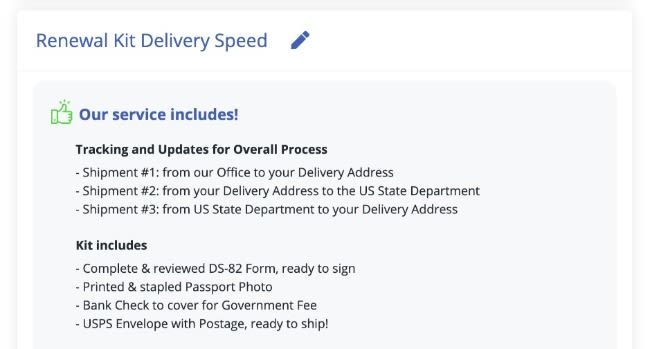 Frequently Asked Questions
Who is this service for?
The service is available for US citizens with valid US passports. Besides, you will need to check these requirements:
Your current passport is in your possession.
Your passport is in a good state.
You aren't younger than 16 years old.
The issue date in your passport doesn't go beyond 15 years.
Your passport has your current name.
You got your latest passport after or at 16 years old.
We're so ready for you to renew your passport. Continue checking your question: Can I renew my child US passport online?
Does iVisa.com need my current passport?
No! There is no need to send us any documents for this process. You will receive a package with these items:
A DS-82 Form that needs your signature.
A printed and stapled Passport Photo.
A bank check with the US Government fee.
A USPS envelope ready for shipment.
Make sure to sign the documents, take your passport and the whole package to the nearest post office. After that, you only need to wait for your new passport that will arrive soon. We can answer your question: Can I renew my child US passport online?
How much does it cost to get my passport renewed?
You need to pay USD 130 for the US Government fee. The iVisa.com service will depend on the following options:
Select Kit Shipping Time: Same Day Free Shipping (cut-off 2pm EST) for $72
Select Kit Shipping Time: 2 Day Free Shipping for $60
Select Kit Shipping Time: 4 Day Free Shipping for $40
The waiting period for the passport is around 10 weeks. If you decide to pay an extra fee of USD 60, you can receive your renewed passport in 4 to 6 weeks.
We can tell you all about your question: Can I renew my child US passport online?
iVisa.com Recommends
Once you have your new passport, you can start thinking about where to go. Visit Colombia and explore one of the most fascinating countries in South America. Although you may have heard Colombia isn't the safest place to go, we can confirm you have plenty of cities to visit without any problems.
The gorgeous Andean peaks, the Amazonian jungle, and the Caribbean coasts contrast with the generous locals and rich culture.
Make your way to Cartagena, a fortified town that offers a fabulous historic center and a massive fortress on the top. Take a boat ride and arrive in San Andres Island, where you will find turquoise waters and all the services you need for a getaway.
Explore Medellin, where the music never stops, and visit colonial villages like Salento and Mompox. In these last ones, you can find the best coffee in Colombia. In case you haven't heard, Colombia is famous for exporting the highest quality of coffee. We're sure you will enjoy all the aroma and flavors from the coffee fields. Check Leticia for some jungle adventure, take a wildlife safari, or do some eco-tourism.