If you're planning a trip soon, you should check your passport to make sure that it won't expire once you're abroad. Plus, if you're a US citizen, you can now get your passport renewal easier and faster by using iVisa.com.
We've created an online service that allows you to get ready for the passport renewal within a few minutes. The hardest part would be to send all the information to the mail post, but the rest of the process won't take you much effort or time.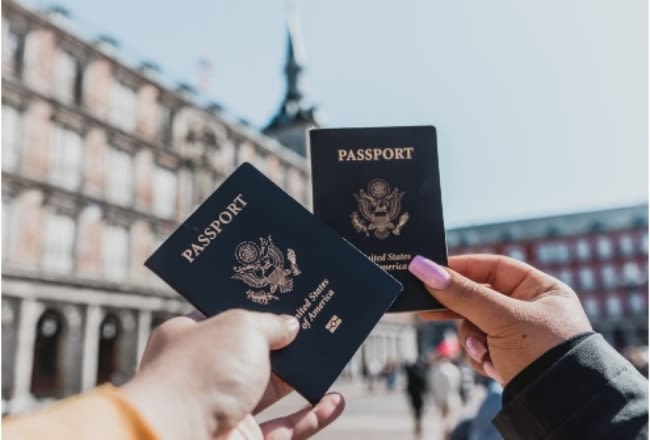 Nevertheless, we understand that you might want to know if there's still a small chance of getting your passport renewal denied, so we're ready to help you with this information. Keep reading below to learn more.
How does this process work?
You just have to follow these steps to renew your passport with our services:
Fill in the online form and attach the passport photo. Pay for the service once you're ready with your documents. You can use Paypal or debit/credit card.
Wait for the professional kit by email inbox, it'll include all the items required to receive the new passport. Remember that you'll also get the bank cheque with the US Government fee. After that, sign and print the form so that you can send it to your mailbox.
Our agents will make sure that all the information you wrote is correct before sending it to the US authorities. After that, just wait for your results.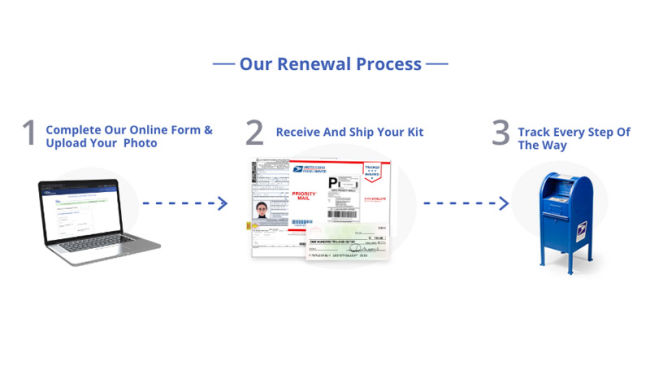 Am I Eligible for Passport Renewal with iVisa.com?
If you're from the US, then you're already eligible for this service, but only if you make sure of having these items (we'll send you some of them by email by applying with us):
A signed and approved DS-82 Form.
A professional passport picture.
A bank cheque with the US government fee.
Lastly, you'll need a USPS envelope.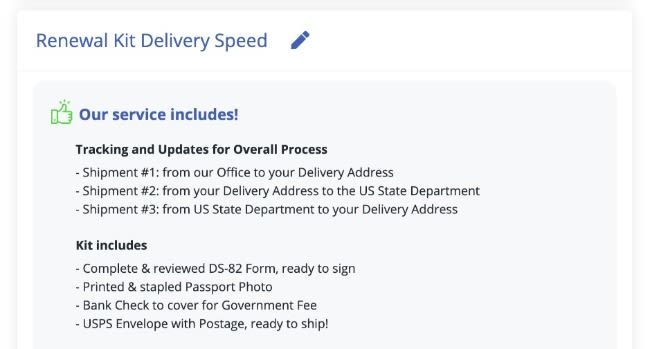 Please notice that if your trip is in less than 6 weeks, we cannot provide you the service because your passport won't arrive on time. The average processing time lasts 10 weeks.
Frequently Asked Questions
Who is this service for?
We can only offer this service to American citizens by now. However, aside from the US passport, the applicant must also follow these requirements:
The applicant must own the passport.
The applicant's passport shouldn't be damaged or ripped.
The applicant must be 16 years old or older.
The passport must have been issued within the last 15 years.
The passport must be assigned with the applicant's current full name.
Click on this link to see if your passport renewal can be denied.
Why should I feel comfortable sharing the SSN with iVisa.com?
Every information you give to iVisa.com follows all the protocols offered by the General Data Protection ("GDPR") and the California Consumer Privacy Act ("CCPA"). Besides, we firmly maintain that data ownership is a primary human right, so we never sell or trade any of your private data third-party companies.
The SSN you offer is necessary because is a mandatory requirement by the US government to complete your DS-82 Form. This step is required to complete the Passport Renewal.
Can a passport renewal be denied?
It is possible, but not that often. It's very difficult to get a passport renewal denied, but in that case, we can offer you a refund of our fees.
To see more information about a passport renewal being denied click here.
What should I do if I make a mistake with my application?
Don't worry if you make a mistake while applying, in that case, our customer service team we'll be ready to help you.
Start your passport renewal now.
How long does it take to get my new Passport?
The average wait to receive the passport lasts within 6 to 10 weeks. Our options are:
Select Kit Shipping Time: Same Day Free Shipping (cut-off 2pm EST) for $72.
Select Kit Shipping Time: 2 Day Free Shipping for $60.
Select Kit Shipping Time: 4 Day Free Shipping for $40.
All of our prices include the Government fee, which is USD 130.
After receiving the kit, wait up to 10 weeks to get your renewed passport. In case you pay USD 60, you can get your passport renewed within 4 to 6 weeks.
Click here to check more information about a passport renewal if it is denied.
What iVisa.com recommends
There are many places to discover in this world, so traveling never hurts for any curious person. That's why it is so important to have an up-to-date document like a passport, which you can easily use to enter anywhere. Aside from visas and travel authorizations, the passport is always a mandatory item.
Besides, by renewing your passport you can be sure that it will not be difficult to visit almost any famous tourist spot, such as the Taj Mahal in India or the Eiffel Tower in Paris. You can also visit the Roman Coliseum or Mount Fuji in Japan. These and other places are at your disposal not only with your plane ticket but also with your valid passport, especially if you're American.
Applying for a passport renewal is not difficult thanks to the service we offer. For that reason, we invite you to apply online for your passport renewal and thus have everything ready to enjoy your trip.