If you're wondering how much a US passport renewal costs, know that it depends on what you want. If all you want is a passport book, then the price is $110. If you want a passport card, you will be charged $30. And lastly, both add up to $140.
Please note that the fees above apply if you want the regular processing time. If you need your passport as soon as possible, you will have to pay an expedite fee of $60. At the same time, let's not forget that there is an execution (acceptance) fee of $35 in all cases.
Although, you could also renew your passport with our iVisa website. Our team has designed the simplest application and with prices that adapt to all our types of clients. It's completely online, so you won't have to bother going to the nearest immigration office or embassy. Apply here now.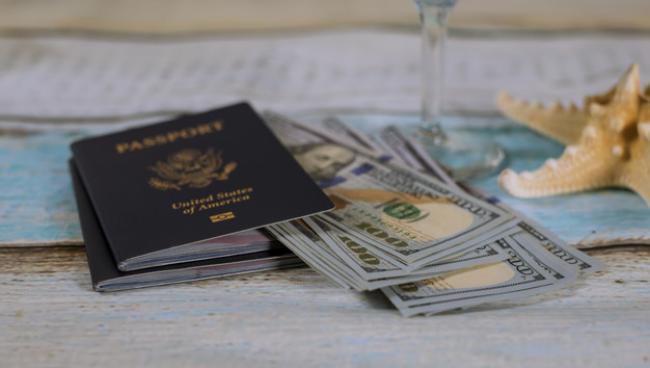 Payment methods
The method of payment you can use to cover the cost of your passport application, renewal, or new, depends on the way you apply.
If you apply in person, you can pay with cash or card. However, if you submit your application by mail, you cannot enclose cash in your envelope. You have to use a money order payable to the US Department of State.
How do I know if I must apply in person?
The submission method you have to use depends on your personal circumstances. However, there are clear instructions on how to submit your application. Therefore, you have to apply in person for a new passport if:
You are not 16 years old yet
The passport you have at the moment was first issued when you were younger than 16 years old
Your passport was lost, stolen, or damaged. If the travel document was later returned or found, you still have to apply for a new one in person. And when we say damaged, we do not mean the usual 'wear and tear.' We're talking about missing pages, mutilation, discoloration, and so on.
The passport you already have was issued more than 15 years ago.
When you apply in person, the form you have to fill in is a DS-11.
How do I know if I can apply by mail?
To be able to renew your passport by mail, you have to make sure that the eligibility criteria are met. They are as follows:
You can submit your passport with your application. You still have it.
The passport is not damaged. Normal 'wear and tear' does not count.
You were at least 16 years old when the passport was issued.
Your passport is not older than 15 years.
The passport you are interested in renewing is in your current name. However, if you have a valid document that attests to your name change, the requirement is met, and you can apply by mail.
When you apply by mail, you will be asked to fill in a DS-82 form.
Please note that ALL the criteria above must be correct in your case. If you miss even one, then your only option is to apply for a new passport in person.