If you have had your child abroad, you can obtain a US passport for them. First of all, you need to report your child's birth as soon as possible to the nearest US embassy. You will acquire the Consular Report of Birth Abroad, which is the official document to claim your child's US citizenship. You will need this document when processing your child's passport. Don't worry! We know all about the US passport for child born abroad.
On the other hand, you have iVisa.com to help you with your passport renewal. You can find all you need on our platform without the need to leave your home.
Our service is available for US citizens living in the United States that have valid US passport. We can tell you more about US passport for child born abroad.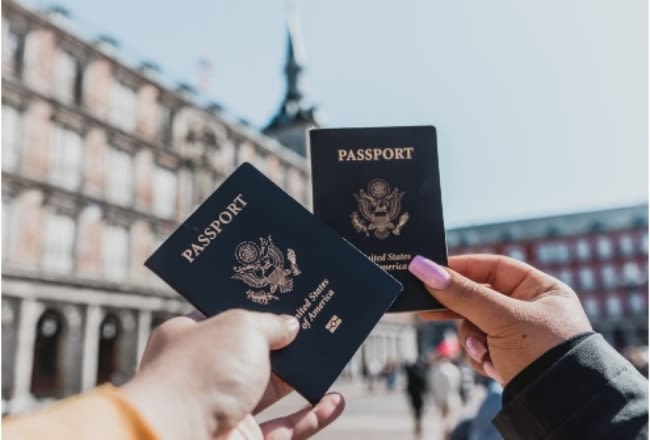 How does the process work?
Getting a US passport for child born abroad is simple. Check the following steps:
Fill out Form-DS 11 with the minor's details. Collect US citizenship evidence (if you're child was born abroad, you need to bring the registration to the US embassy), parental relationship documents, ID, and a photo.
Check how much you need to pay and make a bank check with the amount.
Go to an acceptance passport facility with the required documentation and your child. Both parents or guardians must go to the appointment.
In case you need to renew your passport as an adult, we have good news! You can do it all online with iVisa.com. Complete the online form and attach your photo. Pay for our service and the US Government fee. Then, expect a kit with the required documents that you need to sign. Take the whole package to the nearest mailbox, and you're good to go! You can track your passport afterward.
It will take around 10 weeks to receive the new passport. Still, you can pay an extra USD 60 fee for faster service of 4 to 6 weeks.
We're ready to tell you all about the US passport for child born abroad.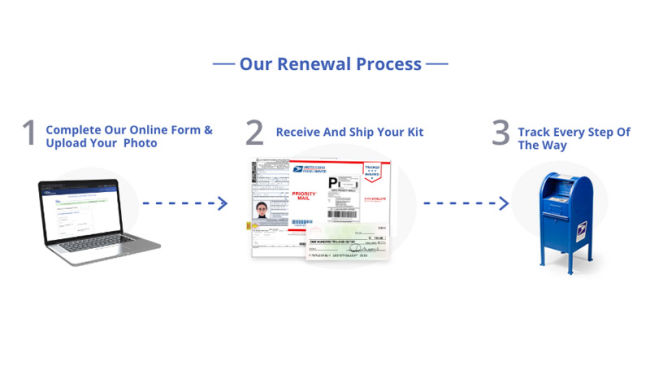 Frequently Asked Questions
Who is this service for?
iVisa.com offers the passport renewal service for US citizens with valid US passports. Also, you need to comply with these guidelines:
Your current passport is with you.
Your passport doesn't have any damage.
You aren't younger than 16 years old.
The issue date in your passport doesn't exceed 15 years.
Your passport shows your current name.
You got your latest passport after or at 16 years old.
Renew your passport now and start traveling. Check all about the US passport for child born abroad with us.
Does iVisa.com need my current passport?
For the passport renewal process, we don't need any documentation from your side. We will send you a kit with the following items:
A DS-82 Form ready for your signature.
A printed and stapled Passport Photo.
A bank check to cover the US Government fee.
A USPS envelope with postage.
Once you receive everything, sign the form. Take your passport and the whole package to the closest post office. We will help you track your shipment. We can help you with the US passport for child born abroad.
How much does it cost to get my passport renewed?
You need to pay the US Government a fee of USD 130. According to how fast you need your kit, you can select between these alternatives:
Select Kit Shipping Time: Same Day Free Shipping (cut-off 2pm EST) for $72
Select Kit Shipping Time: 2 Day Free Shipping for $60
Select Kit Shipping Time: 4 Day Free Shipping for $40
After sending your kit, you will wait around 10 weeks. For an extra payment of USD 60, you can receive your travel document in 4 to 6 weeks.
We're ready to support you with the US passport for child born abroad.
iVisa.com Recommends
Your US passport opens the possibilities to travel around the world. Why don't you start with Brazil?
Brazil isn't only the largest country in South America. Brazil also offers incredible jungle with tropical weather, marvelous cities, and vibrant culture. Brazil's location is blessed with 7,400 kilometers of Atlantic coast that show golden-sand beaches. Aside from that, you can still see all the influence from Portugal that ruled the country until 1822. The colonial architecture and art found in churches and convents show the faith and grandeur of Portuguese power.
Most tourists visit Brazil for the tropical paradise in the Amazonian jungle and the idyllic beaches. Also, you must have heard about Rio's Carnival that attracts millions of tourists every February. Rio de Janeiro also offers a few tourist attractions such as Cristo Redentor and Sugar Loaf. Get the most incredible views of the city from these places. Also, make your way to Copacabana and the beaches nearby. The young atmosphere and music will make you want to stay forever. If you're up for an adventure, go to the Iguacu Falls on the border with Argentina. We can confirm you will have one of the most fantastic natural views of these falls.