USA Passport renewal in India is available by completing the relevant form depending on your individual circumstances. Adults should fill in form DS-82 and children should start their passport process with DS-11. If you're already at home in the USA then renew your passport from the comfort of your living room, because now iVisa.com can provide you with a passport renewal kit to simplify the whole experience.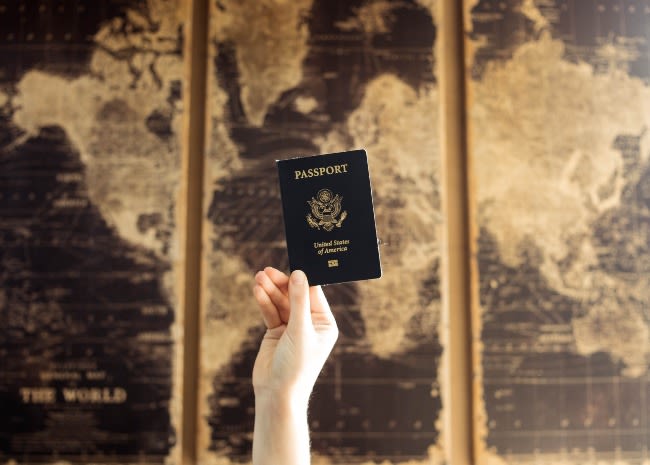 How do I renew my passport using iVisa.com?
Our expert travel processing team have put together a kit to make applying for passport renewal easier than ever before:
Complete the online form and upload a passport photo. Pay the Government fee as well as the iVisa.com service fee.
Wait for the postman to bring the passport renewal kit to your door. We will include a bank check for the U.S. Government's fee, which you need to fill in as required by the Department of State. After signing your name where indicated and following the instructions, put the whole pack in the post box.
Keep an eye on the progress of your passport renewal using the information provided.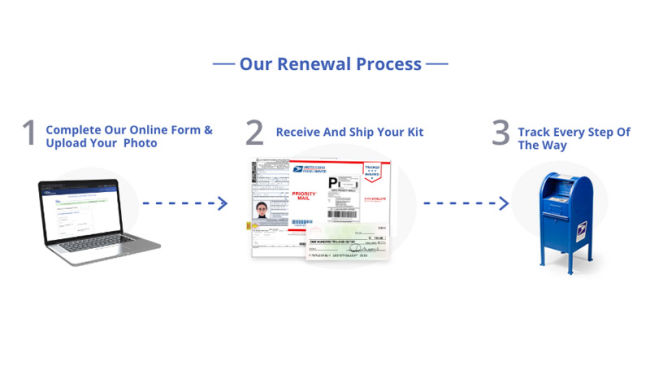 It's best to allow a minimum of six weeks for your passport renewal to be completed. USA Passport Renewal in India takes around two weeks.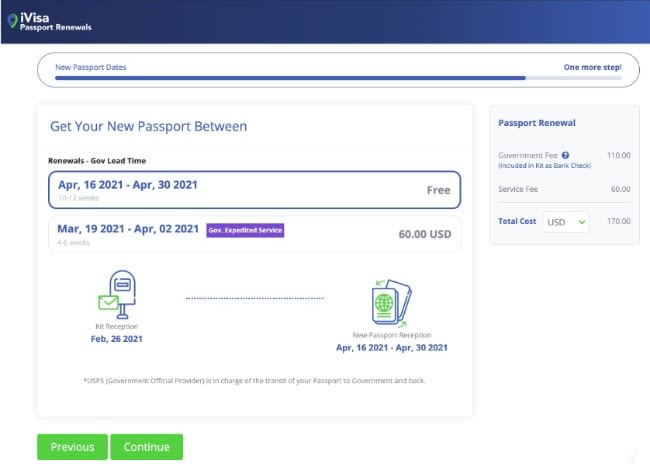 Frequently Asked Questions
Is everyone eligible for the passport renewal service?
USA Passport Renewal in India is only for US citizens living in India. However, iVisa.com now provide an expert passport renewal service for US citizens based in the USA.
You will be eligible if you satisfy these conditions:
You'll have an existing passport, to be returned to the Department of State.
Your passport is in excellent condition.
You are older than 16 years old.
Your current passport was issued within the last 15 years.
Your existing passport shows your current name.
The last passport you have was obtained after or at 16 years old.
Take advantage of our speedy service for US citizens based in America. For USA Passport renewal in India, book an appointment on the embassy website.
What do I do with my existing passport?
You don't need to send it to iVisa.com. As the pack explains, you will send it to the US Government in the kit we deliver, which includes:
A DS-82 Form.
A passport photo, printed and stapled as required.
A bank check for the US government fee. Of course you will pay the fee in advance of applying.
An addressed USPS envelope that you just need to put into the post box.
Once the forms are ready to go, you will include your current passport in the envelope then post it to the Department of State in the envelope provided. USA Passport Renewal in India can be arranged with courier delivery or pick up depending on your preference.
What's the expected timeframe for passport renewal in the USA?
For safety, we recommend that you leave at least six to ten weeks to get your new passport. You can pay USD 60 for a faster service. USA passport renewal in India typically takes two weeks, but that can change according to courier wait times.
What should I expect to pay for USA passport renewal in India?
The US Government renewal passport fee is USD 130 and that's if you're doing your USA passport renewal in India or anywhere else. iVisa.com charges a service fee for preparing the passport renewal kit for US citizens based in the USA:
Select Kit Shipping Time: Same Day Free Shipping (cut-off 2pm EST) for $72
Select Kit Shipping Time: 2 Day Free Shipping for $60
Select Kit Shipping Time: 4 Day Free Shipping for $40
Remember to leave up to 10 weeks for your new passport. Pay an additional USD 60, to speed up delivery to 4 to 6 weeks. Expected timeframes for USA passport renewal in India is 2 weeks depending on whether it's delivered to India by courier or collected from the embassy.
iVisa.com Recommends
India has plenty of fantastic tourist attractions, which are guaranteed to charm and delight travellers from any background. The Taj Mahal was built in the 1600's to house the tomb of emperor Shah Jahan's favourite wife. This iconic white structure is visited by millions of people around the world, all clamoring to get a picture in front of its eye-catching towers. India is a massive country, so logically it has to hold some records. It hosts the world's tallest bridge, found in the Hamalyan region which stands over 5600 metres above sea level. It's a great place to visit for its breathtaking panoramic views. It also has more post offices than any other nation, with each branch serving over 7000 people. Stop into one and send a postcard. How's your Hindu? If you're not an expert in this language, don't worry, as English is very widely spoken in India. As a matter of fact, after America, India is the next biggest English-speaking country in the world so you're sorted if you don't pick up other languages quickly. We also suggest that you take advantage of the opportunity to try some yoga moves while you visit, as this art form has been developed there for over five thousand years.