One of the essential documents we need in order to be able to travel abroad is the passport. Processing a passport for the first time or renewing it in person would require a lot of documents and can be tiring and time consuming.
Fortunately, iVisa.com can help you process your passport renewal online.
In this article we will show you how to process your Passport Renewal Application, give you the details and requirements you need to follow to get your passport renewed on time; and also the corresponding prices so you will know it first hand. Apply Online here.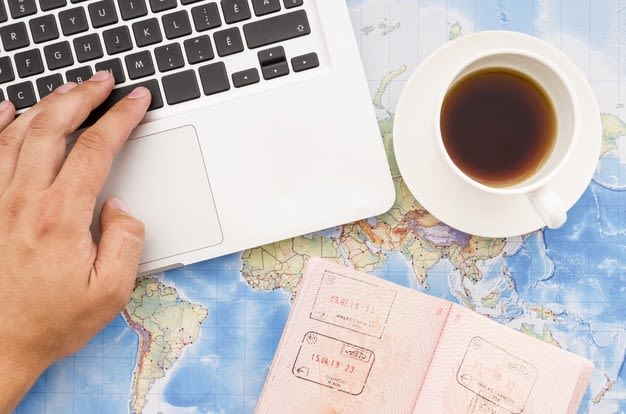 FREQUENTLY ASKED QUESTIONS
Why do I need to renew my passport?
Passport holders are required to renew their passport's validity so that they can travel to other countries legally.
When should I renew my passport?
It is recommended that the traveler renew it at least 7 months before the expiration date of the previous passport.
Can I renew my passport if it is lost or stolen?
No. In this case, you have to apply for a new passport. You have to go directly to the respective office and process your new passport.
How can I renew my passport?
There are two ways you can renew your passport:
The first is to go to one of your country's government offices that issue passports and other official documents.

The second option is through an online process. If you process online, you have two ways to do it: apply on the government page and follow all the bureaucratic steps they have or just go to the iVisa.com website submit a short and easy to complete form.
Please note that because of COVID-19, it is not recommended that citizens come to the offices personally. All are encouraged to stay at home for safety purposes. For this reason, we recommend that you choose the online option that iVisa.com offers to all travelers.
How do I know if I am eligible to apply online?
Regardless of your nationality, it is important to mention that most governments require that your passport meet certain conditions in order to process it online:
It must be in good condition. Damaged passports will not be accepted.

It was issued when you were 16 years old or older.

It was issued within the last 15 years.

It has your current name on it. If your name was changed, you need to submit an official document to confirm it.
What documents do I need to present to renew my passport?
The documents we require to process your passport renewal application are as follows:
Passport digital photo, you can get the right photo for this document using My Passport Photos

Scanned copy of the page where the information appears in your passport.

Means of payment, so that you can make the respective payment for the renewal of your passport. At iVisa.com we accept all credit and debit cards and we also accept Paypal payments.
What is the processing time and prices for passport renewal online?
Price varies according to your preferred processing time. Here are your options.
Standard: The application process takes 5 days for a cost of USD $104.99

Rush: We process your application online in 3 days. The total cost of this option is USD $156.99

Super Rush: This is the fastest option that most people use in urgent cases because we process your application in 36 hours. However, the cost is a little higher: USD $219.99
How can I process my passport renewal application?
The process is fast and easy. It will not take more than 15 minutes to complete the application. Follow the steps and get your passport renewed now:
1.Provide all the required information. You also have to select the type of processing time (Standard, Rush, or Super Rush).
2.Review all the data you've provided and make changes when necessary.
3.Proceed with the respective payment. At iVisa.com, we are accepting credit/debit cards and Paypal.
4.Upload your passport scan and the applicant's photo.
5.After completing the four steps you just have to click on the submit button and that's it!
We will receive your application and process your passport renewal so that you can have it before your travel date. If you need help as you fill out the form, you can contact us anytime at your convenience.
Why should I choose iVisa.com to renew my passport?
At iVisa.com the processes we use to ensure that the traveler has their documents on time are handled by a team prepared and experienced in visas and official documents, such as passports. Thanks to our multiple trainings and support we have been receiving throughout these years, we have improved the service we provide as a company. Additionally, we have special data protection for our customers' data, so that nothing is exposed on the Internet.
Where can I find more information about passport renewal?
If you want to know more about the services that we offer in iVisa.com, you can enter here. We also have a customer service team that is ready to answer any questions you may have regarding passport renewal in this link.