Are you a US citizen in the Philippines who needs to renew your passport but is concerned about how much it will cost? We have the answer!
We know how stressful it can be when your passport is nearing its expiration date, and you're not in the US. The thought of renewing your passport in a foreign country is daunting.
However, do not despair! Whether in the US or not, iVisa wants to help you with your travel documents. While our passport service is currently only offered to US citizens in the US, we can answer some of your burning questions.
This blog is a guide to passport renewal in the Philippines for US Citizens, including how much it costs and how to apply. We also share a glimpse into our online passport renewal service so that the next time you're in the US, you can take advantage of a much simpler procedure.
Who is eligible to renew their US passport via mail in the Philippines?
The US government offers passport-related services to US Citizens in the Philippines through the US Embassy in Manila and the US Consulate in Cebu.
From 2020, they also offer passport renewal service by mail under certain conditions. If you are not eligible for the mail renewal service, you must book one of the available appointment slots at the US Embassy or the Consular Agency.
However, if you are a US Citizen living in the Philippines, you are eligible to renew your passport by mail if:
Your passport is in good condition.

Your passport was issued when you were 16 or older

You got your passport in the last 15 years

Your passport displays your current legal name
Document requirements to renew your passport by mail
Before sending their passport application, the passport applicant must have these documents:
Your current passport (in good condition)

Two passport photos that were taken within the last six months (white background, 2 x 2 inches, no eyeglasses).

A completed and signed DS-82 form.

Payment of USD 130 for the renewal fee.
To avoid delays due to incorrect passport photographs, we invite you to take advantage of the reliable services of iVisa photo. Through this online service, you can ensure the quality of your pictures.
How much does a passport renewal cost in the Philippines?
To answer your burning question about the cost of a US passport renewal in the Philippines, we can confirm that a renewed US passport always costs USD 130.
The passport renewal fee can be paid online via the U.S. government's secure payment site Pay.gov, ACH Bank Account Transfer (from a U.S. bank account), U.S. or international credit/debit card, PayPal, or Amazon Pay.
The online payment process is currently only available for passport book renewals. If you wish to renew both a passport book and a card, you will need to apply with DS-11 and book an appointment, as online payments for the passport card are not yet accepted.
How to apply via mail for a US passport renewal in the Philippines?
When applying via mail in the Philippines, you will follow these steps:
Step One: Fill out, print, and sign the DS-82 form.

Step Two: Prepare your package. Put all the documents together in a big envelope with proof of payment. Do not include cash or a cashier's check with your passport application. Do not fold the DS-82 form.

Step Three: Drop your envelope in the nearest mailbox or take it to a post office.
iVisa's Passport Renewal Service
For those in the US, processing a passport renewal from home is even easier, thanks to the doorstep delivery service offered by iVisa. To process your passport renewal online, do as follows:
Complete the online passport application form. Upload a 2 x 22-inch picture of yourself (white background). Pay for the passport renewal kit from iVisa and the US Government service.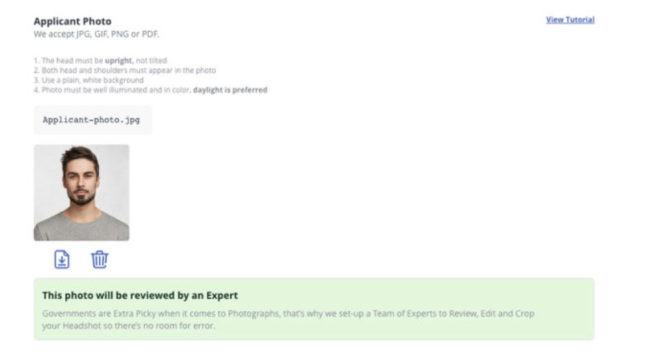 Receive your passport renewal kit, sign the DS-82 form, put your current passport in the USPS envelope, and drop it off at the nearest mailbox or postal service office.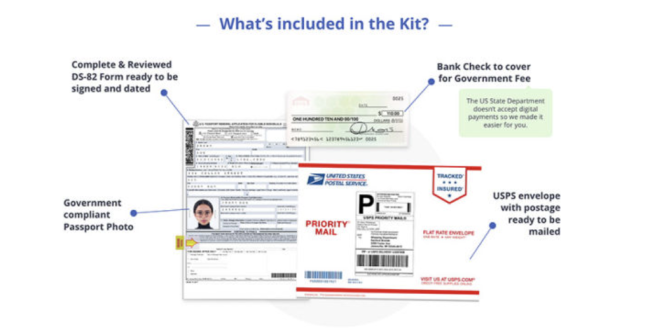 Track your process with our frequent updates. Receive your new passport at your door via courier in 6 to 10 weeks. Time will depend on the processing service you choose.
Who is eligible to use the passport renewal service?
iVisa offers passport renewal service exclusively to US citizens with an address in the USA. Check these essential requirements to see if you are eligible:
An existing US passport to be sent directly to the Department of State.

Your passport is in excellent condition.

You are over 16 years old.

Your existing passport was issued within the last 15 years.

Your passport shows your current name.

You were 16 or older when you received your last passport.
Required documents for passport renewal application
You do not need to send your existing passport to iVisa as you will send it to the Department of State in the kit we will post to you. The kit will include the following:
A DS-82 form for you to sign.

A passport photo, printed and stapled as required.

A bank check to cover the US government fee. You will pay the fee before mailing your documentation.

A USPS envelope ready for the post office box.

Sign the forms that are included in the kit. Place your existing passport and all the documents in the envelope we give you, then mail it to the Department of State.
When will I receive my new passport?
To be on the safe side, allow at least six weeks with express delivery costing USD 60, or up to 10 weeks as standard.
Cost of US passport renewal with iVisa
The US Government passport renewal fee is USD 130. iVisa charges an additional fee to send you the kit you need for a hassle-free passport application process. This fee depends on how quickly you want the kit to be delivered; your options are:
Same Day Shipping (cut-off time 2 pm EST) for $72

2-Day Shipping for $60

4-Day Shipping for $40
Don't book a getaway for at least another 6 to 10 weeks after applying for your passport renewal to allow sufficient processing time. For expedited processing at an additional fee of USD 60, you can receive it in 4 to 6 weeks.