Renewing your passport has never been this easy with iVisa.com. Our one-stop service has made sure you can find everything you need in one place. Also, we have a team making sure your information is 100% compliant with US Government guidelines.
US citizens with valid US passports living in the United States can go for this service. If you are in Kansas, the iVisa.com service is perfect for you. Learn more about passport renewal in Kansas.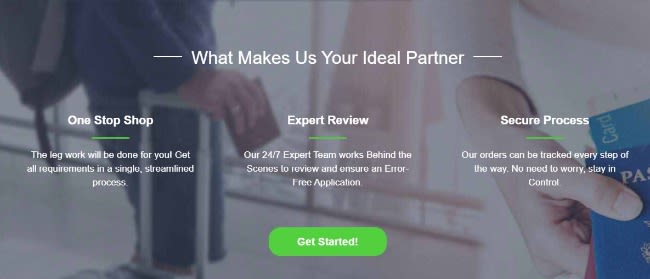 How does the Passport Renewal Service work with iVisa.com?
The passport renewal service is simple, and it only takes three steps:
Answer the questions in the application form and attach your passport photo. Pay for the US Government fee and our service fee.
Receive a kit with everything you need, including a bank check with the US Government fee. Sign the paperwork and take all the kit to the closest mailbox.
Track the progress of your service with the information we will share.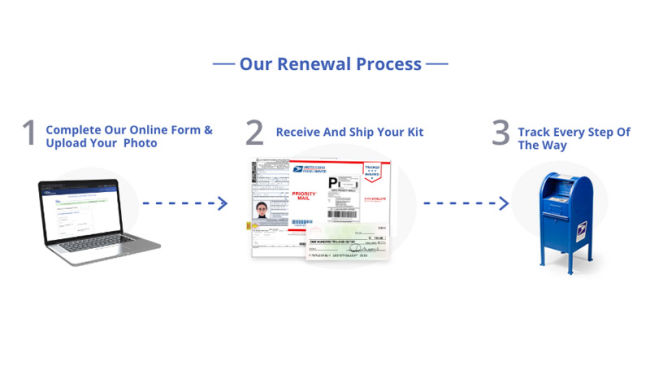 If you have a trip that will start in less than 6 weeks, we can't offer you our service. The standard process takes 10 weeks, which means your new passport won't be with you before you start your trip. Learn more about passport renewal in Kansas now.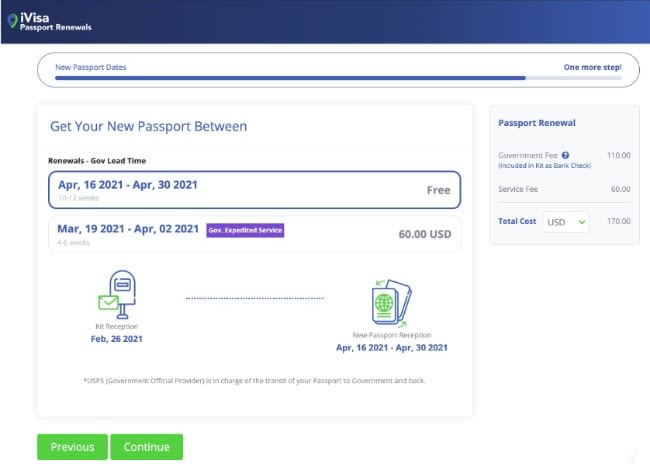 Frequently Asked Questions
Who is eligible to apply for the Passport Renewal with iVisa.com?
US citizens with valid US passports in the United States are eligible to apply for the passport renewal service. Besides, you should check these measures:
Your current passport is with you.
Your passport doesn't show any damage.
You are older than 16 years old.
The issue date in your passport is within the last 15 years.
Your current passport has your current name.
You obtained your current passport after or at 16 years old.
Learn more about passport renewal in Kansas with us.
Do I have to send my current passport to iVisa.com?
No! There is no need to send any documents to our offices. We will send you a package with these documents:
A DS-82 Form ready for your signature.
A printed and stapled passport photo.
A bank check with the US government fee.
A USPS envelope ready for shipment.
Check the documentation, sign the DS-82 form, send the kit to the post office with your current passport attached. Now, wait for the US Government to process your passport.
Learn more about passport renewal in Kansas!
How long does it take to obtain my new passport?
The US Government has two services for passport renewal:
Standard - 10 weeks
Expedited - 4 to 6 weeks for an extra fee of USD 60.
Learn more about passport renewal in Kansas!
How much does it cost to renew my passport?
First of all, you should pay the US Government fee of USD 110. Additionally, you need to select from one of these options:
Select Kit Shipping Time: Same Day Free Shipping (cut-off 2pm EST) for $72.
Select Kit Shipping Time: 2 Day Free Shipping for $60.
Select Kit Shipping Time: 4 Day Free Shipping for $40.
Remember to expect your new passport in 10 weeks. However, you can pay USD 60 and have a process that will only take 4 to 6 weeks.
Learn more about passport renewal in Kansas!
iVisa.com Recommends
Now that you have a new passport, it's time to start thinking about your next holiday destination. Visit Germany and explore this fascinating country. If you visit at the end of September, you can attend Oktoberfest, the biggest beer festival in the world. This event offers you a few relaxing/or unforgettable days while drinking all the beer you want. Also, you can try the famous German sausages. The waiters wear German outfits that come from centuries ago. Overall, we are sure you will have fun!
Explore Berlin, where you can find urban art and a young atmosphere everywhere. We invite you to go to the Berlin Wall, where you can see artwork representing political and social issues. Since 1989, when the wall came down after the Soviet Union dissolved, Germany has gone through a process to accept a new reality in which East and West Germany came together again. Walk around the streets and eat some currywurst. It's so tasty! Continue exploring other countries in Europe and make the most of your new passport. Go for your passport renewal services now!