You might have forgotten what it feels like to get ready for a holiday after months spent hiding out at home. This year is unforgettable for many reasons, but one topic that no one is ready to forget just yet is the joy of travelling and going on vacation. Of course, when you think about a trip away, it's easy to remember the great bits. Ice cream on the beach, lazy mornings in bed and the kids making new friends at the magic show in the hotel are just some of the great memories that may spring to mind. Whilst there's plenty of fun to be had, the team at iVisa.com Passport Photos are also on hand to remind you of some of the vital steps you have to fulfil to guarantee that everyone can enjoy their getaway, starting with that essential little document- the passport. This passport renewal blog was written with enthusiastic travellers in mind, because we know how easy it is to get carried away by all the entertainment, and then experience a rude awakening at border control.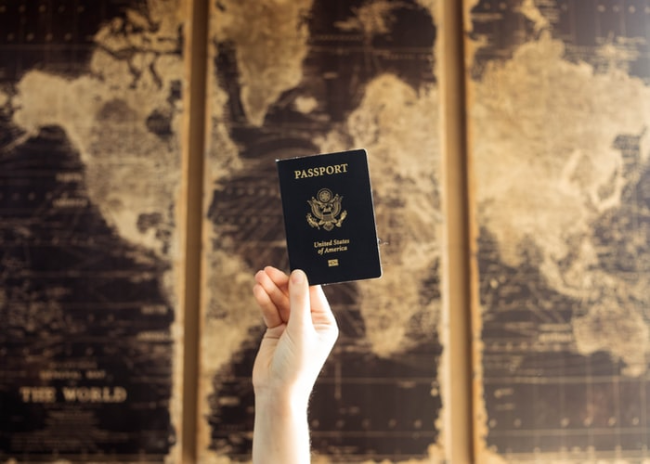 The first step involved flipping open your passport and thumbing your way to the information page. That's the one with your picture. Now locate the expiry date and check your calendar. How long do you have before the expiry date and when is your holiday? If you have less than 6 months of validity remaining, then we suggest you start to think seriously about renewing your passport to avoid finding yourself in a sticky travel situation. If your expiry date isn't anytime soon, now look at the photograph. Is it a good likeness? Would another person reasonably be able to identify you from this image? If not, then you should definitely consider renewing your photo and for a painless process from start to finish, there's no one better than iVisa.com Passport Photos. Keep reading this passport renewal blog for all the information you need to make your passport renewal a breeze.
Frequently asked questions
What happens if I don't renew my expired passport?
If your passport has already expired, you will discover that you are unable to enter countries with any existing visas that you have, as they will also expire with the passport. You will not be able to enter another country as it is an essential requirement to have a valid passport to enter any nation in the world. You will not be able to board a plane without a valid passport, as this will be checked by airline agents and will be highlighted by their internal systems.
Don't be left in the cold when all your friends go on holiday, check out our passport renewal blog and get started today.
Can I renew my passport with a school photograph?
If you check out the passport renewal blogs on the iVisa.com Passport Photos website, you'll see a wide range of information and guidelines regarding restrictions for passport images. It's important to note that you cannot use a school photograph for a child or an adult passport. The image used must be against a plain white background, which is not commonly used in school photographs. The person in the photograph should not be wearing glasses and their hair should be behind ears to ensure full visibility of their face.
Is it cheaper to take my photograph in a photo booth?
One of the great features of iVisa.com Passport Photos is that you are given a wider range of options, choices and prices than a basic photo booth provides. Our services allow you to take the perfect picture and upload your favourite. In a photo booth, you often have a limited choice of images to select from. You'll also have to pay a set fee in a booth, which is often much more expensive than the prices offered by iVisa.com Passport Photos. Our prices start from an amazing $0.99 per photo. You'll struggle to find a photo booth offering passport grade images for less than that, so what are you waiting for? Finish reading this passport renewal blog and let's get started.
Can kids use these services too?
We are delighted to assist adults and children with achieving passport photo perfection. Whilst our younger customers might need some extra help from a parent or guardian when taking the picture, we will continue to provide top quality services to people of all ages.
Click here to start the process of your passport photo renewal.
Is iVisa.com Passport Photos a reliable service provider?
We make customer satisfaction our number one priority, which means we can confirm with confidence that iVisa.com Passport Photos is the most reliable provider of passport photo services. Our customer's happiness comes first, and we ensure that they experience a top-quality service by carefully checking all necessary requirements before issuing them with the perfect photograph. The team aims to meet your needs in a prompt and professional form, so let them guide you through the process. Check out the rest of the answers on this passport renewal blog for everything you need to know.
Can you tell me where to find out more?
For answers to many more questions about photo standards, delivery, processing times and camera skills make your way over to the iVisa.com Passport Photos homepage where you can also discover lots more passport renewal blogs, the step-by-step guide to our process and access to friendly experts who can discuss additional queries further.