If you have lost your US passport in Canada, you need to report it immediately. Contact the nearest US embassy or consulate and follow all the steps. You have a US Embassy in Ottawa and lots of consulates in the most relevant cities in Canada. We have all the information you need about the lost US passport in Canada.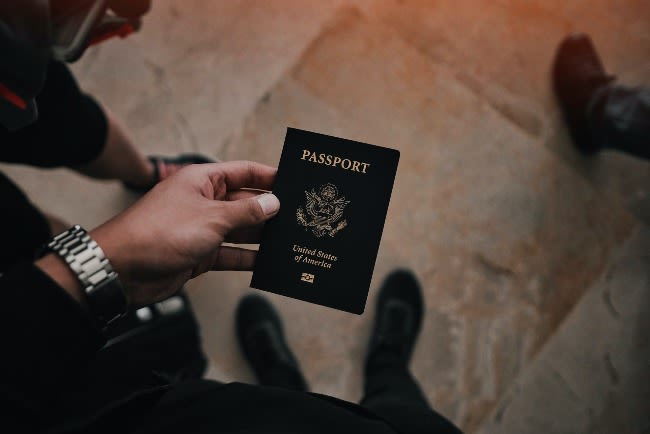 At iVisa.com, we can help you with your passport renewal process. Our affordable and secure service is all you need. US citizens living in the United States with valid US passports are eligible for our service.
Let us tell you about the lost US passport in Canada details.
How does the process work?
After you know you have lost your passport in Canada, you need to act fast with the replacement. Check these steps:
Contact the US embassy in Ottawa or the US consulates in Calgary, Halifax, Montreal, Quebec, Toronto, Vancouver, and Winnipeg.
You can choose to do the whole process online. Check the US Government portal and click on the 'Report Lost or Stolen' tab to submit your Form DS-64.
After a few days, the embassy or consulate will contact you to confirm that your passport has entered the Consular Lost and Stolen Database.
The passport renewal service is also simple, and it's completely online with iVisa.com. Fill out the online form and include your passport photo. Pay for our service and the US Government fee. After that, you need to expect a kit that will arrive at your doorstep with the required documents. Sign the form and ship the package. Track your application status with us.
The standard process takes around 10 weeks, but you could pay an extra fee of USD 60. In this case, you will receive the new passport in 4 to 6 weeks.
Continue checking the lost US passport in Canada details.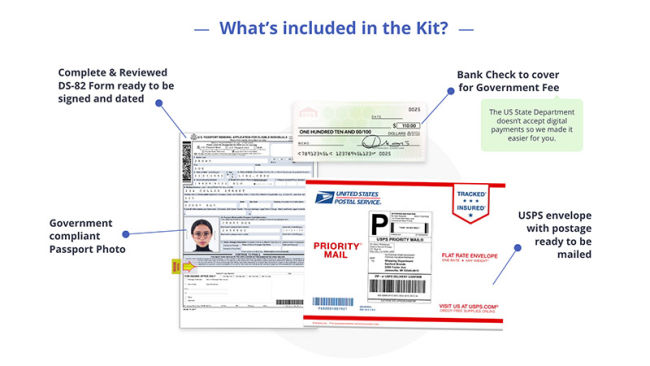 Frequently Asked Questions
Who is this service for?
US citizens with valid US passports can have our service. Also, you need to comply with the following:
Your passport is currently with you.
Your passport is in perfect condition.
You are older than 16 years old.
The issued date in your passport doesn't pass 15 years.
Your name appears in your passport.
Your latest passport was acquired after or at 16 years old.
Complete the passport renewal service and start traveling more. Keep reading about the lost US passport in Canada information.
Does iVisa.com need my current passport?
The procedure doesn't demand applicants to send any documentation to the iVisa.com office. We will send a kit with these documents:
A DS-82 Form that you must sign.
A printed and stapled Passport Photo.
A bank check showing the US Government fee.
A USPS envelope with postage.
Check the documents and confirm your information is correct. Sign them, take your passport and the whole kit to the nearest mailbox. Now you wait.
We have all the details about the lost US passport in Canada.
How much does it cost to get my passport renewed?
You need to pay first a fee of USD 130 for the US Government service. Also, select the alternative that fits your needs:
Select Kit Shipping Time: Same Day Free Shipping (cut-off 2pm EST) for $72
Select Kit Shipping Time: 2 Day Free Shipping for $60
Select Kit Shipping Time: 4 Day Free Shipping for $40
Remember that after sending your kit, you will wait around 10 weeks for your new passport. However, your passport could arrive in 4 to 6 weeks if you pay an extra fee of USD 60.
Let us help you with the lost US passport in Canada.
iVisa.com Recommends
Traveling to Canada is so easy as it's so close to the United States. Canada has an incredible array of unique natural landscapes. In Western Canada, you can see the Rocky Mountains and the cosmopolitan cities of Vancouver, Victoria, and Calgary. Each one offers tons of cultural activities and spectacular spots to explore. Go to Central Canada and check Niagara Falls, one of the most extraordinary waterfalls in the world. Make sure to make your way there through Clifton Hill. Enjoy it alongside your family.
Check Toronto, Ottawa, Montreal, and Quebec for some taste of city life. In the last two cities, the official language is French, but you can still find locals who speak English to help you out. Head to Gros Morne National Park for more natural landscapes. Explore the nearby cities of Halifax and St. John's. In case you feel ready for the cold, head north to the Arctic Ocean and have a look at the polar bears. Visit the Nahanni National Park and the cities of Whitehorse and Yellowknife.
Canada is ready to welcome you!