Recently changed your name or surname, and now need a new passport?It's a common thing after a divorce or marriage. Still, it is annoying to visit the national passport processing center . The good news is that you don't need to do that! You'll only have to complete a few online steps to change your passport name.
When applying online with iVisa, you simply fill out the form from the comfort of your home and receive everything you need to complete the application via mail. Then, all you have to do is submit the kit to the post office.
Of course, some documents will be required, such as a marriage certificate or birth certificate. But the process is straightforward, and you can count on our guidance to get you through the entire process. Here is a guide to apply for a name change on your passport.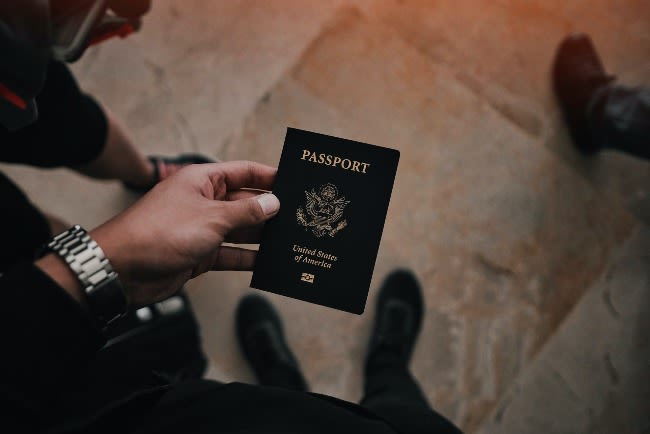 Passport application: Who is eligible for Passport Renewal with iVisa?
First, this is a service for American citizens living in the United States with a valid U.S. passport. In addition, you must meet the following criteria:
Your most recent passport is currently with you.

Your passport has to be in a good state.

You are 16 years old or older.

The issued date in your passport is within the last 15 years.

Your current passport shows your current name.

You got your latest passport after or at 16 years old.
The applicant also needs a document showing their name change, such as a marriage certificate, divorce decree, or court order and birth certificate.
Please note, that you can't apply if you have a foreign or incorrect passport.
Requirements to change the name on your passport
The list of requirements will vary depending on the following cases:
Case 1: You have a U.S. passport that was issued over a year ago. Then, you will need:
A DS-82 form.

Your current passport

A professional passport-size picture. You can use the iVisa Photo Service if you don't have one.

A valid name-changing document such as a marriage certificate, civil partnership certificate, divorce decree, and birth certificate.

The fee may vary depending on your age as children and adults are charged differently. Case 2: You have a U.S. passport issued less than one year ago. You have to submit the following:

A DS-5504 form.

A Passport photo

Your current passport

Document that showing your name change.
Take into account that the US Government could ask you for more items, but don't stress! We'll always inform you about such requests so that you can obtain the right documents and theiVisa team is always ready to help you!
Do I have to send my passport to iVisa?
Not at all! These are the advantages of applying online:
you don't need to send your passport or original documents to us or visit a national passport information center.

You will fill in the passport application online, and we will send the passport renewal kit via mail.

You only have to send our passport kit to the US authorities once you sign the form.
How is the process to get a passport name changed online?
It's quite easy to apply for a passport name change online. Applicants need to follow these steps:
Step 1: Fill in the online application form (DS-82 or DS-5504) with details, such as name, address, and birth date. Check if there aren't spelling errors and if all information is correct.

Step 2: Attach a recent photo of you to the online form. It must be full face, front view, and high-resolution image recommended). You can use the iVisa Photo Service if you don't have one.

Step 3: Complete payment of the US Government and iVisa fees.

Step 4: Receive your passport renewal kit, follow the instructions and submit your package to the nearest mailbox or post office.

Step 5: Track your renewal application status with our frequent updates.

Step 6: Get your passport and travel!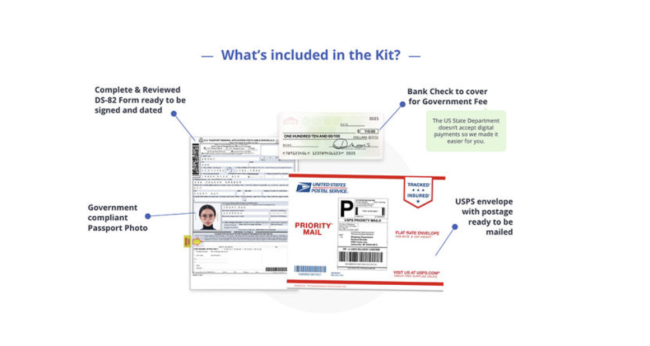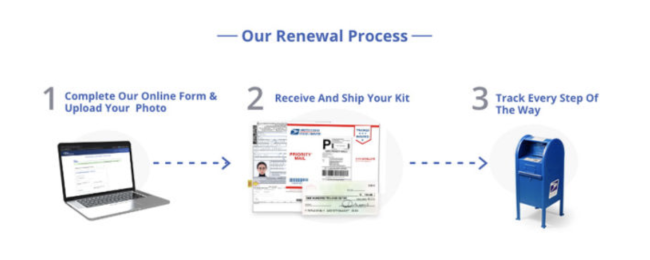 How long does it take to obtain a new passport?
The US Government standard service is 8 to 10 weeks for you to receive the passport at your door. Otherwise, there is an option to request expedited service, in which you can have the document in 4 to 6 weeks by paying an extra fee of USD 60.
How much does it cost to renew my passport?
There are two fees involved in the cost of passport renewals. They arethe US Department of State service fee and the iVisa service fee. The price of each will depend on how fast you need your document.
The US Department of State service fee is $130 for standard processing time of 8 to 10 weeks. .You can get Expedited processing: to receive the passport in 4 to 6 weeks with an additional fee of $60.
Similarly,iVisa offers the following options depending on how fast you need your passport renewal kit:
Receive the renewal kit in 4 days, with free shipping, for $40

Receive the renewal kit in 6 days, with free shipping, for $60

Receive the renewal kit in the same day, with free shipping, for $72
How will I know when my new Passport is on its way?
Relax! Our team will update your renewal application status, so you just need to check for the notifications.
Passport Name Change for children or minors through adoption
Unfortunately, minors of 16 can't renew their passports with iVisa services. In this case, they have to apply in person, accompanied by the two parents or legal guardians. Remember, passports for children under age 16 are only valid for five years.
Where can I learn more?
If you have any questions about the US passport renewal, you can contact our customer support team at any time via online chat or email at [email protected]. They are available 24/7 and will be happy to help you!