Are you looking to change the name on your passport with as little effort as possible? In this article, we will inform you about everything related to the Passport Name Change Process.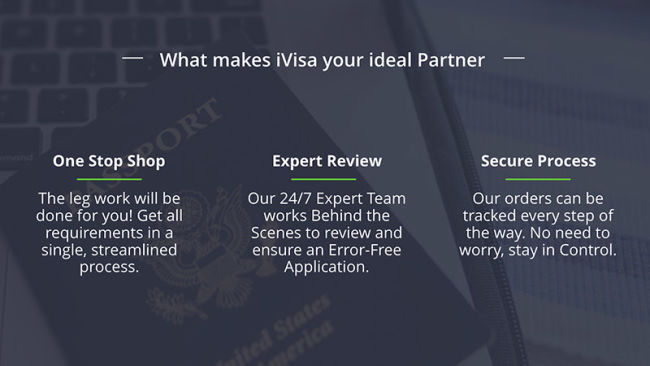 Thanks to iVisa.com, you can now renew your passport online with a simple 3-step process. We will take care of offering you everything you need to make the process effortless and as fast as possible.
You will only need a passport and a document confirming your name change. As for the payment, there won't be much problem with Paypal or bank cards.
Find out more information below.
Take into account that this service is available for US citizens with valid US passports living in the United States.
What is the Passport Name Change Process?
If your passport has been issued more than one year ago, then you can easily follow this Passport Name Change Process with us:
First: Fill out the online form, after that, upload the documents required. You must also attach the name change document and pay for the fees.
Second: You can now wait for your passport kit via email inbox. With this kit, you'll get all that's necessary to renew your passport. After that, drop the kit with your passport at the nearest post office.
Third: Track every step of the process by email inbox and obtain your passport in 4-6 weeks or 10 weeks depending on the processing time.
We suggest using our services only if your next trip is 6 weeks later than when you start the passport renewal. Don't forget that the Passport Name Change Process can take 10 weeks from start to finish.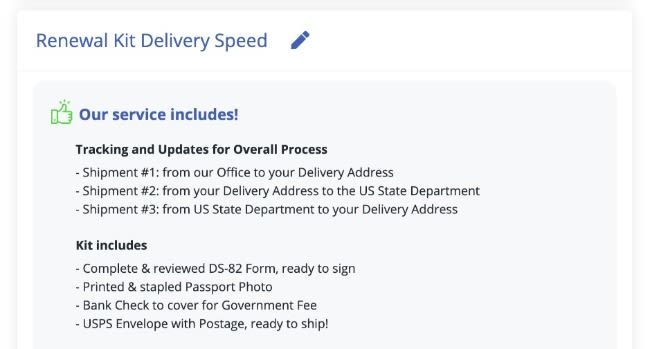 Frequently Asked Questions
What items are necessary to complete the Passport Name Change Process successfully?
The US Government created two cases to renew the passport. The list of items depends on each case:
Case 1: This happens if your passport has over a year of being issued. Your requirements are:
A DS-82 form.
A passport in use
A passport-sized picture
A document stating your name change.
You might also require an adult or child fee (it depends on your age).
Case 2: This goes if your passport has been issued in less than one year. The items are:
A DS-5504 form.
A Passport photo
Your current passport
Document that states your name change.
Please note that the US Government could ask you for more documents, but we'll always inform you about that so that there are no mistakes. iVisa.com's team is always eager to help!
Who is eligible for the Passport Renewal with iVisa.com?
US citizens living in the United States with a valid US passport are the only ones eligible for this service. Additionally that, they must meet these criteria:
The passport must be in the applicant's possession.
The passport has to be in a good state.
The applicant must be 16 years old or older.
The issue date in the passport is within the last 15 years.
The applicant's current name appears on the passport.
The applicant received the passport at 16 years old or after.
Lastly, the applicant must also have a document that shows the name change. It can be a marriage certificate, a divorce decree, or a court order.
Do I have to send my passport to iVisa.com?
No, that's not necessary! All you have to do is to finish the process with the kit we send you, which includes:
A DS-82 Form
A printed and stapled passport photo.
A bank check with the US government fee.
A USPS envelope ready to be shipped.
After you receive this kit and complete the last part, you only have to sign in and drop it at the nearest post office among your valid passport.
Get more information about the Passport Name Change Process on our website.
How long does it take to obtain the new passport?
The US Government created two services. One is the standard, which takes 10 weeks, and the other is the expedited process, which takes 4 to 6 weeks. Please notice that you must pay an extra fee of USD 60 for the last option.
How much does it cost to renew my passport?
The US Government asks you for a fee of USD 130. Additionally, iVisa.com charges an extra fee according to how quickly you want to receive your kit:
Select Kit Shipping Time: Same Day Free Shipping (cut-off 2pm EST) for $72
Select Kit Shipping Time: 2 Day Free Shipping for $60
Select Kit Shipping Time: 4 Day Free Shipping for $40
Don't forget that the entire process can take up to 10 weeks unless you accept to pay USD 60 for the expedited service. The expedited service can last 4 to 6 weeks.
iVisa.com Recommends
An outdated passport shouldn't ruin your next dream vacation! At iVisa.com we offer services that will help you get your passport renewed easily and fastly.
By having your passport ready to use, you'll be ready to relax in the deep-turquoise waters in Bermuda or go skiing in the Swiss Alps. You'll also have an amazing chance of exploring antique ruins like Tulum in Mexico, or the Great Pyramid of Giza in Egypt.
If you prefer rosy skies and romantic environments, then you'll surely love being in Santorini, Venice, or even Paris. You also have the chance of planning a European tour to enjoy all the hidden beauty on this continent.
If you're more into exotic adventures, then you'll surely love staying in Japan and learn more about its culture in Kyoto, or enjoy an amazing view from the Great Wall of China.
Many adventures await you! That's why we invite you to renew your passport with us and get your luggage packed!
Also, feel free to visit our website or contact our customer service team for more help on the Passport Name Change Process.