Getting a US passport renewal is a must-to-do process for any US citizen who has traveled before. As a regular government procedure, it can be a hassle due to the long waits, the confusion of filling out long forms, and the wasted time that you can invest in other things. iVisa.com is offering an online Passport Renewal in Las Vegas for US passport holders living there or the rest of the country. Our online passport renewal process is a simple three-way scheme to liberate you from anxiety, stress, and hectic paperwork.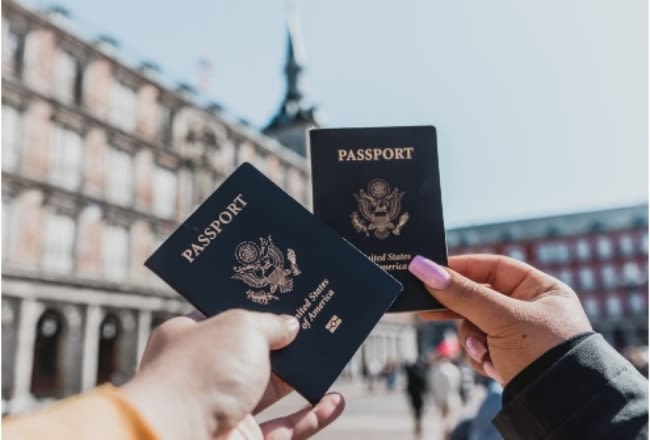 Get started on your passport renewal process now
How does our three-way online procedure work?
Our online passport renewal in Las Vegas process does not require effort and it will take you only three simple steps:
Step 1: Finish filling out online form, upload the photo of your passport, and pay with Paypal, debit, or credit card.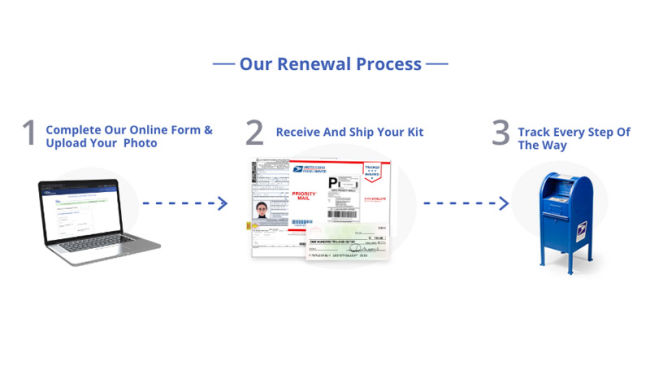 Step 2: Wait for your passport kit to arrive at your home, sign your DS-82 form, prepare your package and drop it at the nearest post office or mailbox.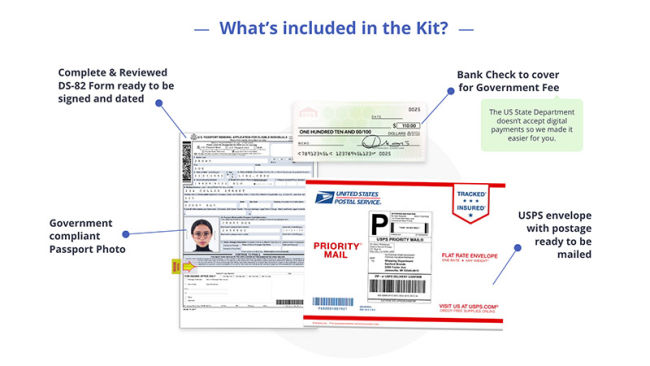 Step 3: Track your kit to see how the process is going.

You do not have to ship us your passport. our Passport Renewal Kit contains anything you need to end your renewal process easily. Once packed, it goes directly to government authorities.

Sit and wait for your passport. We have two distribution times: government expedited service (4-6 weeks) or government standard service (10-12 weeks).

Guarantee your passport is government compliant. Our specialists evaluate your photo to be sure it aligns with the government specifications.
Our renewal process takes more than six weeks, so in case your trip is in less time, we will not be able to help you. But, if you reschedule, we will be more than happy to help you.
Start your passport renewal in Las Vegas process
Frequently Asked Questions
Who can apply for this online service for Passport Renewal in Las Vegas?
US Citizens having now a US Passport and dwelling in the country can request iVisa.com's assistance. Besides these conditions, you will need to meet the following too:
You need to have your present-day passport with you in a healthy state.
You are at least 16 years old.
Your passport has an issue date not later than 15 years.
You haven't changed your name and you hold the same one stated in your current passport.
Am I required to ship my current passport to iVisa.com?
No, iVisa.com will deliver you a kit renewal passport to be sent on to the government passport offices. This contains:
A complete DS-82 Form with all your information, ready to be signed.
A Printed & stapled Passport Photo
A Bank Check to cover the Government Allowance
A ready-to-be-shipped USPS Envelope with Postage*
Now as stated:
Sign your DS-82 form.
Collect and pack everything along with your present-day passport inside the USPS envelope.
Go to your closest mailbox or post office and ship the kit renewal package. The quickest you drop it, the quickest your procedure will begin.
Start your renewal process now.
Why should I feel protected when providing my SSN to iVisa.com?
iVisa.com considers information ownership as a fundamental human right. You are the only owner of your data and under any circumstances, we are not authorized to distribute any of your information to others. We asked for your SSN in our online form because it is a piece of mandatory information for the conclusion of your DS-82 form. All information provided to us fully complies with the General Data Protection ("GDPR") and the California Consumer Privacy Act ("CCPA").
How can I be aware when my passport is ready and coming to me?
Through the whole process, our Customer Care Team will update you with periodical messages letting you know how the process is going on. You will obtain your document according to the government speed service you choose: A standard passport renewal service (8-10 weeks) and an Expedited Service (4-6 weeks).
Apply now for your passport renewal.
Will iVisa.com support me if my application is declined?
Yes, if the most unlikely scenario happens and your application is declined. iVisa.com will give a 100% refund of our service fee.
What happens in case I make a mistake?
iVisa.com's team of experts is ready to help you. You can reach them 24/7, no matter the time, time zone, or day of the week. They are going to be there to assist you in any renewal process-related matter.
Begin your passport renewal now.
How long will it take to receive my new Passport?
This is subject to the US Government times of your choice: the standard passport renewal assistance will get between 8 to10 weeks and the Expedited Service will get from 4 to 6 weeks. This last one will cost an extra $60.
I need my passport in less than 6 weeks to travel. What can I do?
If you need your passport renewal in Las Vegas in less than 6 weeks to travel, you must contact a government-licensed agency or center ASAP. If your trip is later than 6 weeks, iVisa.com surely can support you with our online renewal service.
What can I do if I'm not a suitable candidate for renewing my passport online?
If you are not a good fit for our online three-method procedure, we cannot help. Please kindly examine the US Government website to study what you need to do.
iVisa.com Recommends
If you want to appreciate the best of the Atlantic and Pacific oceans with a Caribbean Sea touch, then you should travel to Panama, a transcontinental country in Central America and South America. The country is best-known for the Panama Canal, a major transportation infrastructure connecting two oceans. Further obviously touring around the canal, you should get around Panama city and its lovely old town, where restaurants to enjoy local gastronomy are everywhere. The most extraordinary dishes to taste are the sancocho de gallina (a special and delicious chicken soup) and Panamanian tortillas (thicker than the usual found around the Americas, circular, and made from corn dough). And what about local beverages? Panama has chicheme, a non-alcoholic drink made out of boiled corn, cinnamon, sugar, nutmeg, and evaporated milk. If you want to drink something strong, Panama has its exclusive cocktail called Ron Ponche (a mix of rum, egg yolks, vanilla extract, cinnamon, nutmeg and evaporated milk), finally get some Seco, sugar-cane-distilled alcohol manufactured in Herrera and generally served with ice and milk. This is Panama's most famous drink and you will try it out in rural areas.