Nowadays, renewing your US passport has become a fundamental must-do procedure, because it is compulsory to travel for US passport holders. Nonetheless, at iVisa.com, we are aware this process takes a lot of time and effort within the country, especially in San Diego. This is why we are offering an online, effortless, and time-saving passport renewal service. You just need to go through our easy online process, so that we can assist you with the remaining areas. This service is solely designed for US Passport Holders dwelling in the US.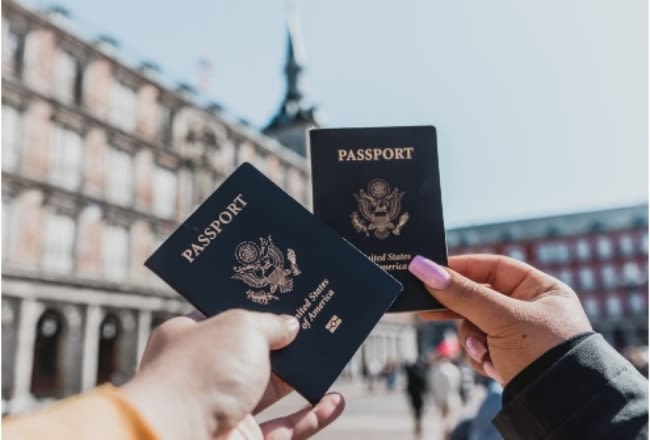 Commence your renewal process now.
How does iVisa's renewal service procedure run?
Step 1: Finish our online form, upload the photo for your travel document, and pay. We have three available online mechanisms: (Paypal, debit, or credit card).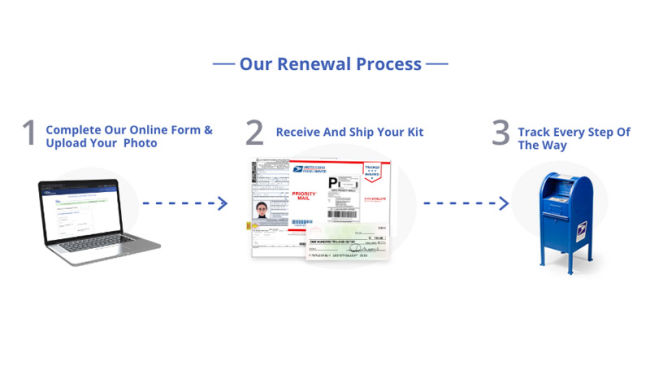 Step 2: Gather your passport kit arriving at your home, sign your DS-82 form, collect everything and drop it at the nearest mailbox or post office.

Step 3: Trace your kit throughout the process, whenever you wish.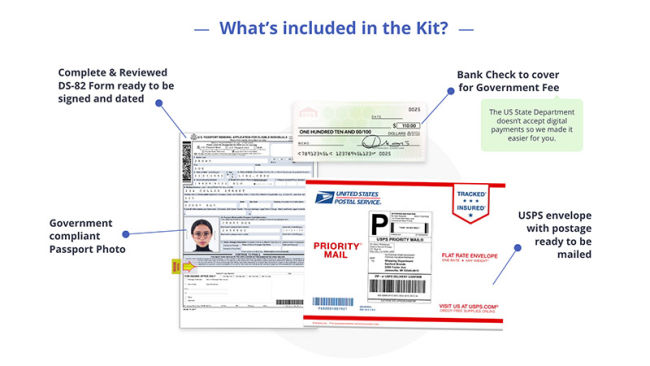 These easy to-do-activities offer you awesome privileges:
Government compliance We already have important experience completing this process and other travel-related document procedures. So, our team of immigration experts will ensure to have error-free results, which includes guaranteeing government compliance. If not, you will be granted a 100% iVisa.com fee refund.
There is no need for you to deliver your current passport to us.
You will get your new passport: If your travel is more than 6 weeks ahead, we can save you time and money. We have two available processing speeds: government expedited service (4 to 6 weeks) or government standard service (from 10 to 12 weeks).
Our process is simple We will execute all the hard work, you will go through simple and quick steps.
To be a qualified candidate for this service, your trip should not be before 6 weeks. In that case, we suggest contacting a government service agency.
Frequently Asked Questions
Who is this service designed for?
This service is designed for Citizens of the US who already hold a US Passport. They must also fulfill these conditions:
Having their current passport
Possessing their passport in good shape
Being no less than 16 years of age
Having a current passport with a maximum issue date of 15 years
Their name must be the same one as their current passport
Is it necessary to send my current Passport to iVisa.com?
No, it is not necessary at all. iVisa.com will mail you the following kit:
A concluded and examined DS-82 Form, ready to sign.
A Printed and stapled Passport Photo.
A Bank Cheque to cover the Government Fare.
A USPS Envelope with Postage, ready to be sent at your nearest post office or mailbox.
The rest is easy: pack all this and your current passport inside the USPS Envelope and ship the kit to your closest mailbox. The quicker you send it, the quicker your renewal process will commence! Do not waste time.
Should I believe iVisa.com is going to take care of my information, especially my SSN?
Of course, you should! iVisa.com asks for your SSN, as a government information claim, to be included in your DS-82 Form, a crucial step in your Passport Renewal Process. For us, data ownership is a primary human right. iVisa.com is not interested nor allowed in trading your data to third parties for economic gains. All data received completely complies with the General Data Protection ("GDPR") and the California Consumer Privacy Act ("CCPA").
Start your passport renewal now.
Is there a way to acknowledge when my passport is ready?
Yes. Moreover, our Customer Service Team will send you periodical news about your application status. Take into account, the US Government standard service takes about 8 to 10 weeks and their expedited service takes about 4 to 6 weeks, counting from the date they got your package.
Request your passport renewal now.
What will occur if my passport application is not accepted?
If your request is not accepted by the US Government. We will refund 100% of our iVisa.com Fee. Do not be afraid!
What happens if I realize an error has been made?
Do not worry! You can reach our team of customer agents at any time, 24 hours a day, 7 days a week. They are available to help you and to examine your information to send the revised documents, guaranteeing an error-free procedure.
How much time does it take to receive my new Passport?
That will depend on the US Government expenditure times you choose, there are two: A regular passport renewal service lasting from 8 to10 weeks and an Expedited Service taking a lower speed with a USD 60 higher fee, from 4 to 6 weeks
If I am traveling in less than 6 weeks. How can I proceed?
In this case, if you are about to make a trip in less than 6 weeks from now, we suggest you approach a government-licensed agency or center as soon as possible. We will not be able to help you, because our renewal procedures need 6 weeks at least. They count on extra support and have efficient results.
Start your passport renewal now.
What can I do if I am not qualified for renewing my passport online?
If you are not qualified for this procedure, unfortunately, we cannot help. Please review what is going on at the US Government website. That way, you will figure out what to do.
iVisa.com Recommends
Have you ever thought of traveling to Mexico or have you already been there? If so, we highly suggest visiting Puebla. Mexico is a country full of famous destinations for US tourists, from the capital itself to resorts in Cancun and Acapulco, there is plenty to see. Puebla is a must-to-visit city, considered the fourth largest one in Mexico. It is a perfect spot in case you are not into big crowds, but you still want to enjoy authentic Mexican flavors, colors, and festivities. The best place to start your Puebla experience is the Alley of the Frogs, despite its curious name, this area is a perfect place for enjoying coffee and buying antiquities during the day, and immersing in the musical atmosphere during the night. Please, do not forget to visit El Zocalo, Puebla's main cultural and political square, where you can find the Zocalo including City Hall, the Casa de Los Muñecos (an architectonic jewel from the 18th century), and the Cathedral. Finally, appreciate Puebla's lovely views from the Estrella de Puebla, the highest observation wheel in Latin America.