You are a US passport holder, but your passport document is almost expired. Or you are recently married and need to renew your passport because your name has changed. The good news is that Americans can renew their passport via the post office service, instead of visiting a national passport processing center. In a few steps, you will be able to travel internationally again!
You can also count on iVisa Passport Services for a straightforward process. We have experts to help US citizens fill out their passport applications online and we send a passport renewal kit with everything you need to submit your application by mail.
Here are all the details about the passport renewal service for U.S. Passport holders offered by iVisa.
Passport Renewal: Who can use this service?
US citizens can use the iVisa passport service to renew their travel document quickly with our experts help as long as they meet the eligibility criteria:
Your most recent passport is currently with you.

Your passport is in perfect condition.

You are 16 years old or older.

The issued date in your passport is within the last 15 years.

Your current passport shows your current name.

You got your latest passport after or at 16 years old.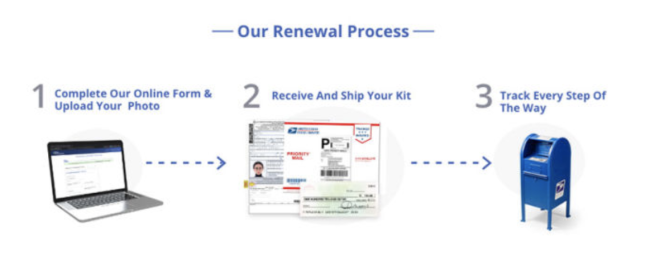 If you need to renew your passport due to a name change, you can find further information in this article. Be aware this process is not for applying for a new passport; you can only have a passport renewed via this service.
What are the requirements for a passport renewal application?
You must provide personal information when you fill out the passport application online. Applying with our passport agency, you will receive detailed instructions on filling out the form correctly. We will also send you a passport renewal kit via mail. The kit includes:
A DS-82 form - You complete all information online, counting on our experts' guidance and receive the form prefilled via mail to sign and submit the application.

A Passport Photo that is Government compliant, printed and stamped.

A bank check to cover the US Government fee.

A US Postal Service envelope.
Once you sign the form, you must deliver all items to the US Department of State using the post office services.
Does iVisa need my current passport?
No, we don't request any documents during the process. You will fill out the form online, and we will send you the kit. Once you receive it, sign the form and mail it with your passport from the nearest post office.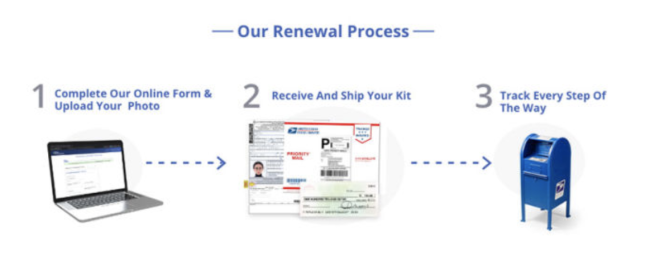 How to renew your passport online
It's easy to renew your passport by counting on iVisa services. Applicants fill out the form online, receive all documents via mail, and then deliver them to the post office. Here are the steps:
Step 1: Fill out the online DS-82 form with your information, such as name, address, and birth date.

Step 2: Attach a recent photo of you to the online form. It must be full face, front view, and high-resolution image. You can use the iVisa Photo Service if you don't have one.

Step 3: Complete the payment of the US Government and iVisa fees.

Step 4: Receive your passport renewal kit, follow the instructions and take your package to the nearest mailbox or post office.

Step 5: Track your renewal application status with our frequent updates.

Step 6: Get your passport and travel!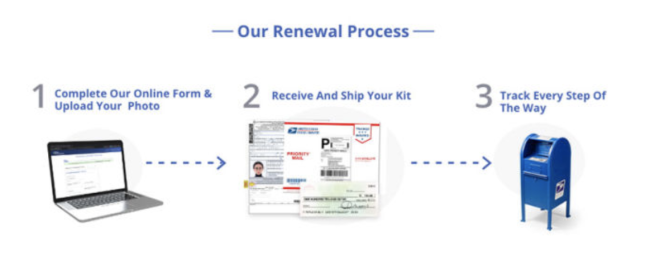 Bear in mind that this procedure is not for first-time passport applications!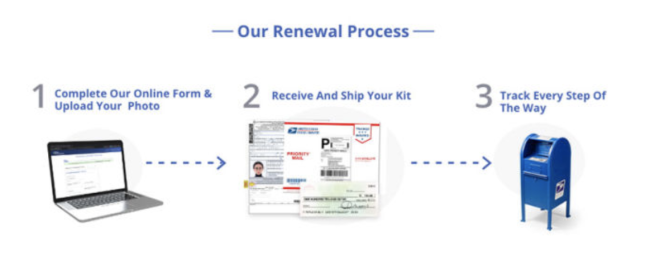 What is the Passport Renewal Mailing Address?
The mail facility is a great advantage in the passport renewal process. But where do you send the documents and application form? Regarding the passport renewal mailing address, this one will depend on where you are in the US.
People in California, Florida, Illinois, Minnesota, New York, or Texas must put this address on their US Postal Service envelope: National Passport Processing Center, Post Office Box 640155, Irving, TX 75064-0155.

Citizens in other states must send the kit to the National Passport Processing Center, Post Office Box 90155, Philadelphia, PA 19190-0155.
Of course, when applying with iVisa, you will receive all instructions. Our team will guide you through the entire process.
What if I do something wrong along the passport application?
You must [contact our support agents] if you need to correct a mistake on the form. They are available at any time you need their help. Also, our experts always review the application, so if something is missing, they will notify you.
How long does it take to receive my new passport?
The current processing times for the US Government standard service takes 8 to 10 weeks for you to receive the passport at your door, and the US Government expedited processing takes 4 to 6 weeks to receive your document but costs an additional USD 60.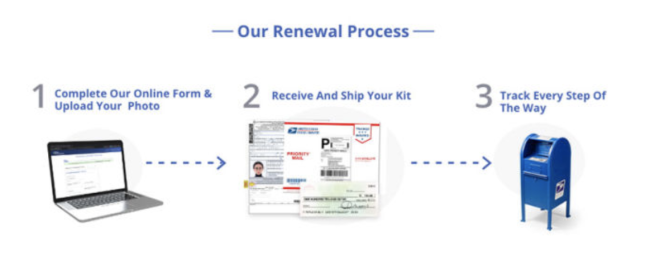 How to Rush a Passport Renewal Service?
You can renew your passport via mail and choose the US expedited processing. You must pay express delivery fees, which cost an additional USD 60. This service will allow you to receive the passport in 4 to 6 weeks.
The advice here is to apply in advance and renew your passport before the expiration date.
Can I get a passport renewal in 24 hours?
You may ask: ''Is it possible to get a passport renewal in 24 hours?". Unfortunately, that is not possible with iVisa services. You can, however, check the [US Department of State website] to find the fastest direct processing times.
How much does Passport Renewal application costs?
First, you have to pay the US Department of State service fee of $130. This service provides:
Standard processing time which takes 8 to 10 weeks to receive your passport

Or, if you pay an extra $60 for Expedited service then you receive the passport in 4 to 6 weeks. Then, you can choose one of the iVisa options below. The fees depend on how fast you want to receive the passport renewal kit:

Receive the renewal kit in 4 days for $40

Receive the renewal kit in 6 days for $60

Receive the renewal kit in the same day for $72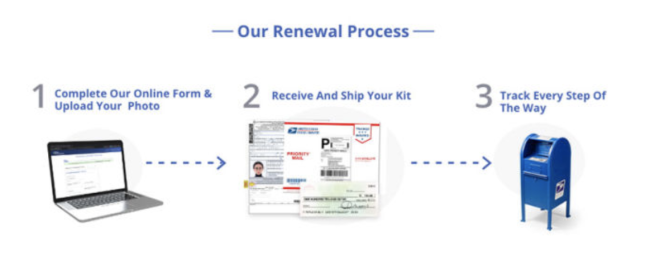 What should I do if I make a mistake during the process?
Mistakes happen, we know. In this case, you should contact [our customer service team]. They are ready to help you with any issue or doubt during the process. They're available 24/7. Our experts also review all the information you provide to check if it is correct, and they will contact you if something is wrong or missing.
What should I do if my passport gets rejected?
It's quite difficult to get a passport renewal rejected. Still, if that's the case, we'll offer you a 100% refund of the iVisa fee.
How will I know when my new Passport is on its way?
No worries. We will send you a tracking number, and we will be updating your renewal application status. So you can check our notifications to know when your passport is on its way.
What can I do if my passport is lost in the mail?
First thing, don't panic. We can help you if your US passport is lost in mail. iVisa is a great alternative when you need an extra hand to check the status of your application in terms of passport renewal. Contact our [customer team] and let them help you track it.
Another alternative if your US passport has been lost in the mail is to check whether the US Government mailed your passport. Check the Online Passport Status System or get in touch with the National Passport Information Center (NPIC). But only contact the NPIC if you don't have your passport after ten days of it being mailed.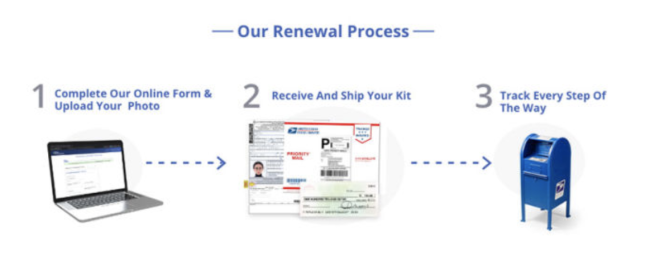 Passport Renewal for Minors Under the Age of 16
Unfortunately, minors who turned 16 can't renew their passport with iVisa services. All children under age 16 must apply in person in a national passport processing center with both parents or guardians. They must use the DS-11 form as you cannot renew your child's passport using Form DS-82. Remember, passports for children under age 16 are only valid for five years.
Where can I learn more?
If you have any questions about the US passport renewal, please contact our customer support team at any time via online chat or email at [email protected]. They are available 24/7 and will be happy to help you!