Suppose you are a US citizen living in India, and your passport is almost expired. How do you renew your US passport in India? Usually, you don't need a passport renewal appointment. You simply fill out the passport application form and submit all the documents via mail.
In this article, we will explain all you need to know to get your document renewed, including the steps to fill out the application form and the renewal processing time in India.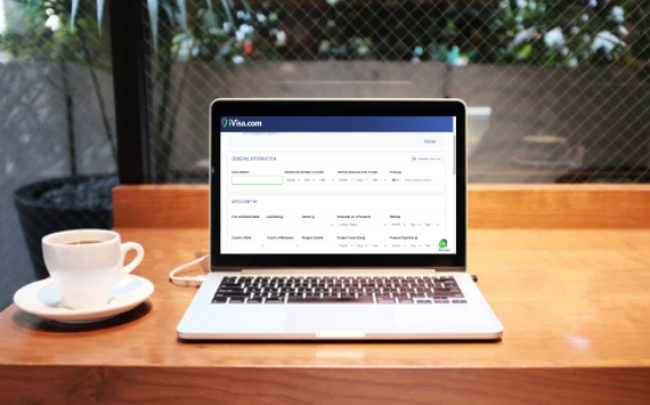 Passport Service in India
Some US passport services are available in India. The easiest way to renew your passport is by filling out the form and sending the required documents by mail to the Embassy or Consulate responsible for the state where the applicant resides.
Still, this option can be confusing as there are some specific requirements. In most cases, applicants needing a passport must visit the embassy or consulate general.
These are the passport services you can complete via mail:
Adult passport renewal – You must possess an existing passport with a ten-year validity. The passport must still be in a good state.
These are the services you will need to complete In-person:
Renew a minor's passport (under 16 years of age) – This is a short validity passport as it only has a five-year validity.

Apply for your first adult passport or fresh passport, meaning your last passport was issued before the applicant was 16 or more than 15 years ago.

Stolen, lost, or damaged passport – You don't have the old passport with you, or it is not in good condition.

Emergency passport.

Change or Correct your passport – For example, if you marry and need to change your name. You will need to prove the name change with a marriage certificate.

Reporting the birth of a child born outside the United States (CRBA) and applying for their first passport.
Remember, these services are not for Indian passport holders and only apply to U.S. passport holders living in India with valid visas.
How Can I renew my US passport in India?
To renew your US passport in India, you must follow these steps:
Step 1: Fill in the  DS-82 Passport Renewal Form and print it. Pay attention, it's a long-form, and you don't want to make any mistakes.

Step 2: Pay the 130 passport application fee in U.S. Dollars. You can pay on the US government's secure payment site.

Step 3: Mail the form, with a passport-photo size, your previous passport, the fee receipt, and additional documents, to the Embassy or Consulate responsible for the Indian state where you are located. 

Step 4: Wait to receive your passport.
What is the passport renewal time for US citizens in India?
The processing time for routine passport renewals in India is three or four weeks.
US passport renewal if you are in the United States
American citizens can count on iVisa when renewing their passports in the United States and India. This means they can fill in the application form online with expert guidance and receive the renewal passport kit with everything ready to post. There is no need to visit a passport office.
Passport Renewal: Who can use this service?
US citizens can use the iVisa passport service for easy renewal as it provides mail facility and complete guidance for applying. You can use the service if you meet the eligibility criteria, which are:
Your most recent passport is currently with you.

Your passport is in perfect condition.

You are 16 years old or older.

The issued date in your passport is within the last 15 years.

Your current passport shows your current name.

You got your latest passport after or at 16 years old.
Remember, this service is only available for the US passport holder. Indian passport holders can't apply with it, even if they have a valid visa status to live in the United States.
What are the requirements for a passport renewal application?
You need some supporting documents for your passport application. The advantage of applying with our passport agency is that you will receive detailed instructions to fill in the form correctly. We also send you a passport renewal kit with all necessary documents and requirements via mail. This includes:
A DS-82 form: You complete the application form online, counting on our experts' guidance, and then receive the form prefilled to sign and submit with your application.

A Passport Photo that is an ordinary passport photo and government compliant. You will receive it in your passport renewal kit, printed and stamped.

A bank check to cover the US Government fee.

A US Postal Service envelope.
Once you sign the form, you must deliver all items and your original passport to the US Department of State via postal services.
Does iVisa need my current passport?
No, we don't request any documents during the process for passport applications. You only need to wait for our passport renewal kit with all the above items. Once you receive the kit, check the form and sign it. After that, you must take your passport and the package to the nearest post office.
How to renew your passport online
It's easy to renew your passport through iVisa services. Applicants fill out the form online, receive all documents via mail, and then deliver them to post offices. Here is a breakdown of the steps to obtaining a passport renewal with iVisa:
Step 1: Fill out the online DS-82 form with your information, such as name, address, and birth date.

Step 2: Attach a recent photo of you to the online form. It must be full face, front view, and high-resolution image recommended). You can use the iVisa Photo Service if you don't have one.

Step 3: Complete payment of the US Government and iVisa fees.

Step 4: Receive your passport renewal kit, follow the instructions and take your package to the nearest mailbox or post office.

Step 5: Track your renewal application status with our frequent updates.

Step 6: Get your passport and travel!
Renewed passports have the same validity period as the original ones.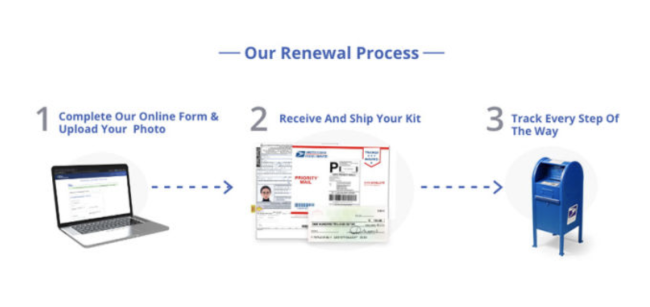 Bear in mind that this procedure is not for first-time passports.
How long does it take to receive my new passport?
The US Government standard service takes 8 to 10 weeks for you to receive the passport at your door, and the US Government expedited processing lets you have the document in 4 to 6 weeks at an extra fee of USD 60.
How much does Passport Renewal application costs?
First, you have to pay the US Department of State service fee of $130. This service provides the following service:
Standard processing time: 8 to 10 weeks for you to receive the passport

Otherwise, you can pay an extra $60 for Expedited service and receive the passport in 4 to 6 weeks.
Then, you choose one of the iVisa options, which are prices depending on how fast you want your passport renewal kit to be shipped:
To receive the renewal kit in 4 days, free shipping, for $40

To receive the renewal kit in 6 days, free shipping, for $60

To receive the renewal kit in the same day, free shipping, for $72
How will I know when my new Passport is on its way?
Our team will be updating your renewal application status. Once you post the passport renewal kit, you can check our notifications to stay updated.
Passport Renewal for Minors Under the Age of 16
Unfortunately, children who are 16 and under can not renew their minor passports through the iVisa service. Instead, both parents or guardians must be physically present at the passport office for the application. Remember, children under the age of 16 receive a short-validity passport which is only valid for five years.
Where can I learn more?
If you have any questions about the US passport renewal, don't hesitate to contact our customer support team. You can use the online chat or email at [email protected]. Our experts are available 24/7 and will be happy to help you!