Applying in person for a passport renewal is only possible under specific conditions. The US Government recommends renewing your passport by mail if you are not facing an emergency situation. Renewing your passport by mail is safe and easy. To help make this process easier, iVisa.com offers an online passport renewal service. By taking this option, after a few clicks, you will be ready to submit your application without leaving home. However, if you want to know about passport renewal: what to bring when I apply in person, we share the latest updates about this topic throughout this article. Also, you will learn how to get your new passport online with iVisa.com.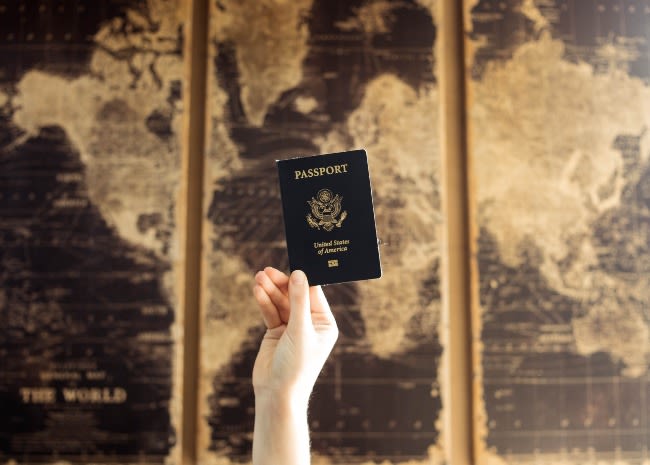 How does the passport renewal service work?
Avoid exhausting visits to US Government facilities or passport acceptance offices. Skip long hours in a waiting line. With iVisa.com, you only need to complete the following steps:
Enter the application page at iVisa.com, and fill out the online form. Include a passport-style recent picture of yourself. Select your preferred option to process your application and pay the fee for both services: the US Government's and iVisa.com's fee. Submit your application
Get your passport renewal kit in 3, 6, or 9 days according to your needs. Sign the DS-82 form prepared for you by our experts, put your documents in the postal service envelope and drop it off at the nearest mailbox. Remember, you should not fold the DS-82 form.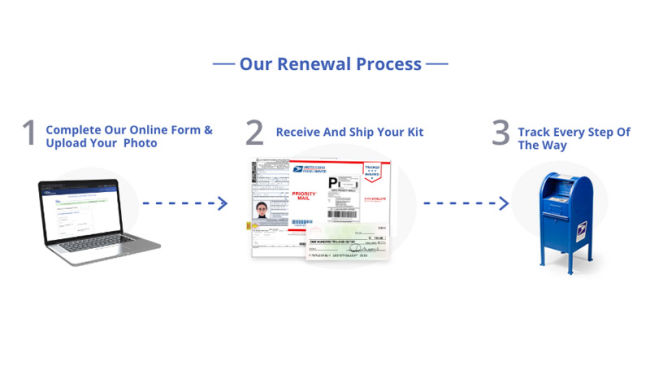 Receive your new document at your door in 6-10 weeks, depending on the service you chose for your passport renewal. Next, we share more info about passport renewal: what to bring when I apply in person.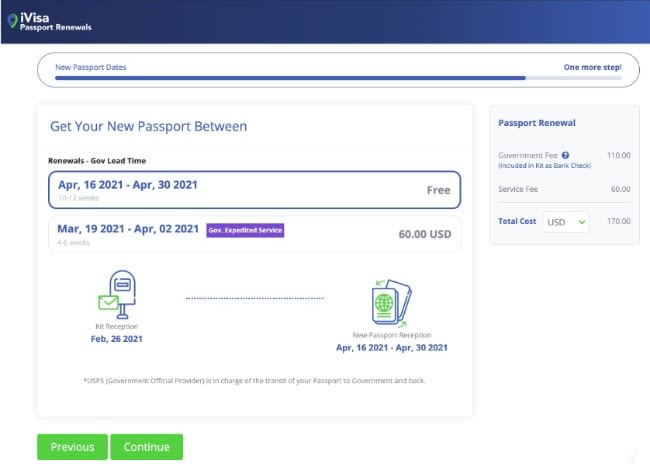 Frequently Asked Questions
Under which conditions should I apply in person?
To renew your passport in person, you must make an appointment through the national passport information center first. You can also visit the online passport appointment system. The US Government services will only accept your request if:
You need to travel in 24-48 hours due to a life or death emergency such as serious illness, injury, or death in your immediate family.
You must travel within 2 weeks for work reasons.
Your previous passport was lost or stolen (use a DS-11 form). Find more about passport renewal: what to bring when I apply in person, below.
What do I need to apply in person for a passport renewal?
A prefilled DS-11/DS-82 form. Do not sign the form until it is indicated by the passport agent.
Evidence of US Citizenship (valid US Passport, US birth certificate). Include a photocopy.
Current ID. Include a photocopy
One recent photograph of yourself (2 x 2 inches. White background)
Enough money for the passport renewal fee. US 130 for the standard book. US 30 for the passport card.
In the case of an emergency request:
Flight tickets, hotel booking confirmation, and any other document that proves you have to travel in the next few days.
You will find more relevant data about passport renewal: what to bring when I apply in person, in the following sections.
How can I confirm if I am eligible for the online passport renewal service?
You must meet three conditions to be eligible: being a US Citizen, with a valid US passport, and currently living in the US. Besides the main conditions, you should also meet the following criteria:
You must be at least 16 years old
Your current passport must be in your possession.
Your document must be in a good condition
Your US passport was issued within the last fifteen years
Your US passport and your ID show the same name.
When applying online, do I have to send my current passport to iVisa.com?
No, your current passport is not necessary to process your passport renewal request. Do not forget to pack your passport together with the content of the renewal kit. It is required by the US Government.
If you skip the previous questions, you might miss important info about passport renewal: what to bring when I apply in person. We invite you to go back and read about it.
How much does it cost to get my passport renewed?
US Government service:
Standard service. US 130 (8-10 weeks)
Expedited service. US 130 + US 60 extra (4-6 weeks)
iVisa.com passport renewal kit:
Select Kit Shipping Time: Same Day Free Shipping (cut-off 2pm EST) for $72.
Select Kit Shipping Time: 2 Day Free Shipping for $60.
Select Kit Shipping Time: 4 Day Free Shipping for $40.
iVisa.com Recommends
Spain has been on the list of the most beautiful countries in the world for decades. That should not surprise you. Each city of this European country has so much to offer that it would take an entire book to name them all. So, to help you decide what to do during your upcoming visit to Spain, we present a shortlist of recommended cities and activities.
Barcelona. This city is famous for the extravagant architectural style of Antonio Gaudí. The most recognized of his works is La Sagrada Familia, a majestic basilica that has been under construction for over 132 years. The Gothic neighborhood, La Rambla, and Park Guell are other iconic places worth visiting.
Madrid. The capital city. Some of the most visited places are the Royal Palace, El Retiro Park, and Gran Vía street. The city has important art museums such as El Prado and Reina Sofía.
Granada. The main reason to visit this city is La Alhambra, which also is the second most visited place in Spain after Barcelona's La Sagrada Familia. La Alhambra is an ancient Arabic complex that holds inside palaces, gardens, and a fortress. Originally it was built to be the residence of the Nazarí Kingdom elite and the Emir.