Are you a citizen of the US living in Nigeria? Is your passport expiring soon? Then you definitely must know where you can get your Passport Renewal in Nigeria. There are two options for you: send via mail your passport to the embassy or visit the nearest embassy and get your passport ready to use.
[button:Apply now](/passport-renewal/united-states)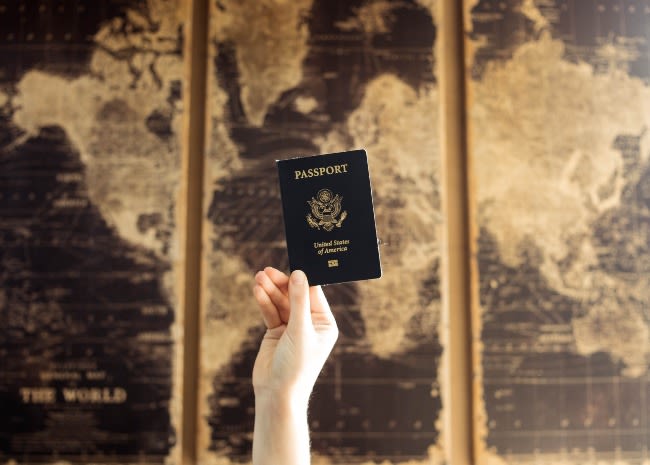 If you are currently residing in the U.S. then there is a third option, which is the easiest one: you can use iVisa.com to renew your passport fast and quickly. However, we emphasize that this service is available only for US citizens holding a US Passport and currently living in the United States.
If you are still asking yourself: Where Can I Obtain My Passport Renewal in Nigeria? Don't worry, we urge you to continue reading the article below.
What steps do I have to follow to renew my passport?
You have to follow a few steps to apply for a Passport Renewal with iVisa.com and avoid the rush and wait times in the passport office:
Step 1: The first thing to do is to fill out the online form. You also have to make the payment, and upload your photo.
Step 2: Obtain the renewal kit with everything you need for the passport renewal through the mail and send it through the nearest post office or mailbox.
Step 3: Get updates about your application procedure and obtain your document in 10 weeks or 4-6 weeks based on the selection of the processing option.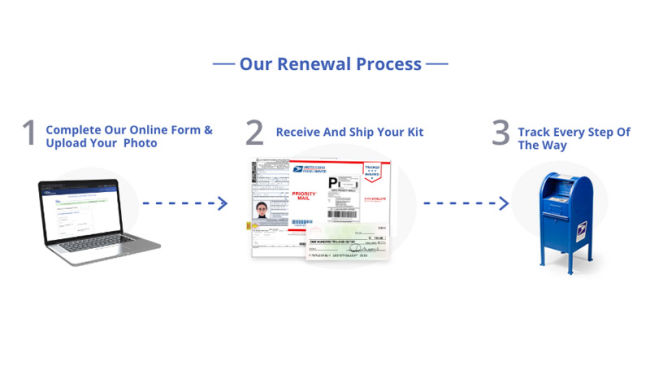 To learn more about Passport Renewal in Nigeria, you can read through the following questions and answers:
Frequently Asked Questions
Who can use the passport renewal service?
This service is only available for US citizens holding a US passport and living in the US. Also, you must fulfill other requirements for this service, including:
Having your existing name in your passport.
Having your passport in your possession.
Having 16 years old or older.
Having issued your passport within the last 15 years.
Having your passport undamaged.
Visit the nearest embassy or mail your passport to get a renewed passport in Nigeria and learn more about Passport Renewal in Nigeria.
Is it necessary to send my current passport to iVisa.com?
No, you don't have to send your current passport to iVisa.com. All you have to do is to sign, pack, and send the renewal kit with your current passport inside to the nearest mailbox or post office. Your renewal kit will contain the following:
A DS-82 Form that should be signed carefully.
A USPS Envelope with Postage.
A Printed Photograph.
A Bank Check for the Government Fee payment.
How can I track my passport renewal application?
You will obtain all the latest updates about your passport renewal application from our customer support team frequently. You will also get informed by email.
What are the processing times and fees for the passport renewal?
For the application for a Passport Renewal, you have to pay a Government Fee of $130 with the processing fee for the iVisa.com's services:
Select Kit Shipping Time: Same Day Free Shipping (cut-off 2 pm EST) for $72.
Select Kit Shipping Time: 2 Day Free Shipping for $60.
Select Kit Shipping Time: 4 Day Free Shipping for $40.
[button:Apply now](/passport-renewal/united-states)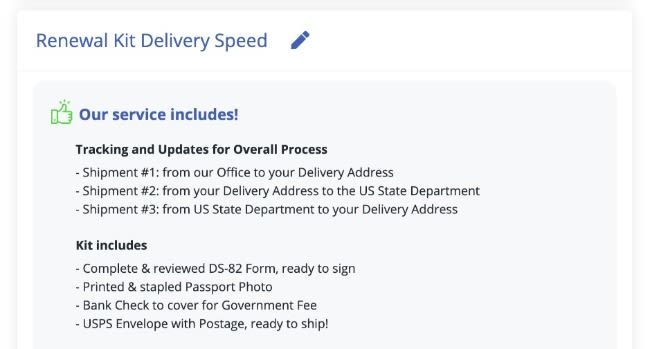 Can I rely on iVisa.com?
Yes, you can rely on iVisa.com to apply for passport renewal as we have been delivering quality services for many years to our customers and you can check their reviews on our website.
iVisa.com Recommends
Planning for your vacation and preparing your travel itinerary can be tedious. But we can make it super easy with our recommendations. For your next holiday, plan a trip to the United Kingdom which is a small country with numerous places to explore.
You will be amazed to learn about the fascinating history and rich cultural traditions of the country. Visiting England is also more relaxing and pleasurable with its great connectivity through trains and buses.
You can also visit different places by renting a car. Among numerous points of attractions of this country, we have selected a few places that you cannot miss during your trip. These places are Stonehenge, the Tower of London, the Roman Baths and the Georgian City of Bath, the British Museum, historic Yorkshire, Chester Zoo, Lake District National Park, Canterbury Cathedral, the Eden Project, and Warwick Castle.