Please note that as of June 2022 the CDC no longer requires travelers to present a negative COVID-19 test or documentation of recovery from COVID pre arrival to the US
The United States of America is known for its supersized meals, long-distance road trips, spectacular scenery, and popular music and movie scene. If you're a TV and film buff, Los Angeles is the perfect place to visit. The largest city in California is home to the iconic Hollywood sign, and every year thousands of budding actors flock to the area in search of work and fame. Many actors end up moonlighting as waiters while they wait for their big break, serving tables in upmarket Beverly Hills so don't be surprised if your brunch is delivered to you by a polished server with a 100-watt smile who seems like they'd be at home on a stage.
The Warner Brothers studio is popular with guests from all over the world, who flock there to catch a glimpse of the Friends sofa, nestled in the original set of Central Park. A studio tour also gives you the opportunity to walk through the sets of streets and shops. This unforgettable experience is the gift that keeps giving, as you'll recognize the false windows and shop fronts for years afterward in new movies filmed at the studio.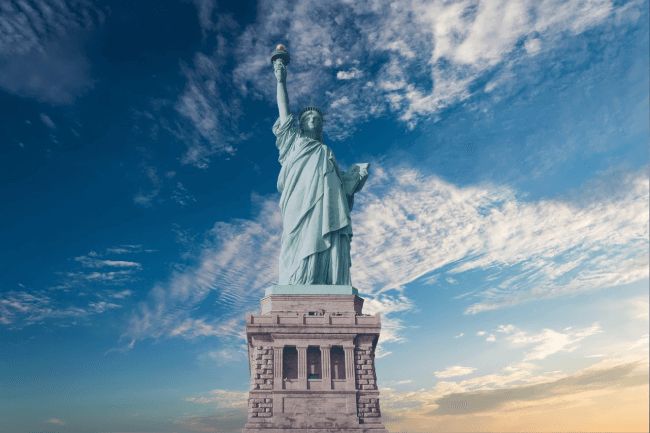 The Diversity Visa draw is performed every year to grant 55,000 visas to applicants around the world. The aim of this visa is to promote the multicultural environment that is key to the American melting pot culture. From its creation in 1995, the DV lottery, also known as the green card lottery because winners obtain a green card to enter, work and live in the United States, is a life-changing opportunity to start a new life in the United States. Now, for the first time ever, you can apply for this lottery online with iVisa.com. The customer service professionals specially trained to process key travel documents are on hand to assist you with your DV lottery application and can help you gain the confidence you need to submit this form with the correct information and accompanying requirements. Keep reading to learn more, including the eligible green card lottery countries, and click here to apply today.
Frequently Asked Questions
How many times can I apply?
Each person can apply for the Diversity Visa lottery once a year. If you submit more than one application, they will all be considered void so for the best chance to win a green card, we recommend that you only apply once. Remember that if you apply with iVisa.com then you cannot apply again on any other webpage. The rules state that each person can apply once, however each person in your family can apply, which means you have a great chance of winning as the winner can bring their whole family with them.
What countries didn't make the list?
As the aim of the Diversity Visa is to diversify the population of the United States of America, the government has found it necessary to remove countries from the eligible list. If your country didn't make the list, the reason is because more than 50, 000 nationals from your country have already arrived in America in the past five years. Residents and nationals from any of the following countries are, unfortunately, ineligible to apply for the green card lottery in this years draw: Bangladesh, Brazil, Canada, China (mainland born), Colombia, Dominican Republic, El Salvador, Guatemala, Haiti, India, Jamaica, Mexico, Nigeria, Pakistan, Philippines, South Korea, United Kingdom (except Northern Ireland) and its dependent territories, and Vietnam. If your homeland doesn't feature above then you're welcome to enter the lottery, so click here to apply.
How will winners from green card lottery countries be informed?
If you are eligible to apply because you come from a green card lottery country, then you should know that you will not be informed by email, phone call, or letter if you are a winner. The list of winning names is released on 8 May and it will be updated frequently to account for winners who are unable to accept. That means more than 55,000 winners are announced for only 55,000 visas. The countdown starts in May, as visas are granted on a first-come, first-served basis once the name list is published. You can count on iVisa.com for expert advice if your application is successful. When time is of the essence, you can trust iVisa.com to help you race to the front.
Can my partner and I both apply?
To improve your chances, it's a great idea for you and your partner to apply if you are both from eligible green card lottery countries. It's forbidden for any individual to apply more than once per draw, and if you do then all of the applications in your name will be deemed void, so make sure not to make that mistake. Let iVisa.com help you through a smooth application process and all you have to do is await the outcome in May.
Is iVisa.com a safe site to use to apply if I'm from one of the green card lottery countries?
You'd be shocked to know how many applications are denied solely because the applicant has forgotten to include details or essential attachments, like recent photographs of all of your family members. When you apply through iVisa.com, you're giving yourself the best chance to win the lottery because our dedicated team members will make sure that you're well informed. The iVisa.com professional team are experts at submitting international travel documents and know how important every section can be.
Apply now and be sure to set a reminder so that you're the first to know if your application is successful.
Where can I learn more about my options if I'm not from an eligible green card lottery country?
If you're from a country that was named as one of those whose residents are forbidden to apply for the Diversity Visa because 50,000 nationals already arrived in the USA over the past 5 years, don't despair. You still have a chance to apply with your husband or wife if they're eligible. Alternatively, if your parents are from another country you can stand a chance of winning the DV lottery if they are eligible to apply. To learn more about the Diversity Visa and check all the requirements, make your way over to iVisa.com and access plenty more information or chat with a team member through the online chat page.