For citizens of several countries, there's the choice to visit the United States without a visa. But there are some requirements. Citizens of those visa-exempt countries need to apply for an ESTA. This is not a visa, it is more an authorization to stay country. Keep reading this article.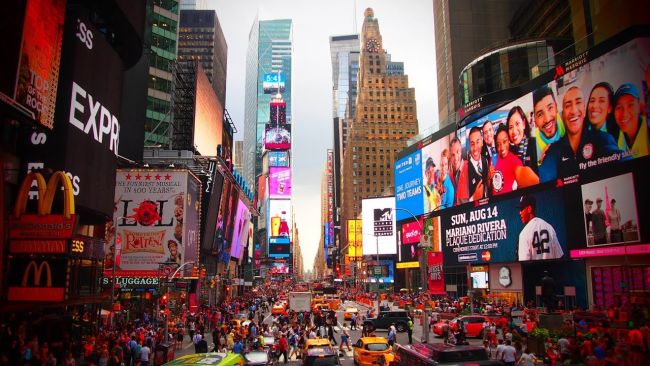 Fequently Asked Questions (FAQs)
Do I need an ESTA to See the United States?
As said previously, there are just a few nationalities that can apply for an ESTA. To check if you're entitled, you can click here, select your country of origin along with the United States as your destination and see the data displayed.
What is the US ESTA?
The Electronic System for Travel Authorization (ESTA) is an automated system that helps in determining the eligibility to travel to the United States under the Visa Waiver Program (VWP) and if such excursion poses any law enforcement or safety threat. Upon conclusion of an ESTA application, a traveler is notified of their eligibility to travel to the United States under the VWP.
What's the gap between the ESTA and a Visa?
An ESTA is not a visa. Those who possess a valid visa will still be able to go to the United States. Folks traveling with valid visas are not required to submit an application for an ESTA.
Can I pay the US ESTA on arrival?
No, you may ONLY pay before you arrive. Remember you'll require the proof of payment of the ESTA to board your flight.
Is the Yellow Fever vaccine required to visit the USA?
There are no Recent risks of Yellow Fever in the USA.
How long can people remain in the US having an ESTA?
The ESTA allows a maximum stay of 90 days Per Entry with Multiple Entry.
What do I need to apply for a US ESTA?
We require the following to submit your program:
The passport has to be an electronic passport with a digital chip comprising bio-metric info.
Travelers should possess a passport with at least 6-month validity from the date of entrance.
Passport holders must also provide their passport number and Personal Identification Number (PIN).
How long is your ESTA valid for?
The ESTA is valid for 2 years after issued.
What are the processing times and prices?
One of the common concerns about digital visas is the price. Together with iVisa, applicants have three options in regards to processing times and pricing. The three choices are:
Standard processing -- your visa application is processed within

24 hours

, and also the cost is

USD 29.00

.
Rush processing -- you will receive your visa within

4 hours

, and the entire cost of it's

USD 59.00

.
Super rush processing -- this is the quickest option. You'll receive your eVisa in just

30 minutes

, but with a total of

USD 79.00

.
Click here to start your application.
How long does it take to apply for an ESTA?
Less than 10 minutes. The application procedure for our applicants is simple, and everything you have to do would be to fill the application form.
How do I apply for an ESTA?
The application for an ESTA is actually easy. It has just three steps:
Step one will ask you to fill in your general information. In addition, you ought to choose the processing time from the choices mentioned previously.
The next step will ask you to revise measure one and make the payment.
The final step consists of a poll. Other documents may be required as well, but it is dependent on individual conditions.
Click here to start. Submit your form Once you're finished and wait for your visa to arrive. In case you require assistance filling out your application, iVisa includes a fantastic support service you can call 24/7.
What happens after I have applied?
Once you submit your application, you'll receive the ESTA by email. No need to manage the embassy. We do it for you so that you do not lose precious time.
Can my children need to apply to their particular US ESTA?
Yes, accompanied and unaccompanied children (regardless of age) need their own ESTA prior to their journey to the U.S. Children listed in their parents' passport don't qualify for an ESTA. Children should have their own (unexpired) passport so as to qualify for an ESTA.
When will I have to re-apply for the US ESTA?
The US ESTA will, for the large part, be allowed for a period of (2) years or until the candidate's passport expires. Your US ESTA will show until what date it's valid. So remember you have to make an application for a new ESTA when your previous ESTA expired or when you have an expired passport.
Exactly how can a US ESTA seem like?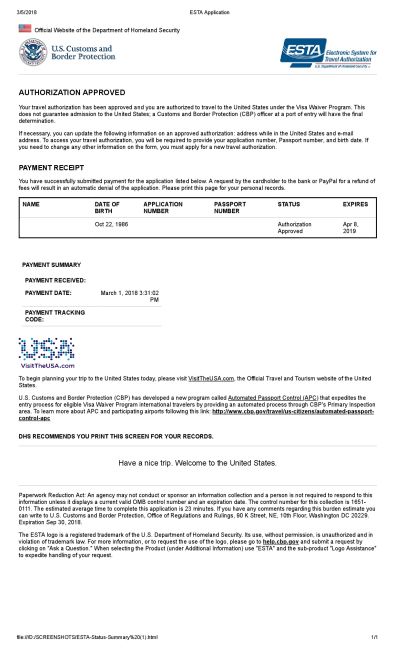 When should I obtain a visa to travel to the USA?
If you arrive at the USA aboard an aviation.
When you visit the USA for over 90 days.
If you're traveling to the USA for a purpose other than short-term tourism or business.
Does the ESTA guarantee entrance into the USA?
If the ESTA is accepted, it states that you're entitled to travel to the USA under the Visa Waiver Program, but doesn't ensure that you are admitted to the United States. Upon arrival in the USA, you'll be scrutinized by an Immigration officer that will determine your admission under the Visa Waiver Program.
Who is eligible for the ESTA?
Citizens from among the countries listed below will apply to the ESTA Visa Waiver Program:
Australia.
Brunei.
Chile.
The Czech Republic.
Estonia.
France.
Greece.
Hungary.
Iceland.
Lithuania.
Luxembourg.
Monaco.
The Netherlands.
New Zealand.
Norway.
Portugal.
The Republic of Malta.
San Marino.
Singapore.
Slovakia.
Slovenia.
South Korea.
Spain.
Sweden.
Switzerland.
Taiwan.
The United Kingdom.
What do I do if I make an error in my application?
If you make a mistake when you enter your data online then please contact our customer service agents when possible via online chat to assist you. If we already submitted your application for your ESTA, then you can't make any adjustments and you will need to apply again but you do not have to pay for another service fee.
Is it secure to use iVisa to receive my ESTA?
Many men and women feel that online information escapes and that their private info is in danger of getting into the wrong hands. That is not true with our services. Maximum safety is provided by us for your personal information, confidentiality, and we invest a lot in our database's security. Your personal information couldn't be safer. You can check what hundreds of happy clients say about us here.
I have more unresolved questions, where do I find more info?
For a quicker resolution click here and begin chatting with one of our customer service representatives. Alternatively, you can find more information and FAQs here.