Are you planning to travel to the United States and need to renew your B1/B2 U.S. visa? At iVisa, we offer you the solution to do it most efficiently. Citizens of Ghana can apply for a B1/B2 visa renewal to travel to the United States. The steps are straightforward, and our excellent team will help you complete the process.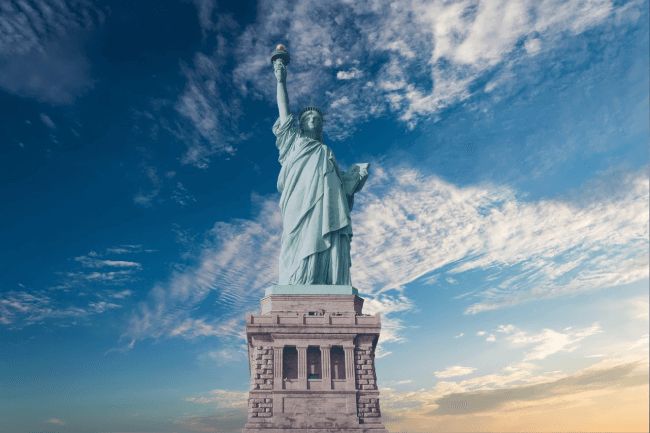 This immigrant visa must be renewed occasionally, as temporary nonimmigrant visas allow you to travel to the United States for business or tourism. The B1 visa covers business travel, while the B2 visa covers tourism, such as vacations or family visits.
The following questions will help you in your process of applying for your visa renewal; our iVisa experts are available to answer any questions you may have.
How do I know if I am eligible for the visa B1/B2 renewal in Ghana?
You are eligible to renew your B1/B2 visa if you meet the following criteria:
The applicant must renew the same type of visa. If you apply for a different kind of visa, you must submit a new visa application.

As a visa applicant, you must have a still valid or expired visa no more than 48 months ago.

The applicant must be a Ghana citizen with a valid passport for at least 6 months.

A visa applicant must not have had a visa revoked or refused, or a visa extension.

The applicant must not have arrests or convictions for any crime or offense in the United States.

The applicant must not have stayed in the U.S. for more than 6 months.

The applicant must be 14 years of age or older when first applying for a visa.

If your visa is in a previous passport, you must present both passports.
What documents are required for the U.S. B1/B2 Visa renewal in Ghana?
The documents required for your visa renewal are the following:
Passport valid for at least 6 months.

Passport photo in digital format. It must comply with the standard measurements. The photo must be in color with a white background, taken within the last 6 months, and reflect your current appearance. You cannot be smiling; your face must be straight ahead, looking directly at the camera.
If you do not have a recent photo, we provide a photo service so that you can have it as soon as possible.
The visa applicant must complete the DS-160 form with all data.

Copy of the previous visa; if you have it in an older passport, you must submit both.

Current email address where iVisa can send you the B1/B2 visa form.

Payment of fees can be made by credit or debit card.
You may also need to take the following documents:
Travel documents, such as an airline ticket with entry and departure date from the United States.

Address of accommodation.

Employment and financial information.
How to renew your B1/B2 visa with iVisa?
To fill out the form for the B1/B2 visa renewal, please follow these steps:
Fill out the online form with your personal information.

Our team will review the application and send it to your email, which must be updated. It can arrive in your inbox or spam folder; it is recommended to check both inboxes.

Have all the required documents for the visa application renewal.

After you have completed all the procedures, we will let you know if you need to go to an interview at the U.S. Embassy or if you do not require an interview.
The iVisa team will notify you if you require other documents for the application process.
How much does it cost to renew a B1/B2 visa in Ghana, and what is the processing time?
For US B1/B2 Visa Renewals, iVisa offers the standard processing time:
Standard processing time (

USD $218.99

) -

30 days

. The B1/B2 Visa Renewal cost includes the

USD $160.00

MRV fee and unlimited assistance from an iVisa Expert.
You must pay it during the application process and take the receipt at the time of the interview appointment at the US Embassy.
How do I obtain an appointment for a US renewal visa interview date in Ghana?
Not all visa applicants renewing the B1/B2 visa have to schedule a visa interview waiver appointment at the U.S. Embassy; many people can apply for renewal online without going to an interview. If you need an interview, you have to make an appointment at the U.S. Embassy in your home country.
In case you have to go to a visa interview, it is essential to have the following documentation available when scheduling the appointment:
DS-160 confirmation number.

Number of fee payment receipt.

Passport number, date of issuance, and expiration date.
How long is the processing time for your B1/B2 visa renewal in Ghana?
As with many visa application processes, processing times can vary. Usually, it can take a minimum of 4 weeks from when the application arrives at the Consular Section.
We recommend that your airline ticket has a rescheduling option until the passports have returned; they may extend the date depending on the demand for visa processing.
Can I apply for a B1/B2 visa renewal before my current visa expires?
If your B1/B2 visa has expired within the last 48 months or is about to expire, we recommend renewing this document. This way, you can keep it updated when planning your trip to the US.
How can I track my passport and know when they will return it?
If your visa has been approved, the national visa center will be informed where and when they will return your passport with your approved visa renewal.
To track your passport, you must log on to the U.S. Embassy website and enter your fee receipt number and date of birth.
Do I need travel health insurance to visit the United States?
It is not compulsory, but it is recommended because medical treatment or accident costs are very high. Also, travel medical insurance covers other relevant issues such as missed flight connections or cancellations due to problems on the plane and delayed or lost luggage, among others.
Where can I contact you?
Our qualified customer service team will be happy to answer any questions you may have. They are available 24 hours a day all year round, or you can write to us at [email protected].